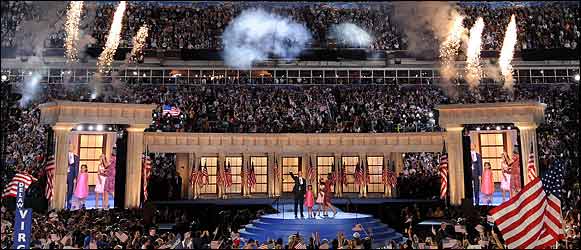 The karma principle of causality continuity is, again, very close to the truth of the repercussional synthesis of all time-space actions in the Deity presence of the Supreme. – The Urantia Book
Looks like the pray for rain camapaign by Focus On the Family, aimed at dousing Obama's acceptence speech in Denver last night, may have triggered a karmic backfire.
You just can't make this stuff up.
GOP Considers Delaying Convention

Tropical Storm Obama Gustav Is Forecast to Hit U.S. Next Week as Hurricane

By Dan Eggen and Michael D. Shear
Washington Post Staff Writers
Friday, August 29, 2008; A21

Republican officials said yesterday that they are considering delaying the start of the GOP convention in Minneapolis-St. Paul because of Tropical Storm Gustav, which is on track to hit the Gulf Coast, and possibly New Orleans, as a full-force hurricane early next week.

The threat is serious enough that White House officials are also debating whether President Bush should cancel his scheduled convention appearance on Monday, the first day of the convention, according to administration officials and others familiar with the discussion.

For Bush and Republican presidential candidate John McCain, Gustav threatens to provide an untimely reminder of Hurricane Katrina. A new major storm along the Gulf Coast would renew memories of one of the low points of the Bush administration, while pulling public attention away from McCain's formal coronation as the GOP presidential nominee.

Senior Republicans said images of political celebration in the Twin Cities while thousands of Americans flee a hurricane could be dubious. "Senator McCain has always been sensitive to national crisis," said McCain spokesman Tucker Bounds, noting that the senator postponed announcing his presidential candidacy in 2000 because of the war in the Balkans. "We are monitoring the situation very closely." […]

Staging a convention during a major natural disaster would be a public relations challenge for either political party. But GOP officials say the burden could be especially heavy for their party, whose reputation was tarred by the Bush administration's bungling of Katrina and its aftermath in 2005.

A hurricane in the Gulf of Mexico could also cast unwelcome attention on the offshore oil rigs that McCain has championed as a solution to rising gasoline prices — they are now being evacuated in the face of the coming storm. […]

"You would have to dramatically change the nature of what you do. Much less partisan. Much less political," said the official, who spoke on the condition of anonymity because internal discussions are ongoing. He added that all the speakers would have to retool their addresses to reflect the storm and its impact. "Otherwise, it's the elephant in the room." […]

White House press secretary Dana Perino said yesterday that it was "premature to say" whether the storm might have an impact on Bush's scheduled appearance Monday night. […]

Some Republicans bemoaned an apparent GOP curse when it comes to summer storms and noted the contrast between the approach of Gustav and the sunny weather in Denver for the Democrats. "The Republicans can't seem to catch a break when it comes to August and when it comes to the weather," said Karl Rove, a former Bush adviser, on Fox News yesterday.

Hurricane Andrew struck South Florida as a Category 5 storm in August 1992, and the sluggish federal response was castigated by state leaders as well as then-candidate Bill Clinton in his successful bid to defeat President George H.W. Bush that fall. …