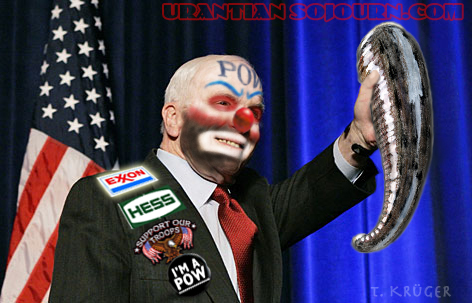 No, it's not the slimy severed trunk of the GOP elephant;
it's "Blackberry" the giant leech.
WASHINGTON — Standing in front of an estimated several hundred thousand skittish supporters at the Succachogie, West Virginia Town Hall, John McCain held a giant leech up as high as he could, telling the anxious gathering our economic woes would soon be over.   The giant leech, which he affectionately refers to as "Blackberry," would quickly turn our ailing economy around by sucking out the bad economic blood that has been poisoning our national economy.
Notes in one hand, leech in the other, McCain read, "Black Berry will, Black Berry loves the taste of greed, and he'll suck Wall Street dry until it's fixed!" Some in the crowd thought McCain was referring to Obama, and a ripple of laughter worked through the half-filled hall, capacity 120.
This latest load of dung was flung against the news that Wall Street would continue its self-immolation until every day of the week would be prefixed with the word "Black."  McCain surrogates immediately denounced Barack Obama for having engineered the ongoing financial debacle just so "He could associate his race with the days of the week."  The Obama Campaign officially laughed out loud, but refused further comment.