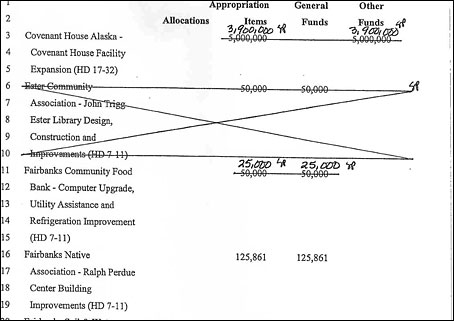 Palin's initialed line item cuts
The audience for Sarah Palin's speech last night at the Rethugs convention were all a twitter over her promise:
"To the families of special-needs children all across this country, I have a message: For years, you sought to make America a more welcoming place for your sons and daughters. I pledge to you that if we are elected, you will have a friend and advocate in the White House."
With friends like her, parents with special needs kids don't need enemies. Palin has cut funding for special needs by 62%. Can't wait for the Rethugs to reintroduce the phrase "compassionate conservatism" into their political propaganda.
UPDATE: Gene in the comments section points out that the funds weren't cut, but moved to another budget category, citing the progressive rag, Washington Monthly.
As for promoting counseling and adoption to poor moms she cut the budget for Catholic Community Resources in half. From the Fairbanks newspaper, Newsminer, on 5/23/08:
Palin vetoes millions from state budget

By STEFAN MILKOWSKI

Projects with funding reduced by 50 percent include the following:

[snip]

• Catholic Community Resources — counseling and adoption

And from today's WAPO:

Palin Slashed Funding for Teen Moms
By Paul Kane

ST. PAUL –– Alaska Gov. Sarah Palin, the Republican vice-presidential nominee who revealed Monday that her 17-year-old daughter is pregnant, earlier this year used her line-item veto to slash funding for a state program benefiting teen mothers in need of a place to live.

After the legislature passed a spending bill in April, Palin went through the measure reducing and eliminating funds for programs she opposed. Inking her initials on the legislation — "SP" — Palin reduced funding for Covenant House Alaska by more than 20 percent, cutting funds from $5 million to $3.9 million. Covenant House is a mix of programs and shelters for troubled youths, including Passage House, which is a transitional home for teenage mothers.

According to Passage House's web site, its purpose is to provide "young mothers a place to live with their babies for up to eighteen months while they gain the necessary skills and resources to change their lives" and help teen moms "become productive, successful, independent adults who create and provide a stable environment for themselves and their families."

I spent three years as a paralegal in Alaska for an attorney that specialized in representing teens in trouble, and well know the essential work that Covenant House provides. What passes for family life amongst a large segment of the native Inuits is truly heart wrenching.

Palin, quite frankly, turns my stomach. A militaristic, hypocritical reform "maverick," under Alaska state investigation for abuse of power, in deep with the energy industry — an ideal replacement for Darth Cheney, if only less practiced.

But give her time.