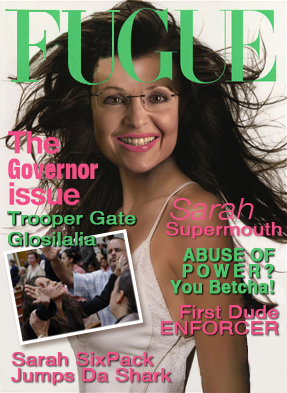 Fugue* Magazine is on top of the story.
Despite the best attempts of the McCain campaign to derail a bipartisan commission looking into Alaska Governor Sarah Palin's role in forcing a former official out of office for not firing her ex-brother in law, Sainted Sarah was found guilty of abusing her power and violating state ethics statutes.
Pausing briefly from her campaign of inciting crowds to an irrational fear and hatred of Barack Obama, she simply denied that she had violated anything, and returned to promoting herself as a maverick that would change the way government functions in Washington, D.C.
Despite promising to cooperate with the investigation fully, she clammed up after being selected to replace Darth Cheney as the nation's VP. Instead, the NY Times reports that
"The McCain campaign flew operatives into Alaska to wage a public relations campaign to discredit the investigation and to help mount legal challenges to it."
The lead "operative" was former US Attorney Edward O'Callaghan, who HuffPo reports was until just a few weeks ago the
"…co-chief of the terrorism and national security unit of the U.S. attorney's office in New York."
Now, I made a living in the legal profession in Alaska for three years in the early nineties, so the names of the special investigator Steve Branchflower, a former prosecutor, and the fired public safety commissioner Walt Monegan, the former Anchorage Police chief, are not unfamiliar to me.
In addition to the traditonal machismo associated with these jobs, these guys are typical Alaskans when it comes to having outsiders tell them how to run their biz, so I won't be surprised if we learn that they told McCain's goons to go straight to hell.
There's an old Alaskan saying that refers to the historic disparity between the number of males to females in the state that can be tweaked to fit the current governor's improbable rise to power:
Alaska: Where the odds are good but the goods are odd.
•
* fugue a state or period of loss of awareness of one's identity,
often coupled with flight from one's usual environment, associated
with certain forms of hysteria and epilepsy.