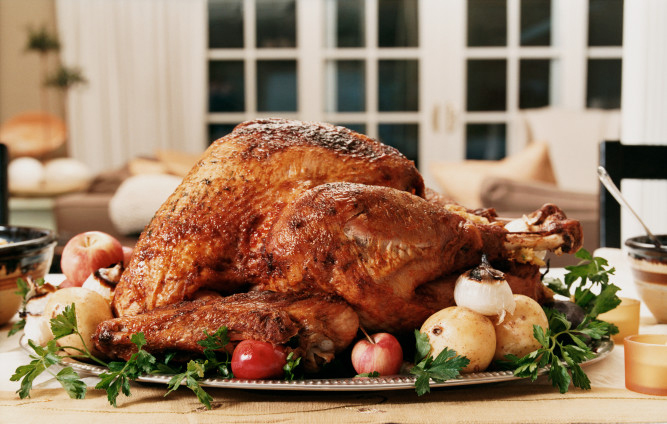 Today, Thanksgiving Day, the great majority of Americans are involved with birds; roasted birds; domestic turkeys. The turkey has become a symbol of bounty and abundance in the celebration of the Thanksgiving holiday. It is a day to recognize the importance of family and the bonds of human affection, in the spirit of thanksgiving for all we have been given.
And yet.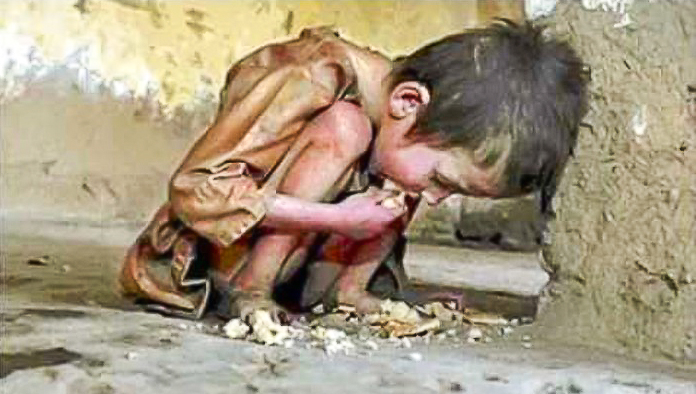 We all know the entire family of man does not share in America's bounty and abundance even in America. Around the world, suffering on an unimaginable scale continues to plague and destroy the human race. Oh, the spirit is willing; there are countless aid programs, food programs for the "less fortunate." But the "flesh" is weak; abject poverty persists.
Only when mankind sees— even in that sad photograph— an untenable abomination of the human spirit, will such scenes begin to disappear forever. Only when humanity sees the way to the brotherhood of all mankind will such suffering be banished from our experience as a race of intelligent creatures. Only when we collectively realize that, when one child is starving, we are all starving, will we act to make poverty and hunger a thing of the past.
There is much hope and expectation in America that a new day has dawned, a day of justice and fairness, of true compassion and a new expression of our highest ideals. Today, we should all pray that this is true; that we are about to enter a new way of looking at our existence, at our world; a new way that eliminates the shameful neglect of the least fortunate among us.
In the past couple of weeks, we have had visitors to this blog from around the world, from places we will most likely never see, and may never know as anything but names of places on our planet. Yet, we know your lives are being lived there, and we now have some small new thing in common— in that you have shared a small part of your time on earth here with us, and know a few of our thoughts. You live in these places. . .
Adelaide, South Australia
Auckland, Auckland, New Zealand
Sydney, New South Wales, Australia
Brisbane, Queensland, Australia
Seoul, Seoul-t'ukpyolsi, KoreaIncheon,
Inch'on-jikhalsi, Korea
Taian, Shandong, China
Taipei, T'ai-pei, Taiwan
Bangkok, Krung Thep, Thailand
Jiddah, Makkah, Saudi Arabia
New Delhi, Delhi, India
Calcutta, West Bengal, India
Raipur, Chhattisgarh, India
Bangalore, Karnataka, India
Bombay, Maharashtra, India
Washim, India
Male, Male, Maldives
Rawalpindi, Punjab, Pakistan
Xalapa, Veracruz-llave, Mexico
Belo Horizonte, Minas Gerais, Brazil
Goiânia, Goias, Brazil
Medellín, Antioquia, Colombia
Lima, Peru
Piura, Peru
Sandviken, Gavleborgs Lan, Sweden
Amersfoort, Utrecht, Netherlands
Copenhagen, Staden Kobenhavn, Denmark
Bedford, Bedfordshire, United Kingdom
Grays, Thurrock, United Kingdom
Keighley, West Yorkshire, United Kingdom
Stockport, United Kingdom
London, United Kingdom
Kettering, Nottinghamshire, United Kingdom
Salisbury, Wiltshire, United Kingdom
Herne Bay, Kent, United Kingdom
Plymouth, United Kingdom
Vessem, Noord-brabant, Netherlands
Gent, Oost-vlaanderen, Belgium
Roeselare, West-vlaanderen, Belgium
Sint-martens-latem, Oost-vlaanderen, Belgium
Bialystok, Podlaskie, Poland
Bratislava, Bratislava, Slovakia
Kiev, Kyyivs'ka Oblast', Ukraine
Prague, Hlavni Mesto Praha, Czech Republic
Varna, Varna, Bulgaria
Carpi, Emilia-romagna, Italy
Scandicci, Toscana, Italy
Rome, Lazio, Italy
Braga, Braga, Portugal
Sofia, Grad Sofiya, Bulgaria
Herne, Nordrhein-westfalen, Germany
Brunswick, Niedersachsen, Germany
Salzburg, Austria
Chevreuse, Centre, France
Vélizy-villacoublay, Ile-de-france, France
Paris, Ile-de-france, France
São Paulo, Sao Paulo, Brazil
Buenos Aires, Argentina
Merlo, Buenos Aires, Argentina
Quito, Pichincha, Ecuador
Burnaby, British Columbia, Canada
Ottawa, Ontario, Canada
Kitchener, Ontario, Canada
Calgary, Alberta, Canada
Winnipeg, Manitoba, Canada
Toronto, Ontario, Canada
Hamilton, Ontario, Canada
Manila, Philippines
Colombo, Western, Sri Lanka
Algeria
Cape Town, Western Cape, South Africa
Singapore, Singapore
and many, many more. . . It is our hope that this small and insignificant thread of connection will grow and become stronger, and that we can become a global intelligence that focuses as one upon our problems and the suffering we all share, in finding abundant solutions, lifting each other from the depths of poverty and want, to new levels of awareness and mutual support for all of us; each one of us.
We have so much to be thankful for today, and so much yet to accomplish— together.
May today, and every day that follows, illuminate our path together to accomplish the promise of the Brotherhood of all mankind.
•
There is in the mind of God a plan which embraces every creature of all his vast domains, and this plan is an eternal purpose of boundless opportunity, unlimited progress, and endless life. And the infinite treasures of such a matchless career are yours for the striving ! The goal of eternity is ahead! The adventure of divinity attainment lies before you! The race for perfection is on! whosoever will may enter, and certain victory will crown the efforts of every human being who will run the race of faith and trust, depending every step of the way on the leading of the indwelling [Spirit] and on the guidance of that good spirit of the Universe Son, which so freely has been poured out upon all flesh.
—The Urantia Book