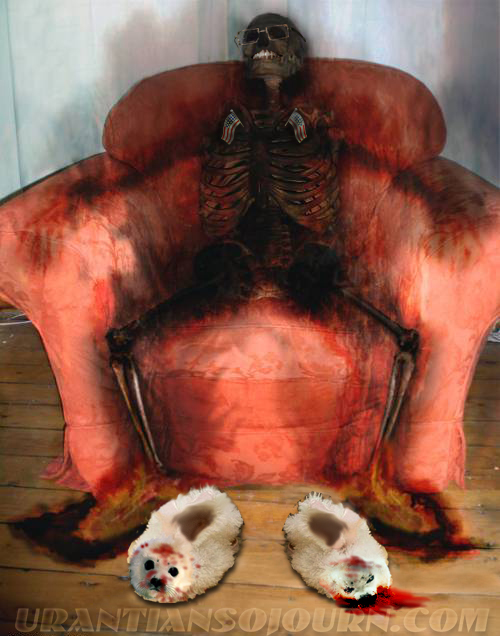 Immolation Of Sarah Palin During A Session Of Unsupervised Self-Reflection

WASILLA, ALASKA  [C.U. News] Responding to an emergency call at the Palin estate in Wasilla late last night, county firemen forced their way into a locked den and found what they believe are the ashy remains of Sarah Palin, the former Alaska governor.
"It was a really weird scene," said Matanuska-Sustina Valley fireman Chuck Thruston, the first to enter the room. "Never saw anything like it. Nothing else was burned, just the immediate area around the body."
Asked if he'd seen anything else unusual in the room, he replied:
"Nope. Just an open bible lying on the floor next to the chair she was sitting in. She might have been  reading it at the time."
Queried whether he'd noticed to which page it was opened, he answered:
"Yeah. There was a burn mark in the shape of a thumb print that got my attention, next to a passage from 2 Kings 2:11, I believe.  Something about the prophet Elijah being taken up to heaven in a fiery chariot."
When word of that circulated among the Palin Faithful, myth was born.
"Sarah was taken by God up to heaven, just like Elijah," beamed Heida Salami, president of the newly formed Sarah Palin Sainthood Committee, a fund raising group set up to create a Sarah shrine on a small man-made island in Lake Wasilla just off-shore from the Palin family seaplane dock.
Sarah was alone at the time of her untimely demise. Her multi-generational brood was staying with her in-laws. Husband Todd was away on a "We eat, therefore we hunt" mission, helping natives club baby harp seals to death in preparation for winter.  Contacted by cellphone on his way back to Wasilla, Todd sobbed:
"I can't believe it. Just this week I mailed her a new pair of slippers….Sarah was ever subservient to the will of God. I know her enemies will frame this as her ultimate quit, but I believe that God decided to call her home where she no longer will have to be maligned by the libral media."
God was unavailable for comment.
[Original image from Worth, 1000.com.]
ANCHORAGE, Alaska — Fans to Sarah Palin: Please, post a tidbit on Facebook. A little chirp on Twitter would be nice.

It's been five whole days since Palin stepped down as Alaska's governor and her Internet fans are dying to know what's next.

"Sarah can you give us just a hint!" writes one Facebook follower.

But the hockey mom-turned politician who promised to launch her change to private life on social networking sites has been quiet so far. In fact, she's gone "dark," leaving supporters to flood the Web with speculation...
Send them to US.