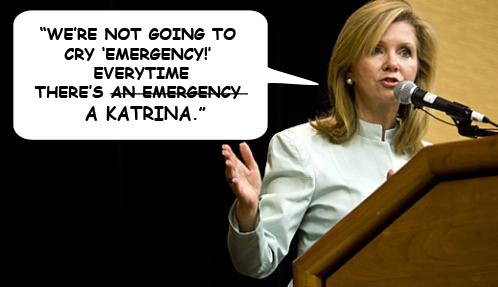 Oh yes we are.
Named a 'rising star' by the Capitol Hill newspaper, Roll Call, only three years ago, U.S. Representative Marsha Blackburn has quickly earned a renowned reputation as one of America's most articulate and engaged political leaders.
But you must see and hear this "articulate and engaged" "rising star" for yourself:
[youtube]http://www.youtube.com/watch?v=R_xnUVrJx1I&feature=channel[/youtube]

The National Journal described Congressman Blackburn as a 'top House conservative' in recognition of her conservative voting record. Americans for Tax Reform called the Congressman a 'taxpayer hero'. The National Taxpayer Union named her 'taxpayers friend'. She received the 'Best & Brightest Award' from the American onservative (sic) Union for her 100% conservative voting record.

And yes, she does prefer to be called "Congressman."
Well. the "Congressman" is probably going to be called a lot of things now that she has officially come out of Teh Stoopid closet.  But "articulate and engaged" are no longer going to be among them.