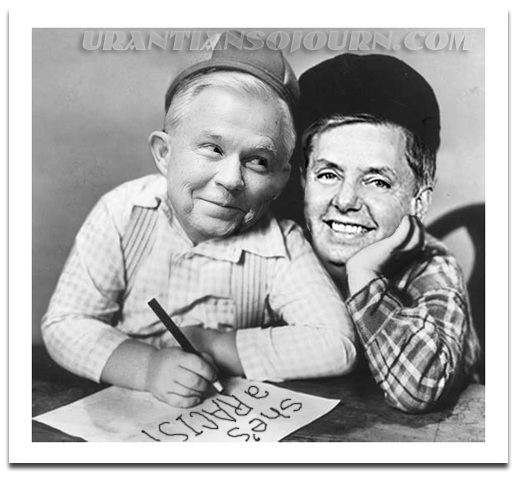 Those cute little racist rascals, Jeffy Sessions and Lindsey Grahamcracker, were as cute as they could be this week, but their cuteness didn't fool Craig Crawford:
Watching Lindsey Graham's gotcha grin as he needled Supreme Court nominee Sonia Sotomayor with disingenuous and rhetorical questions, you had to wonder what [ TF ] was so funny.  Does the Republican senator think it is amusing that he and his party's condescending tone toward the Hispanic woman was costing them ethnic votes with each passing hour of Tuesday's Judiciary Committee hearing?

It is not that the Republican inquiries were out of bounds in legal terms.  A confirmation hearing like this is a political forum.  Even if they vote for her, the fallout for Republicans could reach well beyond Hispanic voters.  They are coming across as a bunch of snarky and bitter old white men who cannot bear the thought of their kind losing power.  The impact of this story on the political scoreboard should give Democrats much more to smile about.
When little Jeffy wondered out loud why Judge Sotomayor didn't vote with a fellow judge of her own uh, uh, RACE— in "solidarity"— we got a beaver shot down Jeffy's racist little piehole.  Oh, sure, some citizens lament the senate hearing room doesn't have a trap door under their seats, leading to the maw of a giant sewer that we could just flush these little hypocritical bigots down;  but remember, it's good to see just what white racism smells like and looks like these days, right there on the TeeVee.  Live and learn, little voters, cause it's high time we flush their little shit-eating grins right out of office.