[youtube]http://www.youtube.com/watch?v=x9vFE1ivVQ0[/youtube]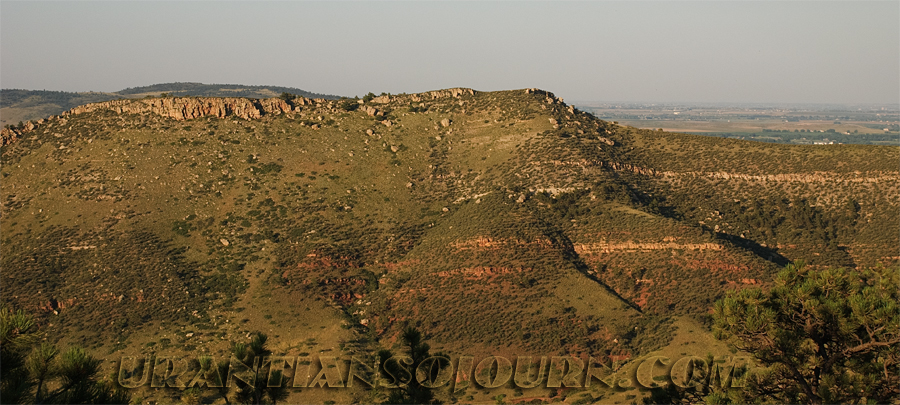 From my deck, I look out over the ridge of Red Gulch, a little hogback belonging to the Lyons formation, a sturdy sedimentary ridge layed down more than three hundred million years ago. It is part of a living geological textbook, written on a grandiose scale of time and place.  The molecules of dust we occasionally wipe off our furniture were once alive.
When I'm avoiding some more important obligation, I like to trip down the internet tubes to discover who's out there. Yesterday I tumbled into a blog called Brazen Beyond Belief, and being fond of alliterations, I poked around. BBB shorter, an atheist site looking to debate why they think Christianity is a "really, REALLY bad idea."  I read only a little so can't really tell if they just really love to debate, or are actually searching for the meaning of things;  you know some people just like to be challenged for the hell of it.  But exploring meaningful answers to who you are, what you are, and why you exist is ultimately a much more fulfilling exercise, even if it seems like you get nowhere.  But. There's still no compelling reason to debate anything with atheists, because they simply cannot fathom that religion cannot be found or understood from the outside.
That means the only assurance anyone can have of a personal God must come from your own insight as to your belief in, and experience with, things spiritual. For those not really sure of God, there's no possible argument that could ever be truly convincing.  And it's almost a certainly that arguing about it wont help either party produce their own religious experience.
True religion then— not the dogma of some church— is an insight into reality; the faith-child of the moral consciousness;  not a mere intellectual assent to any body of dogmatic doctrines, what many, many Christians settle for, and what atheists rightly take issue with.  True religion always consists in the personal experience of the Indwelling Spirit itself bearing witness with our spirit that we are all the children of a personal Creator.
Religion is not in theologic propositions, but in spiritual insight— and the subsequent sublimity of the soul's trust.  If you haven't had what you recognize as a personal spiritual experience, the religious experience of others— valid or false— isn't going to matter to you, or help you very much.
That shouldn't be the least bit discouraging.  In fact, you might want to studiously avoid the religious experience of many so-called religious leaders at the outset of your quest for answers.  Surprise; every human being defines religion in the terms of their own experience of the divine impulses they may or may not be listening to, or understand fully. Following some one else's religious experiences instead of discovering and following your own is responsible for practically all of the intransigent problems of organized religion.
That's not meant to imply that all religions and their teaching are wrong;  it's to say that no two human beings can similarly interpret the leadings and urges of the spirit within them, because personality is unique.  Absolutely unique. Sure, some "Catholics," for example, can get together and experience some spiritual unity around their shared dogmas, but they will never have true philosophic uniformity.  That's the main reason there are hundreds and hundreds upon more hundreds of different definitions of religion.
In the broad sweep of geologic time, two thousand years is an instant.  When the Son of God walked the earth, taught his truth, the world looked much the same. Men and women were called upon, then as now, to use the oars of faith to move along the stream of time, gathering the courage and wisdom of this life to make decisions which would carry them over to the other side of life. Some of them look out and see a rocky geological formation;  some, through insight, discover the handiwork of the infinite.
How fortunate the man with none;  no courage. No honesty. No wisdom. No insight. All intangible, unprovable stuff;  the sure pathway to trouble.