With the success of the Blue Dogs allied with the Rethugs to delay a vote on health care reform before Congress' summer recess,  the ad wars have begun. No surprise there. But now a new escalation is afoot. From Randi Rhodes' blog today:
So right wing organizers are targeting the town halls of Democrats with angry mobs. It's a good thing there aren't enough Republicans to make very large mobs. A memo leaked from Freedomworks, the people who helped orchestrate the Tea Parties, urges activists to infiltrate Democratic town halls and "yell" and "stand up and shout out" at the Congressman. Great. Republicans have gone beyond talking points. Now they're issuing yelling points. Patients United, a front group of conservative activists, is currently busing people all over the country to protest Democratic town halls. So if you see footage of people disrupting meetings in New Hampshire with thick southern accents, that's the reason.
Randi revealed some additional tactics on her radio show today. The Medical Mafia's intimidation corps are also instructed to occupy the front half of the speaking venues, make the speakers feel intimidated, and, most importantly of all, not engage in an intellectual debate on the merits of proposed legislation. So much for democratic dialogue and debate.
Intimidating opponents and shutting down debate is a hallmark of fascism, the unholy alliance between powerful corporate interests and the state. Benito Mussolini's embrace of fascism in post WW1  Italy set the modern precedent. Using corporatist allied paramilitary forces known as the "Black Shirts," he bullied his way into power and spawned a host off imitators around the globe.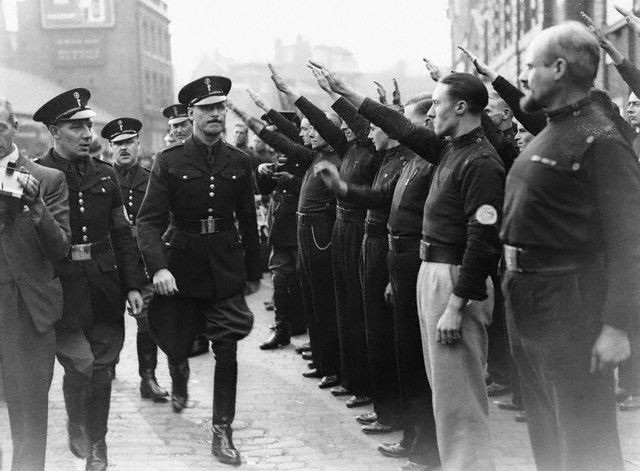 British Fascist Leader Sir Oswald Mosley saluted by his Blackshirts
In The United Kingdom, it was Sir Oswald Mosley's British Union of Fascists, also known as "Black Shirts";  in the US, it was William Dudley Pelley's Silver Legion of America, known as "Silver Shirts";   south of the border it was Mexico's Camisas Doradas or "Golden Shirts";  north of the border, Canada's fascists were known as "Blue Shirts," a moniker also given to Eoin O'Duffy's Irish Free State, and to Franco's Falange Española;  in Brazil, the Plínio Salgado were known as "Green Shirts," as did Romania's Iron Guard;  and, perhaps the best known example of shirt-fascism, Hitler's "Brown Shirts" (which, though allied with German corporate interests, had other drivers and not as pure an example of corporate fascism as Mussolini's backers).
Thanks to books like "Liberal Fascism," written by  Doughboy Jonah Goldberg (the son of Lucianne Goldburg of Monica Lewisnky fame), wingers now associate the term fascism with liberalism. Thus, when corporate stooges from Freedomworks and Patients United employ intimidation tactics to shut down reasoned debate on "liberal" health care issues, they are not using fascism but fighting it.
War is Peace, and all that.
UPDATE (8/4/09 4:45 PM): Breaking…Apparently the Black Shirts are even showing up at car dealerships slamming the hugely succesful Cash 4 Clunkers program.
God, I hope so.