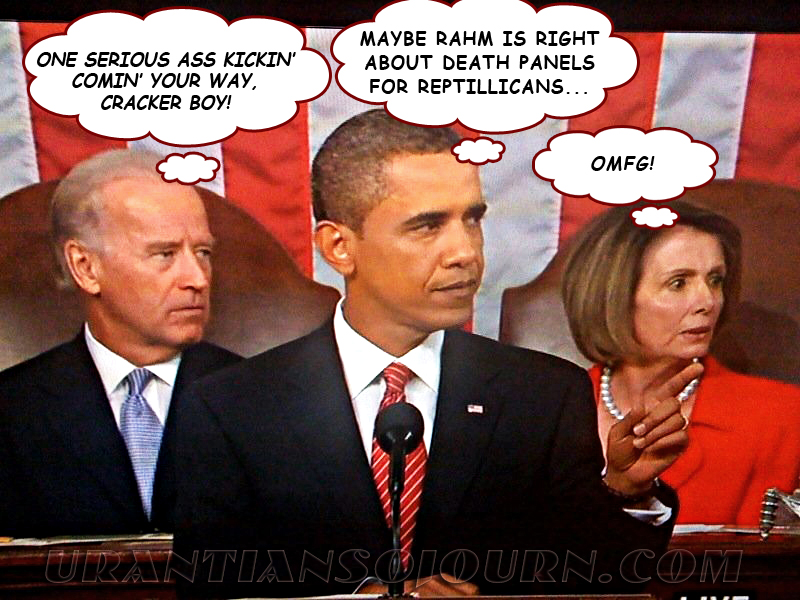 "You Lie!" yelled the coward, Joe Wilson.

As you doubtless already know, Rep. Joe the Bummer Wilson yelled "You lie!"at the president during his speech to Congress. Wilson believes the president is unwilling to let illegal aliens bleed to death because they ain't got no moneys, and plans to pay for all their sex-change operations and abortions with Joe's very own paper currency.
Despite his new status as hero to the reptard wingnut casserole, Joe Wilson's seemingly courageous act of career-ending stupidity was really an act of cowardice;  for what he really wanted to yell was this: 
"FUCK YOU YOU ARROGANT SOCIALIST NIGGER!"
Because I could barely stand to watch that moronic fuctard Bush address Congress as our president, I can't be certain that no one ever yelled at him despite how much more it was deserved;  especially an elected representative of the government.  And to this ugliness, even old hands like Barney Frank dismissed it as mere heckling, something he pointed out is a matter of course in the backward House of Commons, which still behaves like a bunch of nitwits.
But some dumbshit reptillican Americans can actually excuse this ugly bit of teabag thuggery disrespecting the president— our highest communicative assemblage,  and the presidency itself— claiming the, "You Lie!" was— and I'm not making this up— "barely audible."  That's right, barely audible;  as though the volume level was more important than the slur;  although everyone in the picture above heard it, and anyone in the entire nation watching it on television heard it, too.
I remember that Jesus once told his apostles that they better watch their ass after he left, because they would be hated without a reason, just as he was. "If they dare to persecute me, they will also persecute you. If my words offend the unbelievers, so also will your words offend the ungodly."  He went on to say that, while many of those who would assail them were ignorant of the light of heaven, it was not so of everyone who persecuted them— and that since they had knowingly rejected the truth, they had no excuse for their attitude.  "And he who hates me, hates my Father.  It cannot be otherwise; the light which would save you if accepted can only condemn you if it is knowingly rejected."
Those dour men and women on the right who sat on their sweaty hands, gnashing their teeth as President Obama called out their lies, are like the whited sepulchres, outwardly appear fit and proper, but within are full of dead men's bones and all sorts of uncleanness.  And what has Barack Obama done to deserve the hatred of the fuctard right?  Nothing, save to offer them bipartisanship in providing health care for every American.  There is no excuse for their attitude, either;  and the light which could save them even now if accepted, can only condemn them if it is knowingly and finally rejected.