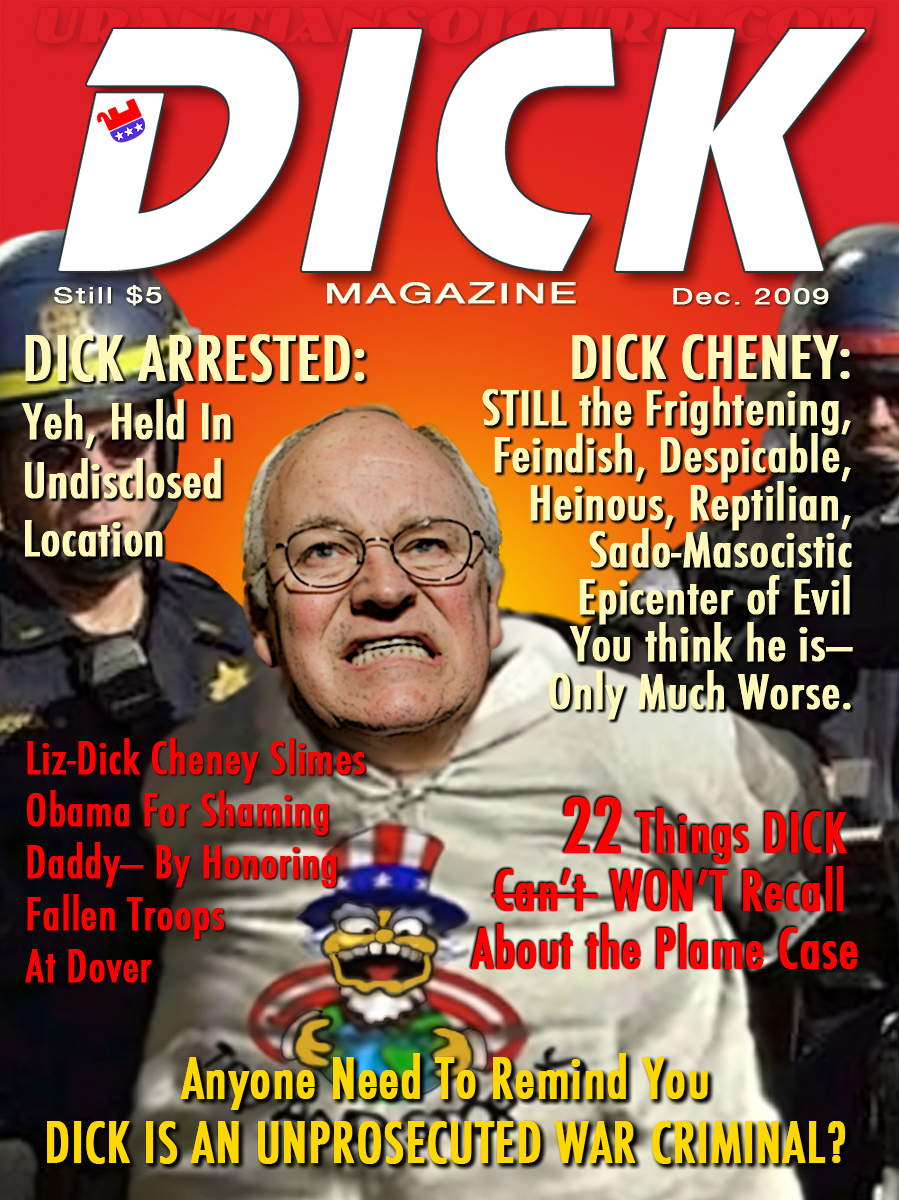 You jist know his bite will give you the H1N1.
Just when you forget Dick Cheney has the world's most powerful PaceMaker©, he reminds you by doing some fancy Vader-breathin' on the Fuxdroid outlet.  But this time it was the arrival of the December issue of DICK;  a magazine I subscribed to with the idea that it would cease publication when Dick was wheeled away from Obama's inauguration. And now there are these other, oblique reminders, which have been far more gastrointestinally challenging, as his living breathing spawn makes the media rounds with anyone willing to shove her up your down your under the publick's doormat.
Here's what I mean on page 32:  Liz Cheney glibly oozes, "I mean, I don't know why he went to Dover…" well that says exactly what kind of soulless bitch she really is;  but of course she doesn't have the will to stop there:
I mean, I think, clearly that it's important for the Commander in Chief to whenever he can and in whatever way possible to pay tribute to our, uh, [whatta ya call those ignoran— oh yeah— ] fallen soldiers, our fallen military folks, [except in the way I'm about to outline for the potato-heads who can't begin to follow my self-serving logic] but I think, ya know, that what president Bush used to do was do it without the cameras, [since he and Daddy thought showing parents images of America's kids coming home in parts was, ya know, not indicative of the Wonderfulness of War which we were trying to promote and could easily teach even morons that we were responsible for getting them killed] and uh, I don't understand sort of showing up with the White House Press pool with photographers and asking family members if you can take pictures; [I mean, that's fine in I guess, if you live in some Liberal Utopian Democracy that lets even the blue-collar cannon fodder rabble see what you're up to, but that's not the America my Daddy envisioned, so…] that's really hard for me to get my head around."
Yeahhhhh, poor thing; well I got something hard you can wrap your fucking head around:  a 33″ Louisville Slugger filled with depleted uranium.
Of course this is a mag I have to read in the can, because, well, because you've got to move it, move it;  know what I'm sayin'? Especially articles like "22 Things Dick Can't Won't Recall About the Plame Case."  Not since Ronald Raygun have we seen anyone lose their memory like Dick did, and only a year after the actual events:
Whether the Wilson trip was discussed during any of the visits he made to the CIA with his Chief of Staff, Scooter Libby.
Any reaction he had to Nicholas Kristof's New York Times' article about the Wilson visit at the time the article was published.
Whether he discussed the Wilson situation with George Tenet at their meeting on June 10, 2003.
Who he spoke to about Joe Wilson's July 6, 2003 editorial (he did remember speaking to someone, but not who it was).
What happened to the Joe Wilson op-ed after he wrote on it suggesting that Valerie Plame Wilson had sent Joe Wilson on a "junket," and put it in his outbox.
Any specific advice he gave his press people in the May-June 2003 timeframe regarding the Wilson trip to Niger.
Whether he discussed the Wilson situation with Eric Edelman, one of his national security advisers.
Whether Cathie Martin, his press secretary, entered his office while both he and Scooter Libby were present and advised both of them that Joe Wilson's wife was employed by the CIA.
Discussing Joe Wilson or Wilson's wife with his former press secretary Mary Matalin, although he said it was possible.
Ever discussing Valerie Plame Wilson with Libby prior to the publication of Novak's column.
Whether Scooter Libby knew about Valerie Plame Wilson on July 12, the day before the publication of the Novak column.
If Libby ever told Cheney he had independent knowledge of Valerie Plame Wilson's covert identity
Dictating notes to Libby on July 12, 2003 that Cheney said looked and sounded like something he might have dictated to Libby.
Discussing the Novak column or any of its contents with anyone at the time it was published.
Whether he discussed the Wilson trip with Libby as a sort of "boondoggle" or "junket," although he believed it possible that he had such a conversation.
If Libby told him that Libby was not Novak's source.
Libby telling him how he first learned that Valerie Plame Wilson was a covert CIA operative.
Whether he told Libby that Valerie Plame Wilson was a covert CIA operative.
Waving off Libby when Libby offered to tell him everything he knew about the Wilson matter.
Anyone on his staff, including Libby, ever meeting with Judith Miller during the week of July 7, 2003.
Having a conversation with Libby during which Libby said he wanted to share the judgments of the National Intelligence Estimate with Judith Miller.
Whether Libby told him that certain material in the NIE had to be declassified before it could be shared.
You know, there's no such place as Hell. Eternal cessation is far more satisfying a fate for the likes of Dick 'n Daughter.  But it's also more reason this evil nexus needs to be punished for his crimes— right here on earth.  Will someone wake Eric Holder for God's sake?