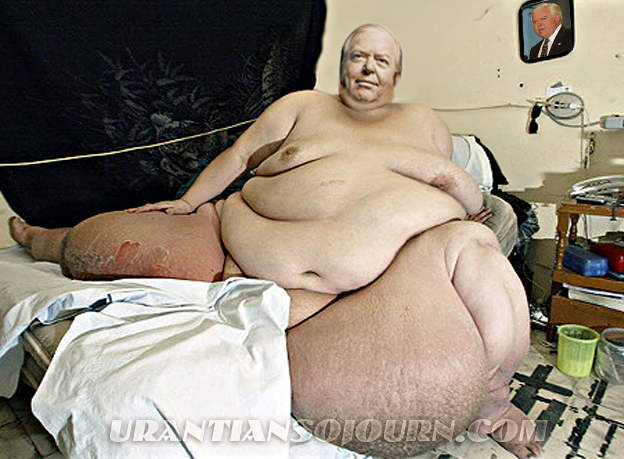 Popular Xenophobe Lou Dobbs relaxes after stuffing himself with delicious xenophobia berries.

ATLANTA — Lifetime Achievement Emmy Award winner and noted xenophobe, CNN Commentator Lou Dobbs, announced today he is temporarily shutting the hell up after what he describes as an inexplicable reaction to the inadvertent consumption of a natural male enhancement drug.
Dobbs, above, said a "sudden and substantial weight gain," may keep him from enjoying his favorite pastime: stuffing himself with delicious xenophobia berries.  Undisclosed sources are saying privately the weight gain is actually the by-product of  Dobbs' colossal stupidity, which has mushroomed out of control in recent weeks.  Much, much more as this story continues to unfold.
UPDATE:
It's official: Lou Dobbs will no longer be dragging his colossal stupidity into CNN's inner sanctum.  Tensions between Dobbs and CNN's top officials reached a tipping point suddenly this week, when Dobbs seriously injured "an elevator full" of CNN employees, presumably with his out-of-control flagellum; details of the incident have not been been forthcoming from the last-place network, but a January, 2009 incident involving Dobbs' flagella, which are said to be extremely large, reportedly sent four people to the emergency room with contusions, multiple lacerations, and topical spooge poisoning.