Joe Miller's Brownshirts handcuff and detain reporter for asking about his shady background
If you were wondering why Sarah Palin endorsed Alaska Senate candidate Joe Miller announced a few weeks ago that he was no longer taking questions about his background, the revelation below explains why.
No wonder Miller hired his own Blackwater-style Brownshirts to prevent the truth from leaking out. Recall that they handdcuffed and detained Alaska Dispatch founder and editor Tony Hopfingera, who persisted in asking anyway. Looks like Tony gets the last laugh there.
From today's HuffPo:
Joe Miller: 'I Lied' About Accessing Computers For Political Purposes

Amid a political firestorm of controversy surrounding Alaska Senate candidate Joe Miller's ethics violations while working as a government attorney in 2008, new details emerged on Tuesday night revealing that the Republican hopeful himself admitted to lying about his complicity in the matter.

"I lied about accessing all of the computers," wrote Miller in an e-mail to Fairbanks North Star Borough attorney Rene Broker in March of 2008 in the wake of allegations he used the office technology for political purposes. "I then admitted about accessing the computers, but lied about what I was doing. Finally I admitted what I did."

The remarks from Miller came to light in a 60-page dispatch of records released (PDF) by the Alaska borough after a judge issued a court order for the files to be made public.

[…]

Over the lunch hour this past Wednesday, I got on three computers (not belonging to me) in the office. All of them were on and none of them were locked. I accessed my personal website, for political purposes (participated in a poll), and then cleared the cache on each computer. I did the same thing on my computer. Jill asked the office what happened. I lied about accessing all of the computers. I then admitted about accessing the computers, but lied about what I was doing. Finally, I admitted what I did.

In recent weeks, the controversy related to the two-year old ethics violation made by Miller has proven to be a significant stumbling block for his campaign. In the face of pressure from reporters to be more transparent about the issue, the Tea Party-backed hopeful made every attempt to downplay the matter by evading the press. He also has suggested the ordeal was at least in part fueled as a political attack from the campaign of incumbent Sen. Lisa Murkowski, whom he ousted in Alaska's GOP primary and is now pursuing a write-in reelection bid

[…]

Below, a copy of the letter sent by Miller in which he admitted to lying about his involvement of the controversy. Click here (PDF) to read 60
pages of documents in full released on Tuesday night.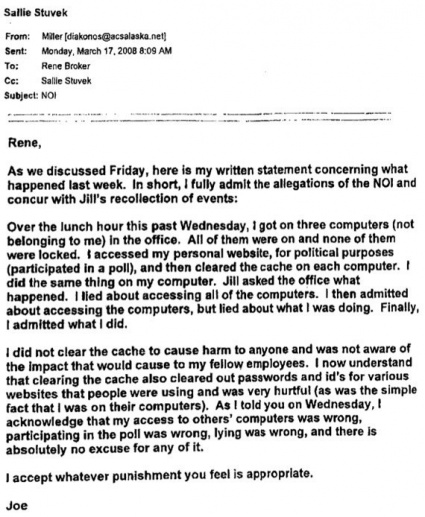 Shorter version:  Joe proposes a poll that would be used to oust the state's GOP chairman. He then accesses his fellow employees unsecured computers to register their "votes."  I believe that's called voter fraud.
Joe Miller is an unethical, undemocratic, lying piece of hypocritical shit. No wonder Sarah Palin and the Teabaggers love him so.