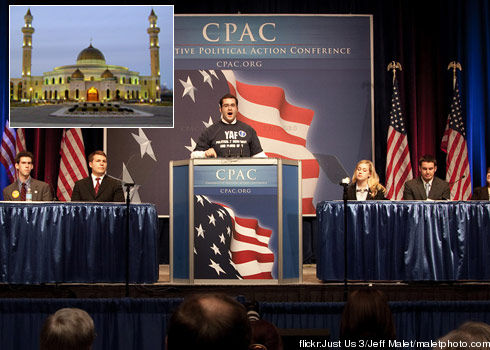 Gays and Muslims and Compromisers, oh my!
Well, February is rapidly approaching and with it the next edition of the Conference of Conservative Political Action Committee, aka CPAC. We've enjoyed covering the Wingnut Woodstock conferences here at US.; see here, here, and here.
But a dark undercurrent is roiling 'neath the Winger Sea, a rip-tide that could rip this year's CPAC conference a new one. In addition to the withdrawal of  The Family Research Council and the National Organization for Marriage because the gay conservative group  GOProud will be in attendance, TPM reports that:
…The right-wing site World Net Daily and conservative columnist Frank Gaffney came up with a new reason this week to hate the Conservative Political Action Conference, arguing that it has been infiltrated by the Muslim Brotherhood thanks to Grover Norquist, the Republican group Muslims For America, and Ex-Bush staffer Suhail Khan….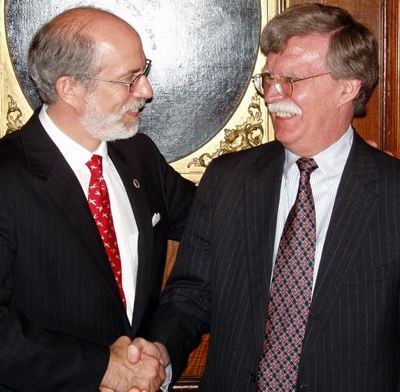 Frank Gaffney, left, after sharing a wet willy with fellow neo-con Chicken-Hawk, John Bolton
CPAC is not exactly known for its fuzzy left-wing politics. Last year's conference included appearances by Dick and Liz Cheney, Mitt Romney, and Jim DeMint, with Glenn Beck as keynote speaker. Rush Limbaugh keynoted in 2009.

But in an article yesterday on World Net Daily called "Now look who else is infiltrating CPAC," Gaffney "told WND that Islamism has infiltrated the American Conservative Union, the host of CPAC, in the person of Washington attorney and political activist Suhail Khan and a group called Muslims for America."

Gaffney has been a go-to shariah "expert" on the right for some time — he even testified against a proposed mosque project in Murfreesboro, TN, and then said on CNN that the purpose of mosques "is to destroy western civilization from within."

"What's going on in conservative circles should give everyone real cause for concern," Gaffney told World Net Daily. "What it bespeaks is an effort to penetrate and influence conservatives, who are the most likely and perhaps only community in America who will stand up to and ultimately help ensure the defeat of this seditious totalitarian political program."

He also implicated anti-tax conservative activist Grover Norquist in the plot: "Grover Norquist is credentialing the perpetrators of this Muslim Brotherood influence operation. This is part of tradecraft, to get people who have standing in a community to give it to people who lack it, so they can do what they're assigned to do in terms of subversion. We are in a war, and he has been working with the enemy for over a decade."

Grover "drown the government in a bathtub" Norquist with his Muslim wife, Samah

"The fact that it has gone on within conservative circles for this long, and may be further enabled at CPAC this year, is a travesty," he continued.

Gaffney's crusade against Norquist goes back a long way, and was perhaps springboarded by the fact that Norquist's wife is Muslim. In 2003, Gaffney wrote a long article in Front Page Magazine about Norquist's role in "enabling a political influence operation to advance the causes of radical Islamists," particularly in the Bush Administration.

Norquist is president of Americans For Tax Reform, and currently serves on the GOProud board.

[…]
Republicans eating their own.
Yum. What's for dessert?