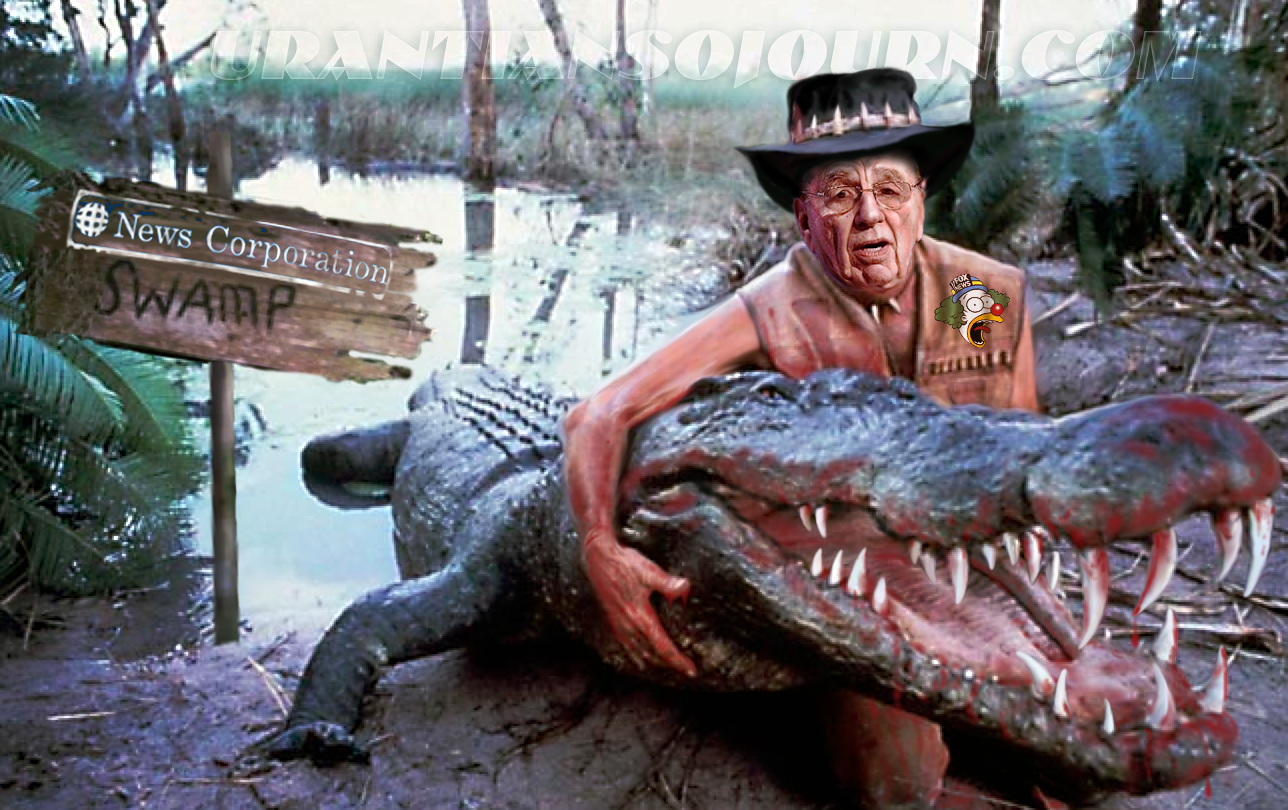 Rupey's nah ah bad boy, he's jist been a littol undah the weathah."
If you want to smell the swamp, you must click it.
While standard evolutionary theory has it that humans descended from warm blooded mammals, the predatory acts of the world's most powerful media tycoon, Rupert Murdoch, suggests that somewhere along the way a mutant strain of humanity reverted to behavior more characteristic of its cold blooded ancestors further back on the evolutionary tree. Nowhere is this more apparent than in the fetid swampland of British tabloid journalism, where Murdoch reigns as the biggest croc on the block.
A lot has happened this past week following our Thursday  July 15 post, Murdoch's Minions.
Friday saw the resignation of two top Murdoch lieutenants: Rupert's darling, Rebekah Brooks from her post as chief executive of News International; and longtime Murdoch ally, Les Hinton  who left his position as CEO of Dow Jones International, publisher of The Wall Street Journal.  Friday also brought us the arrest of the former press spokesman for Prime Minister David Cameron, Andy Coulson, for allegations of police bribery that occurred while he was editor of the now defunct News of the World (NotW),
Sunday, Brooks herself was arrested, the tenth former Murdoch employee to earn that distinction. (For those keeping score at home, other News of the World (NotW) arrestees include: executive editors Neil Wallis and Andy Coulson, senior journalists James Weatherup and Neville Thurlbeck, former Royals correspondent Clive Goodman, and former assistant news editor, Ian Edmondson.)
Sunday also saw the resignation of Scotland Yard's top official, Sir Paul Stephenson.   It seems that Stephenson failed to inform Prime Minister Cameron that he had paid some $40,000 to Neil Wallis for his work as a "media consultant"; and had picked up a $20,000 tab for his R&R at an exclusive celebrity health spa. Stephenson explained that the secrecy of the arrangement was to provide the new PM with what we Yanks during the Iran-Contra affair called "culpable deniabiliity." But that little subterfuge ended when Wallis was arrested July 14 on suspicion of phone hacking and police bribery, just the latest example of the power of the Murdoch Empire's revolving doors.
Monday, Stephenson's second in command, John Yates resigned after evidenced surfaced that he had spiked a 2009 follow up investigation into new phone hacking charges. A prior investigation in 2007 had resulted in the arrest of Clive Goodman for hacking the voicemail messages of members of the royal family. Stephenson's and Yates' resignations immediately spawned an internal police review and a separate judicial inquiry. Monday also brought word that the original hacking whistleblower, reporter Sean Hoare, was found dead in his apartment as of yet unknown causes. Hoare had the rep as a hard partier who hung with the rockstar set, providing them with massive quantities of alcohol, drugs, and ketamine on the company's dime.
On Tuesday, both Murdochs and Rebekah Brooks gave sworn testimony to a special Parliamentary committee, to which we will return in a moment.
On Wednesday, Prime Minister Cameron cut short a long planned African trip to appear before an emergency session of Parliament to explain his relationship with Andy Coulson, now the subject of a police bribery investigation. Prior to his appointment to 10 Downing Street, Coulson had been NotW's head honcho, but had resigned on the heroic theory that, despite his claim of being out of the loop in the Goodman-Wallis Royals hacking affair, the buck stopped with him. Apparently, Cameron found Coulson's resignation noble rather than suspicious, and appointed him to be his press secretary. A short term appointment as it turned out as Coulson resigned in January when the second wave of phone hacking charges surfaced.
It strains credulity that Cameron and his people didn't know of Coulson's involvement in the Royals affair. Given its exposure to high level security matters, the job of press secretary naturally requires an intense amount of personal vetting of whomever is expected to perform the duty. But Cameron, as has every Prime Minister since Margaret Thatcher, owed his election to the support of UK's most powerful media baron. Rupert's price was apparently the placement of one of his top people inside 10 Downing Street, something that could only be accomplished if Cameron's agents didn't dig too deep, a textbook example of what in criminal law is known as "willful blindness", a development that could mark the beginning of Cameron's own demise.
But the highlight of the week was the Murdochs and Brooks testimony to Parliament the day before. Each adopted a version of  Sergeant Schultz's  "I know nothing" defense concerning illegal activities taking place inside various divisions of the News Corp's UK operations. Former NotW reporter Paul McMullan finds the claim absurd. McMullan was the guy who actor Hugh Grant secretly taped admitting that hacking was de riguer at the paper, an act of tabloid ju-jitsu that opened the door to the current round of investigations.
Rupert went so far as to deny any personal culpability whatsoever, placing blame on various subordinates and lawyers. Despite his legendary reputation as a hands on manager, he seemed content to play the doddering octogenarian who couldn't be expected to know about every million dollar hush money payout occurring throughout his vast media empire.
But it was the testimony of the younger Murdoch that might yet result in the demise of the Murdoch family dynasty control over the company that is now three generations in the making. As Friday's NY Times recounts:
LONDON — Two former News International executives publicly contradicted James Murdoch's testimony to a parliamentary committee, saying Thursday that they told him of evidence in 2008 that suggested that phone hacking at one of the company's tabloid newspapers was more widespread.

The former executives said they informed Mr. Murdoch at the time that he was authorizing an unusually large secret settlement of a lawsuit brought by a hacking victim.

Mr. Murdoch, who runs the News Corporation's European and Asian operations, including News International, the British subsidiary, told the committee on Tuesday that he agreed to pay £725,000, which was then about $1.4 million, in the case because it made financial sense. He testified that he was not aware at the time of the evidence, which most likely would have become public had the case proceeded and undermined the company's assertion that hacking was limited to "a lone rogue reporter."

But Colin Myler, the former editor of the tabloid, The News of the World, and Tom Crone, the former News International legal manager, said Mr. Murdoch was "mistaken" in his testimony delivered to the parliamentary committee. They said he knew when settling the lawsuit brought by a soccer union leader, Gordon Taylor, about a crucial piece of evidence that had been turned over to the company: an e-mail marked "for Neville" containing the transcript of a hacked cellphone message, apparently a reference to the paper's chief reporter, Neville Thurlbeck.

"In fact, we did inform him of the 'for Neville' e-mail which had been produced to us by Gordon Taylor's lawyers," Mr. Myler and Mr. Crone said in the statement released Thursday night.
Right up to the day of Tuesday's hearing, the Murdochs had paid a cool mil to the lawyers of their private eye, Glenn Mulcaire, who was convicted in 2007 of hacking the Royal Family. A better example of hush money would be hard to find. Now, as a result of Tuesday's questioning, that little arrangement is "inoperative", to use a term made famous during the Watergate cover up hearings.
If Shakespeare was alive and writing today, how could he resist taking as the subject of one of his classic five act tragedies the ambitions of three generations of The House of Murdoch to create a family dynasty of media moguls such as the world has never seen? In the narrative scheme of things:
Act One's inciting incident would be Mulcaire's hacking of the Royals.
Act Two's rising action and complications find expression in a plethora of hacking episodes that have made victims of actors Hugh Grant and Sienna Miller; professional sports star, Geoffry Taylor (who settled with the Murdochs for $1.4 million); Max Mosley, a former auto racing executive who was falsely portrayed on the front page of NotW as participating in "sick Nazi orgies" ($120,000 judgment); and former Prime Minister Gordon Brown whose hacked legal and financial records included the medical records of his son's previously undisclosed debilitating condition of cystic fibrosis.
Act Three's turning point occurred as the true scale of Murdoch criminal enterprise came to light, for which The Gurdian's Nick Davies deserves the lion's share of credit.
Act Four's reversals are evident in the closing of the 168 yearld old newspaper NotW; the withdrawal of News Corp's bid to buy the 61% of the lucrative SkyBSky satellite network it didn't already own; and the billions of dollars of lost News Corp stock value, a major reduction of the family portfolio.
Act Five's denouement and resolution is yet to be seen, as the full extent of the Murdoch crimes makes its way through the UK judicial system.
And just as Shakepeare's tragedy Henry IV Part One naturally led to its sequel, Henry IV Part Two, we already witnessing the beginning of the sequel. the toxic spread of Murdoch crime syndicate's activities to the other side of the pond. In the last week alone, some four separate US investigations have been launched, including an FBI investigation intowhether the phones of families of 911 victims were hacked; whether actor Jude Law's phone messages were hacked; and whether bribery of UK police officials violated the Foreign Corrupt Practices Act. Additionally, at least one civil lawsuit has bee filed by News Corp's stockholders, which naturally brings in the SEC.
As for psychological insight into our tragedy's protagonist, Maureen Dowd offered some thoughts in her column last Wednesday. She holds that Rupert's zeal to compromise the English government was payback for the opprobrium his Aussie publisher father, Sir Keith Murdoch, received for his paper'scoverage of the British Army's failings at Gallipoli (dramatized in the 1981 Peter Weir movie 'Gallipoli", starring a then unknown actor named Mel Gibson, for which Rupert recieved a producer's credit for bankrolling half its costs). Said Dowd:
Rupert wanted to avenge his father with the British establishment, and what sweeter way to do it than to take over the British press, including its most prestigious broadsheet, The Times of London, and help decide who runs Britain.
All to which we can only say: Lay on, McDuff.