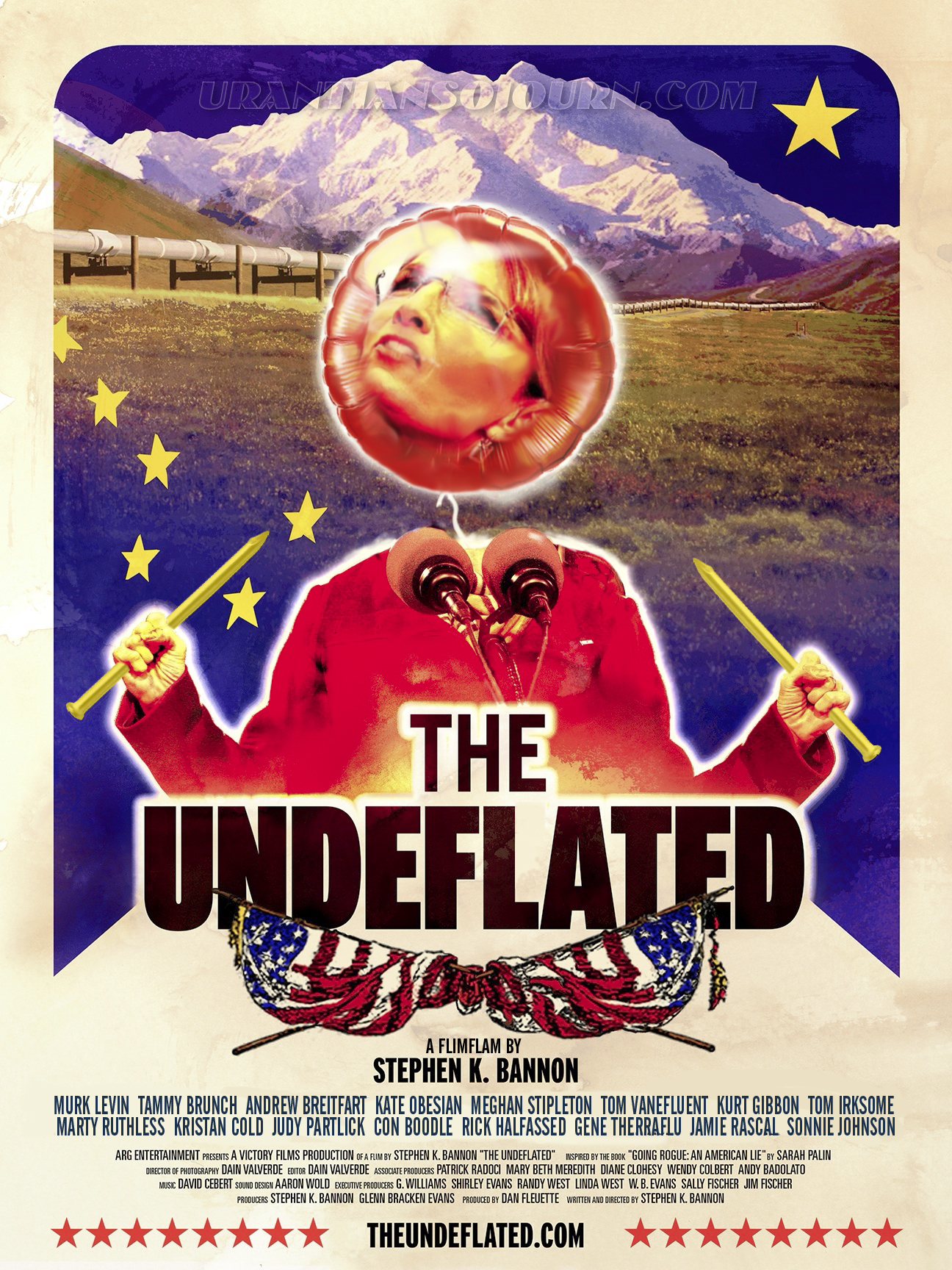 The Palin Infomercial opened to near empty theaters this weekend, but hateful comedians and vicious liberal pundits everywhere have already begun brutalizing the flim.*
(If you must read the credits you must click it.)
Ex-Goldman Sachs banker and conservative quasi-documentarian Stephen K. Bannon has gone where no one else has cared to go this summer until now:  Iowa.
He was there to premiere his "sweeping epic," as in: "sweeping important events that reflect poorly on Mrs Palin under the rug.  "THE UNDEFLATED" has been rumored to be a galvanizing prelude to Palin's response to God's inevitable request that she— and not Michele Bachmann— lead America back.  Just "back."
THE UNDEFLATED is two hours worth of conservative talking points I'm told, by the annoyingly precocious West Des Moines teenager selling the popcorn, Lance A. Boyle;  who immediately changed the subject to his recent desire to become a world famous fulminologist.  Moving on.
"This flim* is a call to action for a campaign like 1976: Reagan vs. the establishment," Stephen Bannon said to no one in particular in the empty 800 seat theater in the Merle Hay Mall Cinema, located right behind the Sears store.
Opened in 1959, Merle Hay Mall is the oldest regional shopping center in all of Iowa, and was still the largest mall in Iowa in terms of "gross leasable area"— that is until the Jordan Creek Town Center opened in West Des Moines in 2004.
Okay, where was I.  Yeah;  the Merle Mall.
Just last week, "Missee P.," also from West Des Moines, had this to say about the Merle:
"Everyone was mean and no1 [sic] helped anyone, and the shopping experience is like horrible!  but totally cute clothes and cheap prices… i used to work there for 4 years and never seen a raise [sic] i even got paid less then [sic] the new comers… every manager was mean except for like 2 of them… "
Obviously, Missee P is not a bowler.  Carleton Riggs, a budding journalist from out of town, has the low down on the Merle Hay Lanes, and clearly also plenty of time to tell about it:
"While in town visiting friends, we were looking for something to do Friday night. Bowling came up.  After checking several options online, we decided that Merle Hay Lanes was the best option for our bowling dollar.  The staff we ran into was friendly.  The balls and lanes themseles [sic] seemed to be well maintained, but some lights were out.

On the flip side, the heat was cranked way up making it really uncomfortable. It was like way hotter inside than outside even; everybody was sweating like pigs. The pins seemed pretty heavy and frequently I'm sure my ball just bounced off them, which made it especially hard to pick up any spares. And there were these blank spots where the pinsetter seemed to take a really long time on several occasions.

The snack bar is no frills and only has a few tasty options, all of them heavily processed frozen fried food, like the onion rings from hell I had that gave me some grievous heartburn.  But there is an adjacent lounge that features a full bar, and the prices were decent, so I got pretty fucked up by the third game.

It was $3.50 per game, but it's less during the day and week so I'll be back next time I'm in town;  shoe rental was only $1.50.  Closer to 3.5 stars than four stars, maybe I'd go with 3 and a quarter stars if I could;  prolly still better than having to fight the crowds at the other, nicer area bowling alleys."
I'm sorry if you think I got side-tracked from telling you about THE UNDEFLATED.  It's intentional. It's a painful piece of propaganda and a waste of  precious time;  I could have been bowling at the Merle Hay Lanes for Christ's sake.  The flim* brings the term self-immolation to mind; only with giant nails instead of petroleum accelerants. I simply have nothing more to say about a woman who is so full of hot air that her head floats off her body, and would drift into the Arizona pollution belt if it wasn't tied to her jacket.
* Kinda like a film, but one not worth seeing.