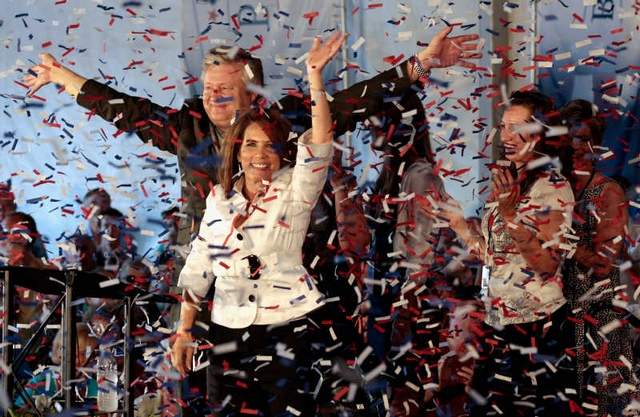 Marcus Bachmann: Our future fabulous Grey Eminence?
Fresh from her less than one percentage point win over Ron Paul in the Iowa straw poll, Michelle Bachmann was interviewed Sunday on Meet the Press. Host David Gregory repeated a question originally put to her by Byron York during Friday night's debate concerning her fundamentalist religious beliefs, which she has made an integral part of her political brand:
As president, would you be submissive to your husband?
The context being  this passage  from Ephesians 5:22:
 Wives, submit yourselves unto your own husbands, as unto the Lord .
Naturally, Michelle gave Gregory the same  non-answer she gave York. That is, she simply pulled a different word out of her corn dog hole, "respect," and substituted that for a word that means "yield to the control of another." (And just as naturally, Gregory let her get away with it.)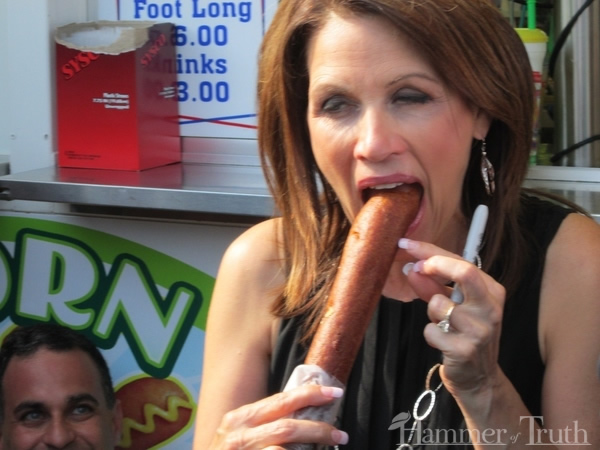 Michelle Bachmann  deep throating a corn dog at the Iowa State Fair

While parties in a submissive relationship can still be respectful of each other, that doesn't change the fundamental dynamic at work: obedience, or subservience of one to the will of the other. Case in point:  Michelle is on record saying last June that while she had no desire to become a tax attorney, let alone work for the IRS, she agreed to do so because that was what Marcus wanted.  (And Marcus apparently got the word straight from the Big Guy Himself.)
Think about the implications of a future President deferring to the counsel of someone like Marcus Bachmann, an unlicensed therapist who takes government money to turn gay people straight using "reparative therapy", a treatment that the American Psychological Association deems both ineffective and potentially harmful.
Naturally, every president and ruler is entitled to counsel of their own choosing. Perhaps history's most famous example was the man behind the throne of the boy King, Louis XIII,  Cardinal Richelieu (played to the point of camp by Tim Curry in the 1993 version of the movie The Three Musketeers).  Richelieu was an accomplished  noble, clergyman, and statesman, considered to be the first modern prime minister. Yet even he had his own adviser, François Leclerc du Tremblay, a pious Capuchin monk more commonly known as Father Joseph,  the subject of one of my favorite books, Aldous Huxley's 1941 biography, Grey Eminence: A Study in Religion and Politics. (Tremblay was  the original  éminence grise, or Grey Eminence, a title later bestowed upon Richelieu himself.)
And who would be President Bachmann's own Grey Eminence?  Well, if she stays true to her religious beliefs, none other than her husband Marcus, who on a Christian radio show apparently called gay adolescents "barbarians."
Do we really want these two anywhere near the White House?