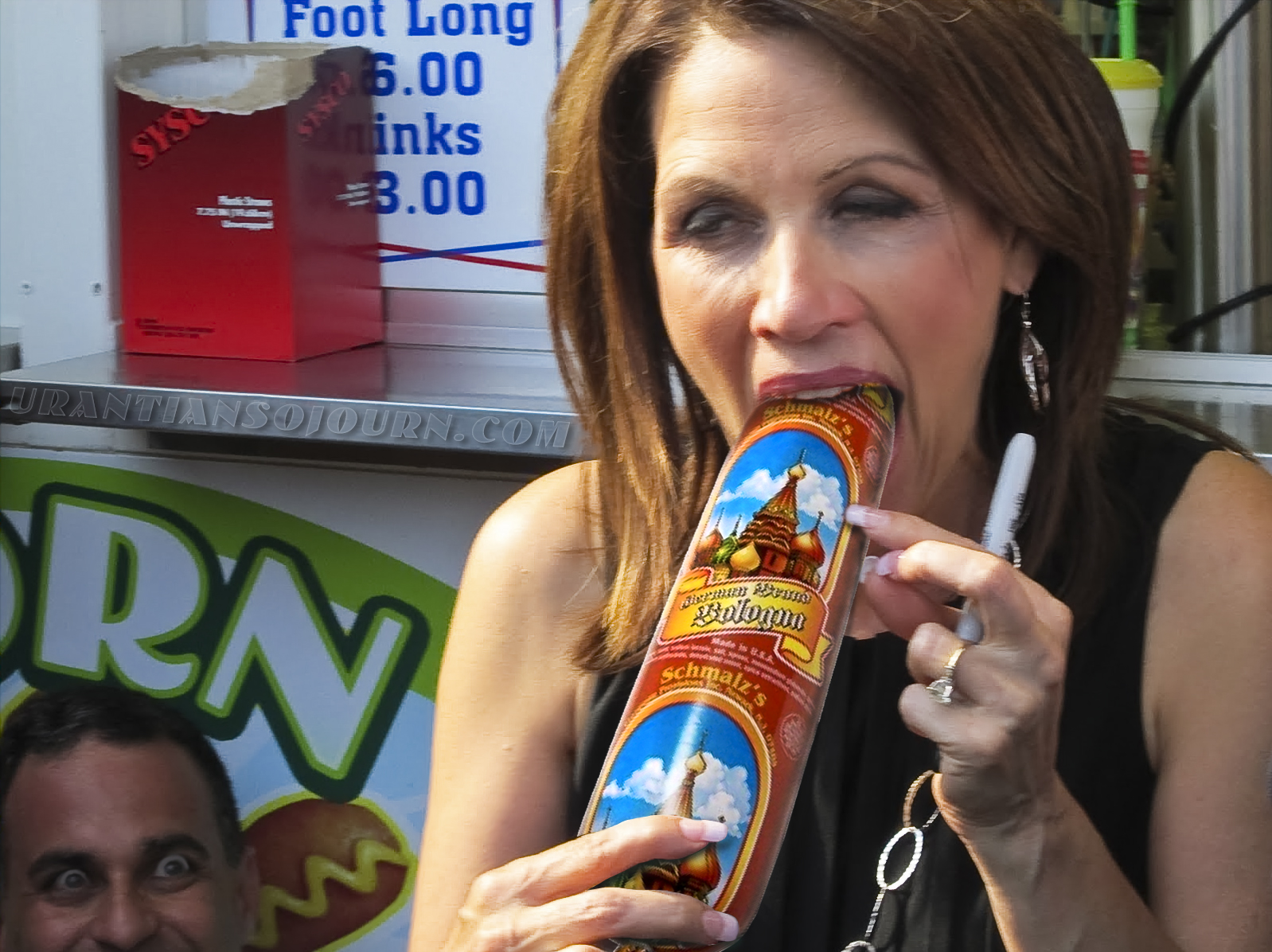 Michele Bachmann throws common sense to the Fair wind and chomps down on some gargatuan balogna. Some of these pictures will get really huge if you click on them;  you've been warned.

In his recent post, Marcus Bachmann: Grey Eminence In Waiting? my blog mate Propagandee casually buried the lead— of the now infamous pic of corn dog schlomping presidential hopeful, Michele Bachmann.
Since it's already entered the Rick Santorum Hall of Fame, (really— just google "eating phallic symbols" or say, "foot-long," and click images— you'll see what I mean) we're not going to show it here, like all those scuzzy tabloid blogs that are shoving that porn dog picture down everybody's throat, um, as it were, by posting it above comments about what a shame it is that "more reputed publications … [are] following the same path."
Uh uh.  We're going to reproduce positive suggestions on how rising MLF* Bachmann can set a better example for all Americans. . .
By letting go of that prodigious phallic meat, and eating more Lord-created elongated vegetables.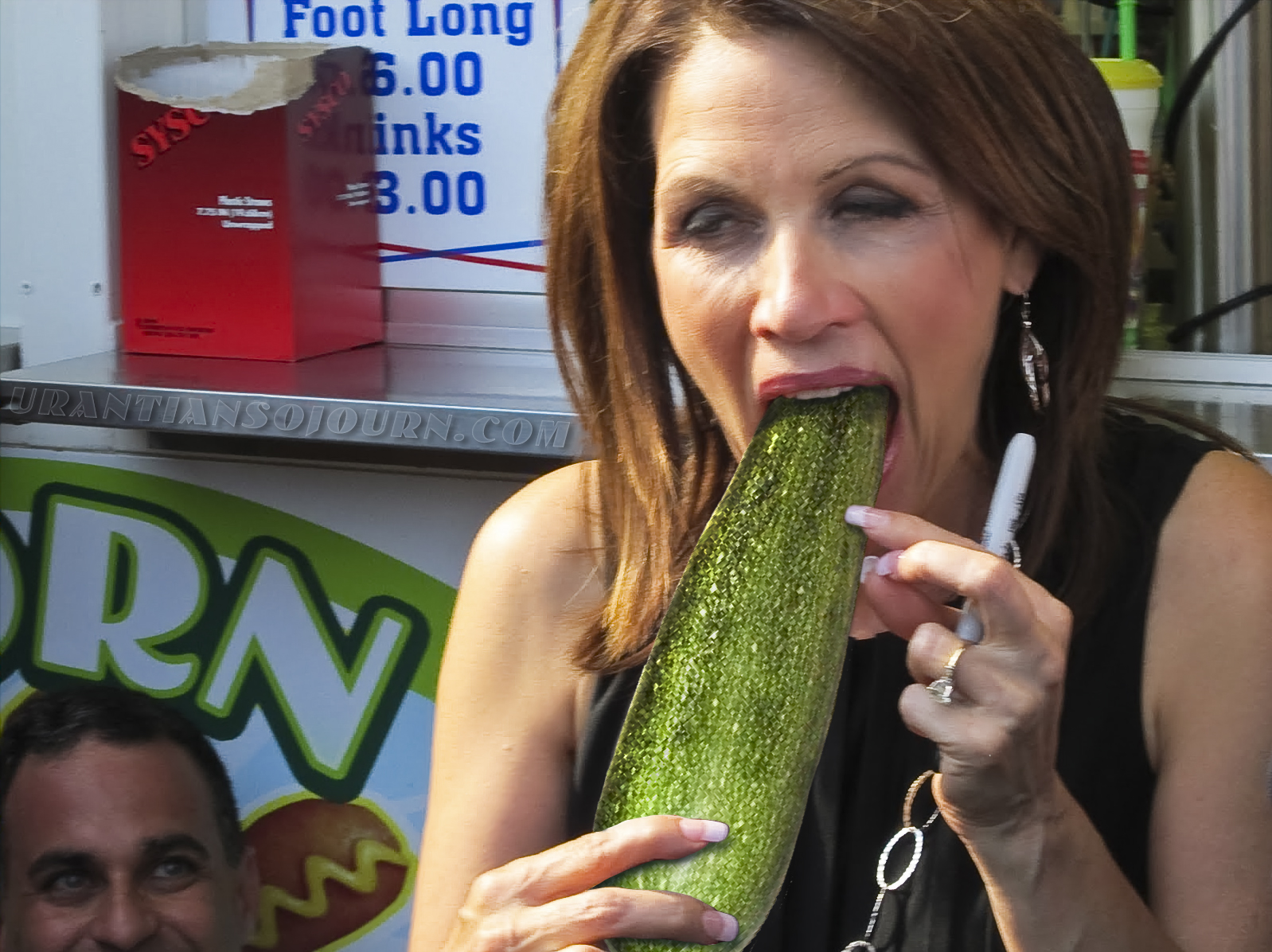 Zucchini is easy to grow, gets ginormous, is reallly tasty, and thus goes down oh so easy.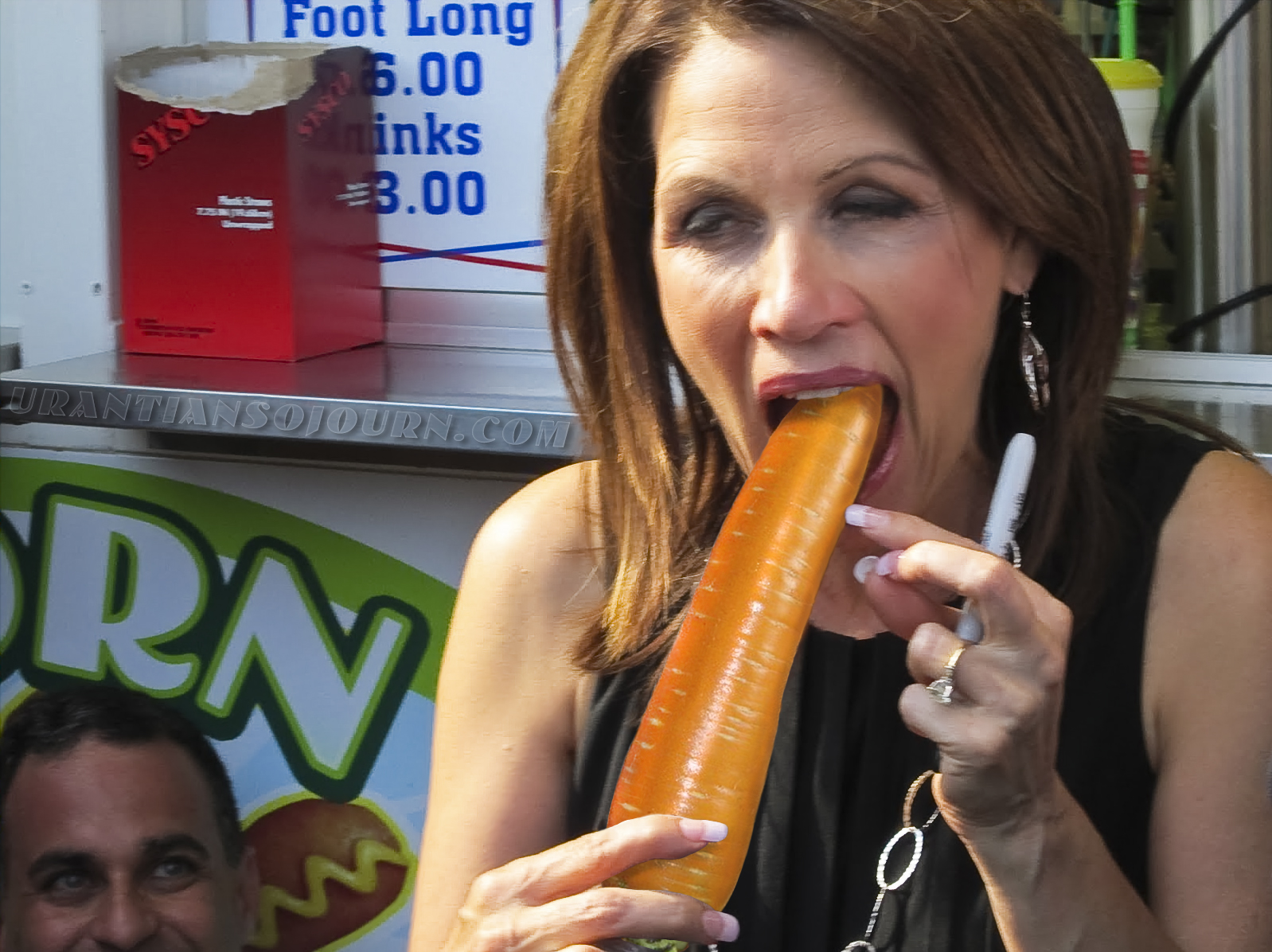 But carrots help you see in the dark— something Bachmann is completely enveloped in. (Who is that guy?!?)
However, Bachmann doesn't seem to have the common sense the good Lord gave a rock;  if she did, she wouldn't be schlopping footlong porn dogs in front of the MSM cameras.  And speaking of the Lord, it's pretty clear that, like us, he's got a phallic sense of humor.  Otherwise he wouldn't have planted this bad boy out in a national park where all the kids can see it.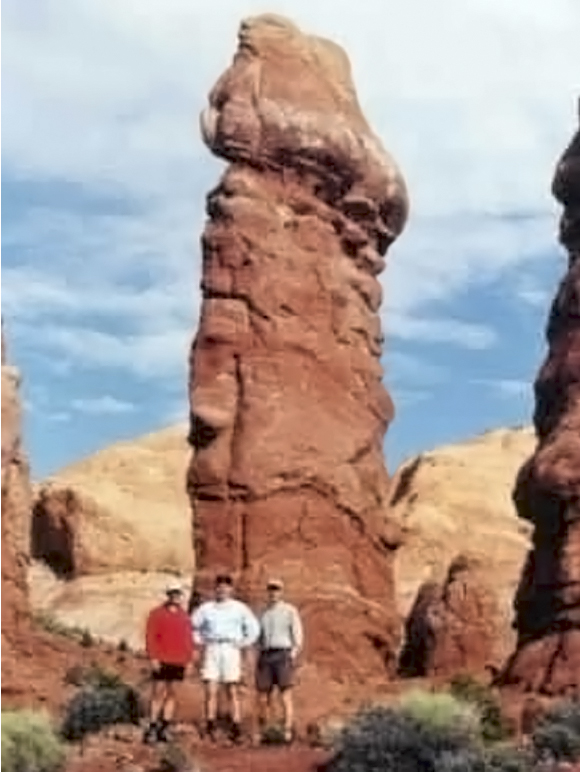 Keep dreamin', little dudes.
And speakin' of lil' dudes, let's not overlook the teletubby that started all the public political porn dog munching at the Iowa State Fair: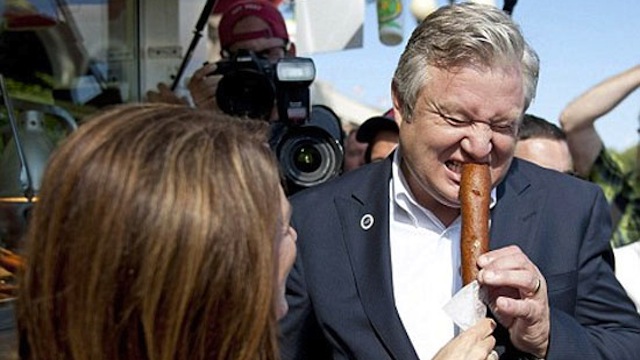 That's it; hold it for him, Michele;  it doesn't wanna submit to him either.

Nor can we leave out Lil' Ricky Porn Dog Nobbler Perry, who clearly knows how to shove it right in.
Arrmmfff…
Arrmmff  Arrmmfff…
Arrmmfff  Arrm..  Oh, wait…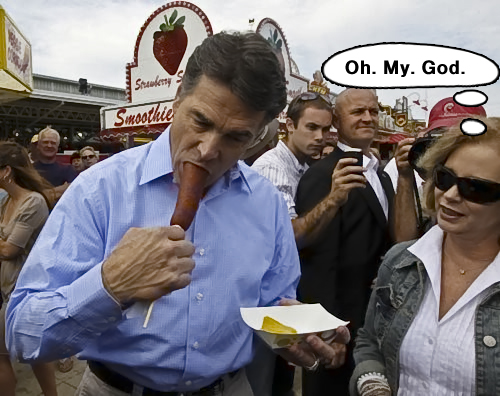 Nom, nom, nom… Hey, it worked for Bachmann.  (Can't wait for the animated gif)

But don't expect Bachmann to suddenly eschew that nasty Tea Party Sausage she's grown so fond of, since proclaiming herself head of the Tea Party caucus.  Pretty sure there's some lust in the heart goin' on there.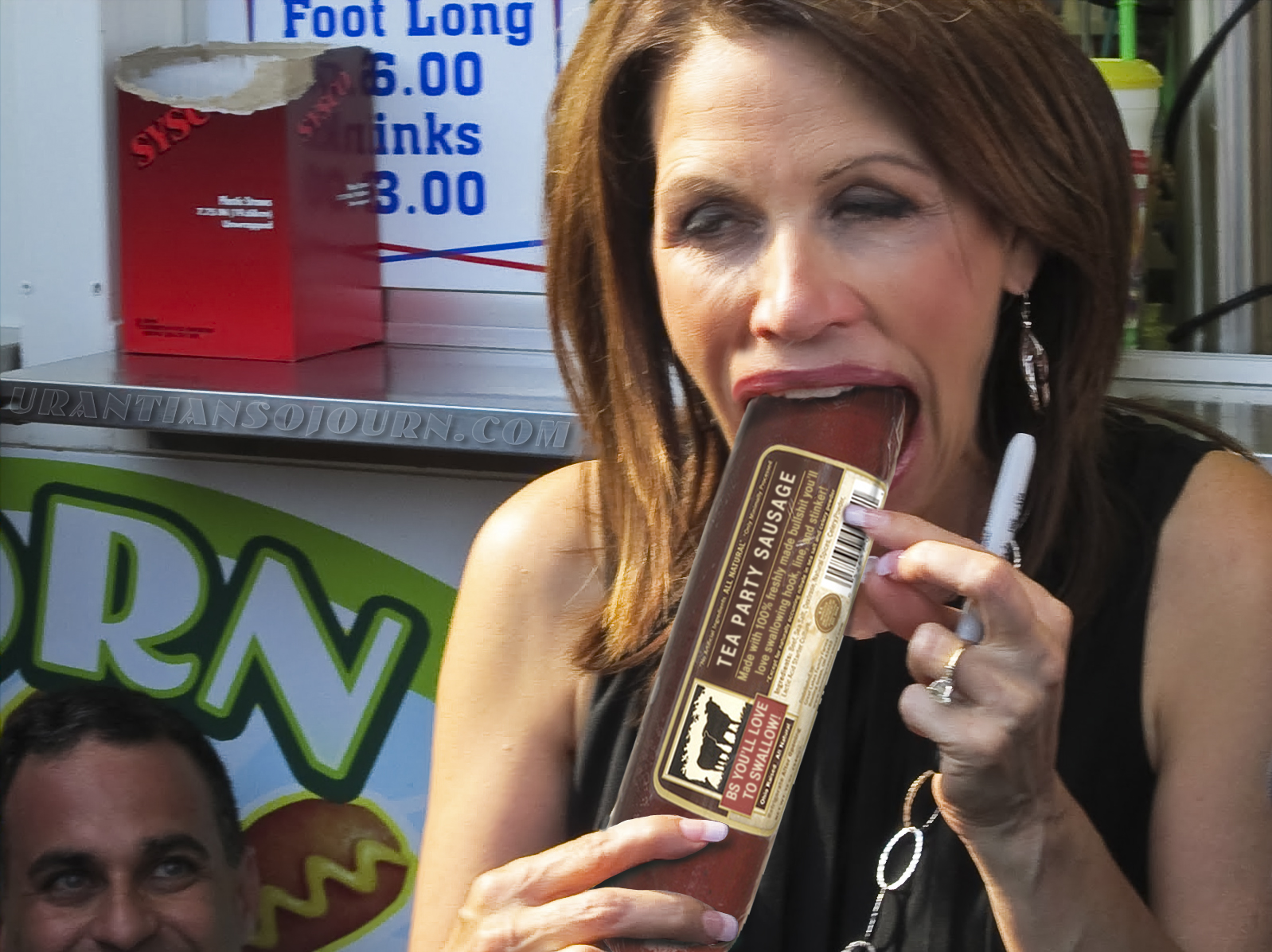 Submit!  Submit to me, you crazy Tea Party Sausage!!
Yes, that puppy will get a lot bigger if you click on this picture.
Even so, there's one piece of phallus-porn that we're sure Bachmann will never grow tired of, and will always be ready and willing to stick in her face…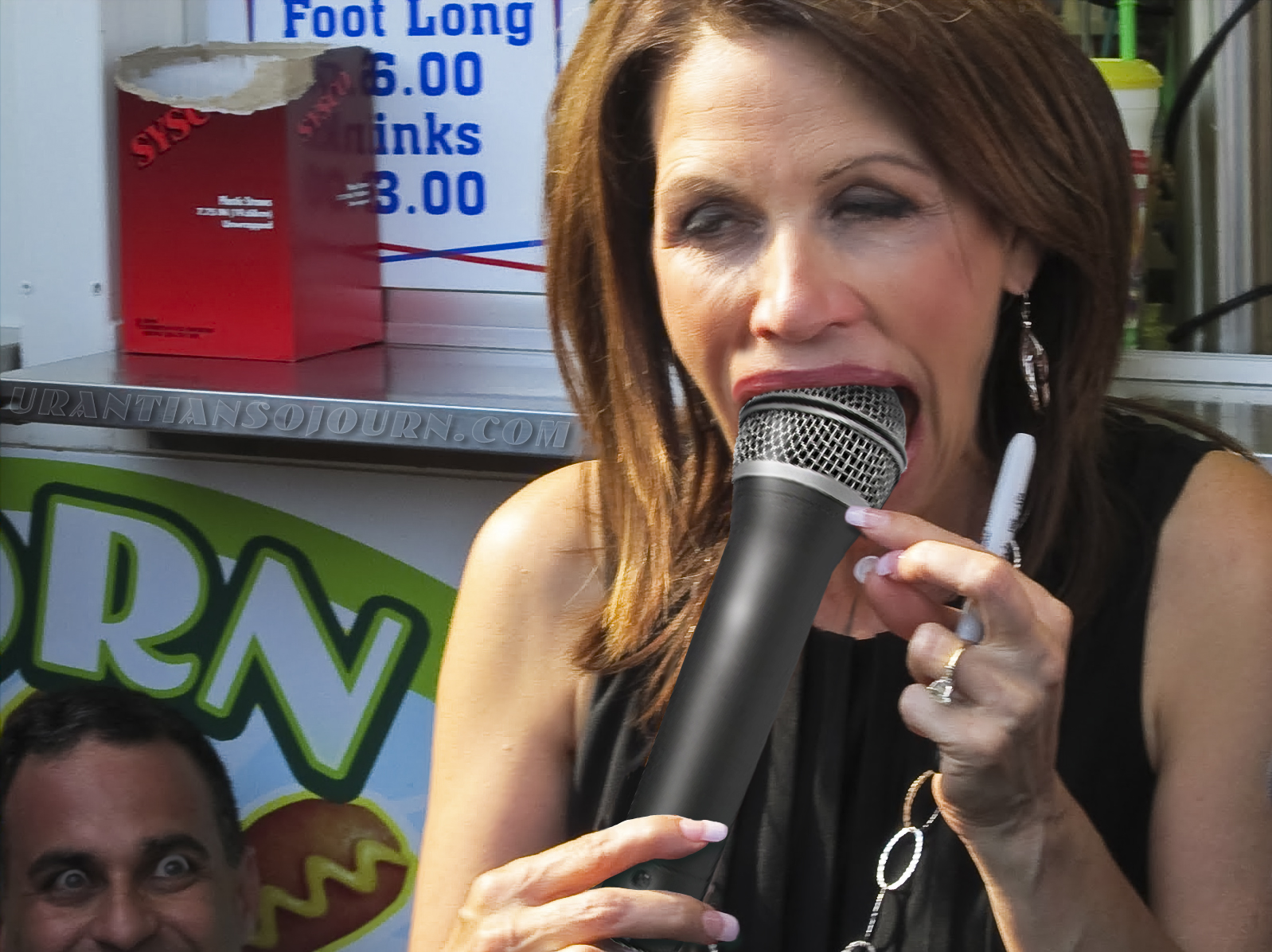 Bla bla bla Fear! Bla bla bla Gangster Governmint! Bla bla bla bla Re-education Camps!
Bla bla bla the Gay!  Bla bla Lightbulb conspiracy!  Bla bla bla Nefarious Activities!
Bla bla bla Abolish the Minimum Wage!  Bla bla bla Global Warming Hoax!  Bla bla bla Catastrophe!

 *  MLF: Michele Loves F________   (Can't fill in the blank?  Eat a corn dog.)