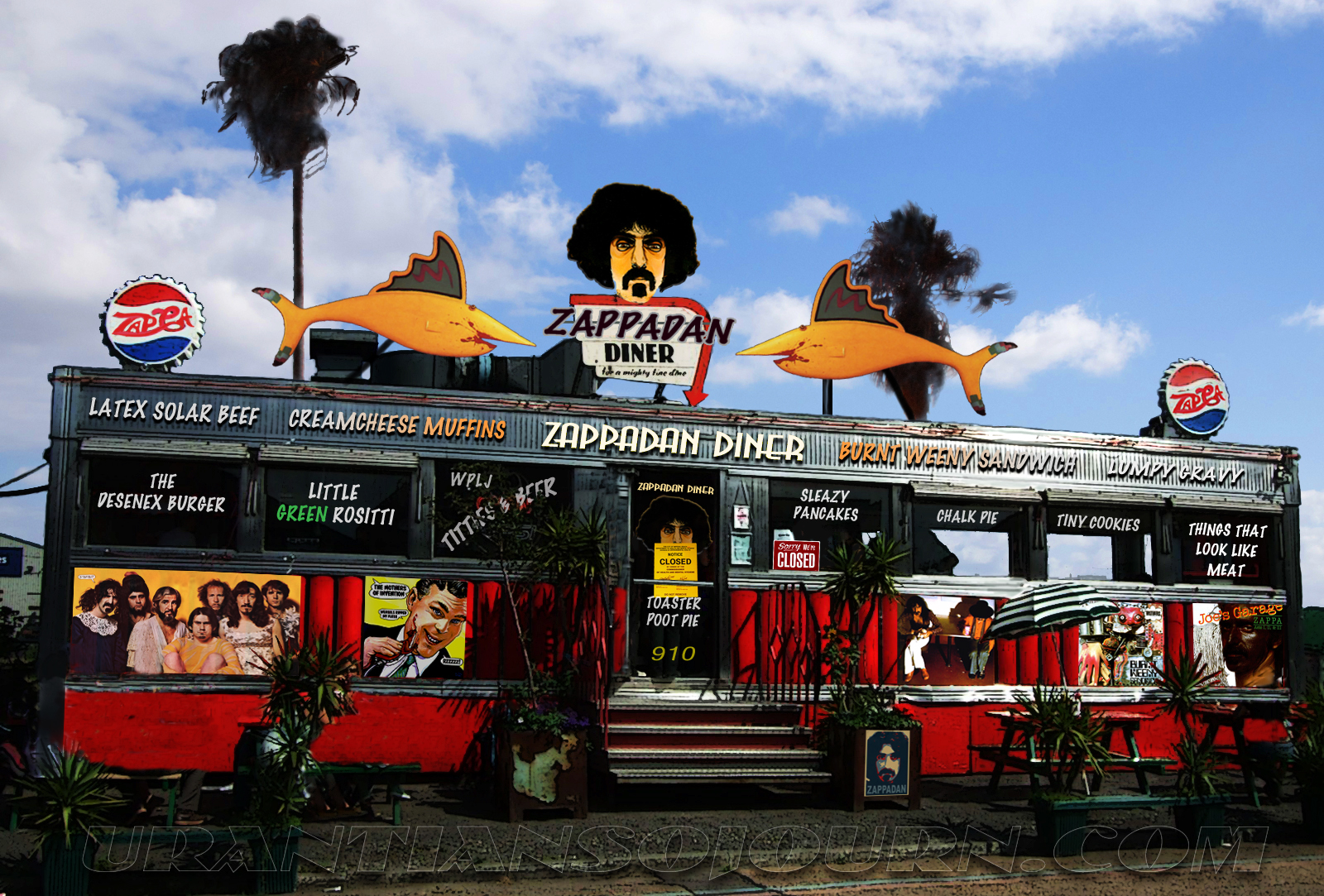 No more Small Dog Broth for you, one year.

IMPERIAL BEACH — On our little world, when you're really jonesin' for Things That Look Like Meat, some Strange Purple Jello, or a Mud Shark-Mango Muffin, there's only one place you can satisfy that craving: The Zappadan Diner.  But not anymore.  The City of Imperial Beach Department of Health and Mental Hygiene closed the Zappadan Diner on Monday, siting the possibility that the "Solar Beef" might be contaminated with latex;  there is also a suspicion that another entrée, the "Desenex Burger," may in fact contain Desenex.¹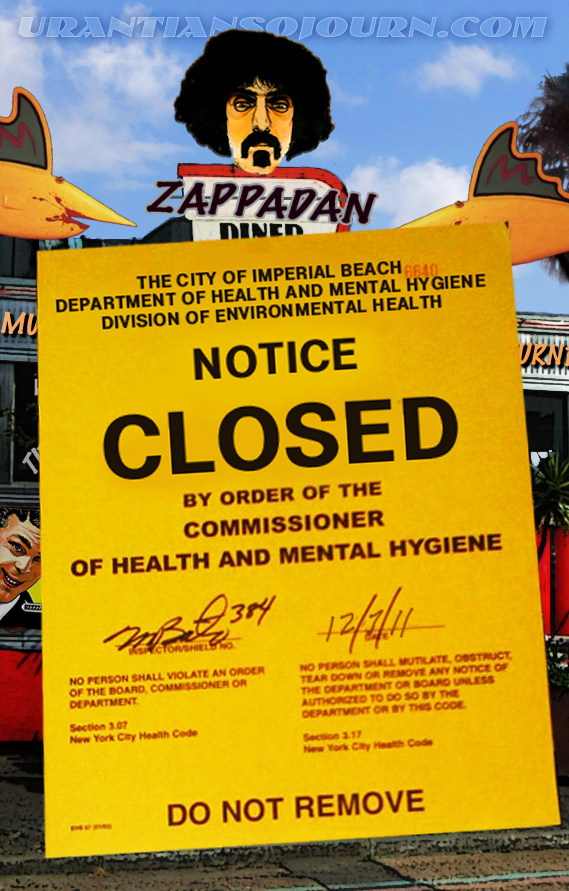 The supposed culprits?  Latex Solar Beef... and the Desenex Burger.
The irony of the closure during the 2011 Zappadan Holidaze has not been lost on the few hungry freaks gathered in front of the Diner, who have become regulars there.
A green-haired African-American woman named Jemima Kong of Imperial Beach paces back and forth;  she is wearing a heavily pilled purple alligator suit without the head, and saying to no one in particular: "Who in their right mind thinks there's actual "Latex" in Latex Solar Beef !?!  Anybody besides the Imperial Beach Commissioner of Health and Mental fuckin' Hygiene!?  They ain't did no testin' but they sayin' "One a these Zappa freaks" maybe put some Desenex in the Desenex Burgers?!?  What the fuck."
"I like the Strange Purple Jello," volunteers a marginally present young man named "Kenny" wearing only a tattered kilt and a lavender push-up bra; he is originally from Canoga Park, but now lives on the beach behind the Diner. "I don't know what's in it, but I like the way it wiggles, and there's usually some in the dumpster. . . You know when my royalty check comes, I think I'm going to buy a Mustang. Wait, no, I think I'll . . . I think I'll get a Corvette.  No, I think I'll get a Harley Davidson. No, I don't think I'll buy any of those cars. I think what I will do is I will buy a boat.  No, that wouldn't be good either. I think, ah, I'll go into real estate.  I think I would like to . . . I think I would like to buy La Cienega Boulevard."
There's also a guy named Joe being lead around by a Shih Tzu puppy on a leash;  he is singing to passers-by "What's the ugliest part of your body?"  The Shih Tzu wanders off to the beach.
But it's more than weird regulars who will miss the Diner.  Han-Min-Noon, 200 Motels Motel Parking Security Guard and team leader, makes a weekly trek from Encino just for a Desenex Burger.  "I don't give a fuck if there's Desenex in there or not.  It tastes awesome, and I'm willing to pay the price."  His cousin, Han-Toon-Ran, who often makes the trip with him, is equally upset about the closing, saying, "Eye wanting dey Muddeh Shawk soon. Eye maybey hoongray for it toodey again."
As we pack our gear, day chef of the Zappadan, La Marr Bruister, walks up.  Like many of the regulars, what he is wearing— a teal bath robe and house slippers— catches our attention.  The regulars call him "Daddy Dinky," a moniker from Let's Make The Water Turn Black.  "This totally sucks a big one," Bruister says, and a chorus of "Fuckin' Ay!" goes up from the small strange crowd that has gathered. "Where can we get some breakfast?" says Min-Noon. The absence of firing synapses is almost tangible, but finally Daddy Dinky says, "Well, there's the Farmer's Market… They sell Zappa's stuff."
A few heads slowly nod in agreement, and turn in the general direction of the Pier Plaza;  reluctantly breaking free of the weakened energy field still emanating from the Diner.
I have a sudden craving for a Mud Shark Mango Muffin.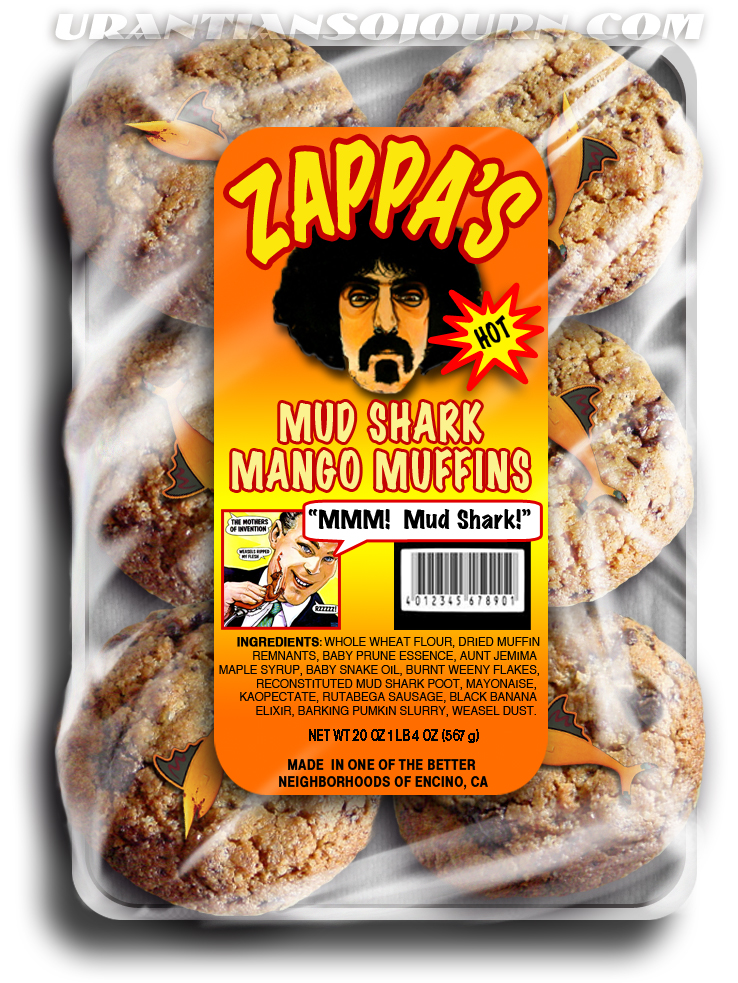 See you next year, freaks.
¹ Miconazole is the active ingredient in Desenex; it is an antifungal agent, relieves itching and burning, and is used for skin infections such as athlete's foot, jock itch, and vaginal yeast infections.  The medication is sometimes prescribed for other uses.