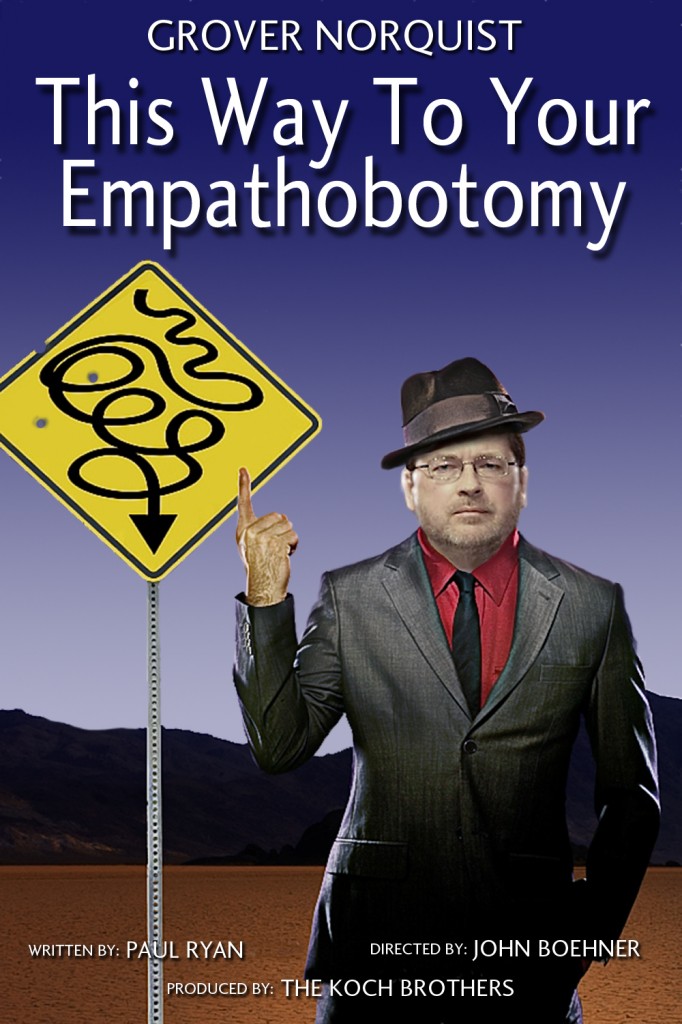 In a front page story Tuesday titled For Tax Pledge and Its Author, a Test of Time, the NY Times meditates on the prospects of Grover "Poopy Head" Grover following the decisive defeat of the GOP in the 2012 presidential elections.
The article begins thusly:
Next to the oath of office, it has been perhaps the most important commitment that Republicans in Congress can make. It is called simply "the Pledge," and its enforcer is such a fixture in the party that he is known simply by his first name, Grover.

But the pledge and its creator, Grover Norquist, a 56-year-old conservative lobbyist, have never before faced a test as they do now. The federal deficit stands at $1 trillion. The social safety net continues to grow — and, in the case of Medicare and Social Security, remains hugely popular. And unless the two parties can agree on a fiscal plan before Jan. 1, hundreds of billions of dollars of tax increases will go into effect automatically, meaning that Congress does not even need to act for taxes to rise.

The combination means that Mr. Norquist, whose long record of success is a rarity in Washington, finds himself in a tricky spot. Some top Republicans, including Speaker John A. Boehner, are saying they now agree with Democrats that the government must collect more tax revenue. Others have gone so far as to break with Mr. Norquist publicly.

By Mr. Norquist's count, 219 House members — enough for a majority — and 39 senators have committed to the pledge. But some of those members who signed on, many of them years ago, have started to back away, apparently leaving him several votes shy of the majority he would need to block any tax increase.
The last broad-based tax increase the Rethugs supported was 22 years ago, signed into law by George H.W. Bush.  So it may be a bit early to write his political epitaph.
For instance, mid-term elections like the one coming up in 2014 historically favor the losers of the previous presidential election. And Citizens United will continue to pump ungodly amounts of money into GOP campaigns. Presumably, the 43 billionaires who supported Mitt Romney will know better than to naively dump all their money on political hucksters like Karl Rove and Dick Armey.
Nonetheless, exit polls from Nov. 6 show a growing majority of voters supporting tax increases on the rich to help bring the deficit under control and to preserve vital safety net programs for the poor and middle class. While I don't believe I've ever before quoted John McCain clone Lindsey Graham favorably, he did state the obvious when he told the Washington Post:
"The demographics race we're losing badly. We're not generating enough angry white guys to stay in business for the long term."
Hear that, Poopy Head?