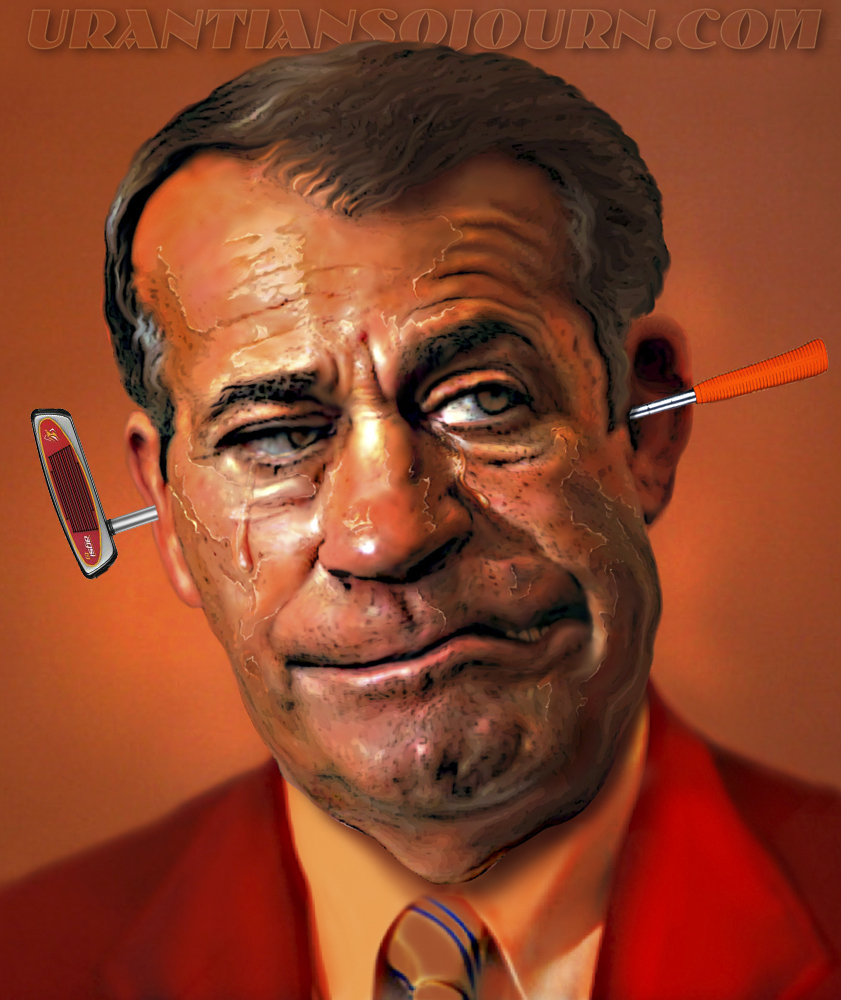 Plan B Boner has a sad
The only thing preventing President Obama from once again becoming a pariah among progressives is the Teabagger python that squeezes the GOP harder every time it even contemplates the word "compromise."
In the latest round of budget negotiations, Obama has broken his campaign promises to:
1. Exempt the first $250k of everyone's income a slight rise in taxes, back tothe rates that prevailed during the go-go years of the Clinton Administration. Instead, he raised the threshold to $400k, reducing government revenues by $300 billion in the process.

2. Hold discretionary budget cuts to $1 trillion. Instead, he added another $300 billion in order to pay for the loss of revenues above.

3. Keep Social Security off the table. Agreeing to cut cost of living increases by adopting a "chained CPI" accounting formula. As Jane Hamsher at The Lake explains, no one should be surprised by Obama's willingness to "adjust" SS benefits, despite what he said during the campaign, given his track record on the subject.
Add to that the additional $1.5 trillions of cuts Obama agreed to in 2011, and Obama has offered to cut the budget a whopping $2.8 trillion. You'd think that the Rethugs would have jumped at the chance to reduce the size of government by the largest amount in history. Then again, they and their billionaire sponsors are far more interested in individual tax cuts than reducing the debt, as the last 20 years of Republican administrations have proven beyond a shadow of a doubt.
Which brings us to the latest riot in the asylum known as the House of Representatives. Unable to muster any support whatsoever for Obama's latest capitulation negotiation, Speaker of the House John Boehner instead hatched his own plan he named "Plan B." (Plan Boner? Plan Bourbon? Plan Bust?) The Boner Plan did finally accept an increase in income taxes, but only on the uber rich, i.e. the top .2%. Blowing past the 250k and 450k thresholds, he raised it to $1 million, starving the government of revenues even more, without even mentioning off-setting budget cuts, let alone specifying which ones. [Edit/Update: ThinkProgress has a side by side comparison here.]
Boehner was under no illusion that it would ever pass the Senate, let alone survive a veto by the president. Thus it was a strictly political maneuver, probably meant to signal that he could deliver his caucus despite the caterwauling from his wingnut right. He went before the cameras, speaking confidently that he had enough votes for passage. He could thus leave town for the holidays, the ball in the president's court.
Unfortunately for The Orange Man, he can't count, can't count on his own party to back his play. (Why he thought the no-tax-at-any-cost-crowd would all fall on their swords in a futile gesture is beyond me.) At the last minute, he pulled the bill from the floor, admitting that he didn't have the votes. Hand that man an exploding ceegar…
How Washington has become so utterly paralyzed is detailed by Robert Ornstein (American Enterprise Institute) and Thomas Mann (Brookings Institute) in their book "It's Even Worse Than It Looks: How the American Constitutional System Collided With the New Politics of Extremism."  They continue their analysis in a recent WAPO op-ed "Let's just say it: The Republicans are the problem":
We have been studying Washington politics and Congress for more than 40 years, and never have we seen them this dysfunctional. In our past writings, we have criticized both parties when we believed it was warranted. Today, however, we have no choice but to acknowledge that the core of the problem lies with the Republican Party.

The GOP has become an insurgent outlier in American politics. It is ideologically extreme; scornful of compromise; unmoved by conventional understanding of facts, evidence and science; and dismissive of the legitimacy of its political opposition.
When one party moves this far from the mainstream, it makes it nearly impossible for the political system to deal constructively with the country's challenges.
Something that's been obvious to progressives for decades seems to be finally seeping into the sclerotic brains of The Beltway Village People. Here's what Ornstein and Mann say about the enabling contributions of The Fourth Estate, who have fully internalized the fallacy of false equivalency:
"Both sides do it" or "There is plenty of blame to go around" are the traditional refuges for an American news media intent on proving its lack of bias, while political scientists prefer generality and neutrality when discussing partisan polarization. Many self-styled bipartisan groups, in their search for common ground, propose solutions that move both sides to the center, a strategy that is simply untenable when one side is so far out of reach.
Conservative ideology itself plays a substantial role in the dysfunctionality that has turned the US government into a chaotic three ring circus that has the rest of the civilized world shaking their heads in disbelief:
Republicans often dismiss nonpartisan analyses of the nature of problems and the impact of policies when those assessments don't fit their ideology. In the face of the deepest economic downturn since the Great Depression, the party's leaders and their outside acolytes insisted on obeisance to a supply-side view of economic growth — thus fulfilling Norquist's pledge — while ignoring contrary considerations.
Thanks to the legalized bribery made possible by the five conservatives on the Supreme Court, plutocrat billionaires like the Koch Brothers, Sheldon Adelson, and Pete Peterson are free to outspend the entirety of the American electorate in their goal to roll back the New Deal and eviscerate regulatory limits that hinder their insatiable greed for wealth and power. (Apparently, a couple of billion dollars wasn't enough to secure the White House and the Senate this go-round, due in large measure to the incompetency of GOPer apparatchiks like Karl Rove and Dick Armey. Don't expect them to make the same mistake during the next two national elections.)
Like the power of massive black holes to warp the orbits of entire galaxies, their overwhelming influence is producing some strange cognitive distortions in the minds of their GOP errand boys:
The results can border on the absurd: In early 2009, several of the eight Republican co-sponsors of a bipartisan health-care reform plan dropped their support; by early 2010, the others had turned on their own proposal so that there would be zero GOP backing for any bill that came within a mile of Obama's reform initiative. As one co-sponsor, Sen. Lamar Alexander (R-Tenn.), told The Washington Post's Ezra Klein: "I liked it because it was bipartisan. I wouldn't have voted for it."
Most recently, we saw Mitch McConnell filibuster his own bill on raising the debt ceiling.
It's not like the electorate hasn't noticed Teh GOPer Crazy. According to a recent CNN poll: "Fifty-three percent of those surveyed say they view the policies of the GOP as too extreme, up 17 points from two years ago."
Let's end where we started, with President Obama. Here's some timely advice for him from FDR on how to dealing with a party hell bent on your personal and political destruction. From FDR's 1936 speech announcing the Second New Deal.
We had to struggle with the old enemies of peace–business and financial monopoly, speculation, reckless banking, class antagonism, sectionalism, war profiteering.

They had begun to consider the Government of the United States as a mere appendage to their own affairs. We know now that Government by organized money is just as dangerous as Government by organized mob.

Never before in all our history have these forces been so united against one candidate as they stand today. They are unanimous in their hate for me–and I welcome their hatred.

Here is an amazing paradox! The very employers and politicians and publishers who talk most loudly of class antagonism and the destruction of the American system now undermine that system by this attempt to coerce the votes of the wage earners of this country. It is the 1936 version of the old threat to close down the factory or the office if a particular candidate does not win. It is an old strategy of tyrants to delude their victims into fighting their battles for them.

I should like to have it said of my first Administration that in it the forces of selfishness and of lust for power met their match. I should like to have it said of my second Administration that in it these forces met their master…

Here and now I want to make myself clear about those who disparage their fellow citizens on the relief rolls. They say that those on relief are not merely jobless–that they are worthless. Their solution for the relief problem is to end relief–to purge the rolls by starvation. To use the language of the stock broker, our needy unemployed would be cared for when, as, and if some fairy godmother should happen on the scene.

You and I will continue to refuse to accept that estimate of our unemployed fellow Americans. Your Government is still on the same side of the street with the Good Samaritan and not with those who pass by on the other side….

Of course we will continue our efforts for young men and women so that they may obtain an education and an opportunity to put it to use. Of course we will continue our help for the crippled, for the blind, for the mothers, our insurance for the unemployed, our security for the aged. Of course we will continue to protect the consumer against unnecessary price spreads, against the costs that are added by monopoly and speculation. We will continue our successful efforts to increase his purchasing power and to keep it constant…

"Peace on earth, good will toward men"–democracy must cling to that message. For it is my deep conviction that democracy cannot live without that true religion which gives a nation a sense of justice and of moral purpose. Above our political forums, above our market places stand the altars of our faith-altars on which burn the fires of devotion that maintain all that is best in us and all that is best in our Nation.

We have need of that devotion today. It is that which makes it possible for government to persuade those who are mentally prepared to fight each other to go on instead, to work for and to sacrifice for each other. That is why we need to say with the Prophet: "What doth the Lord require of thee — but to do justly, to love mercy and to walk humbly with thy God." That is why the recovery we seek, the recovery we are winning, is more than economic. In it are included justice and love and humility, not for ourselves as individuals alone, but for our Nation.

That is the road to peace.