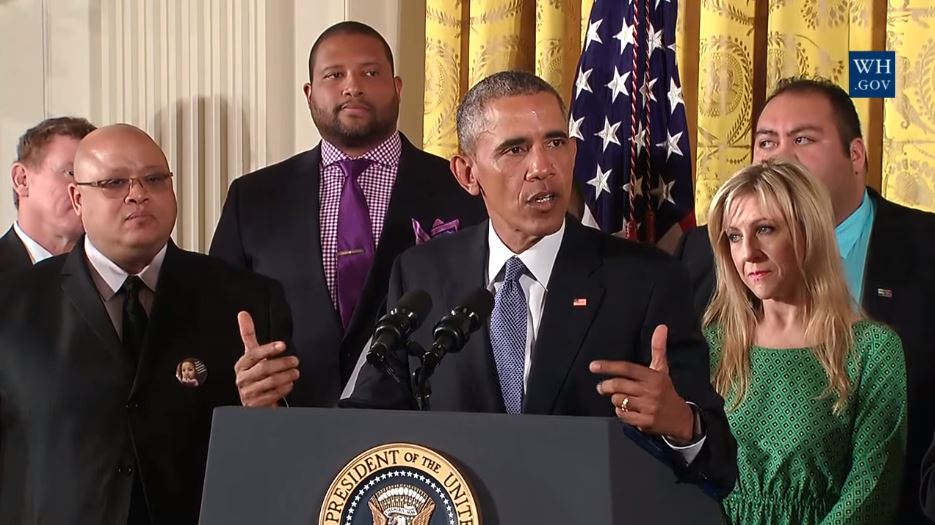 A commentary video from the NRA claimed that President Obama stood in front of "the wrong people" when delivering a speech about gun violence before gun violence survivors, and that instead he should have stood before "the groups he is really helping: gang members, felons, and repeat offenders."
―Media Matters
Introduction
In Part II of the Dunning-Kruger effect, President George W. Bush was presented as an example of a leader who couldn't recognize and accept his own limitations, and was thus easy to manipulate. His position as president of the United States (and his mediocre IQ) made him especially vulnerable to sophisticated Wag the Dog operations designed to portray him as the kind of competent, intelligent leader he wasn't. The apparent strategy of his handlers was to keep him tightly scripted and out of the public eye as much as possible. To that end, George  spent 407 days out of his office during the first three years of his presidency, at either his fake ranch in Crawford, Texas, or the Bush family retreat at Kennebunkport, Maine. (Remember the fake turkey he presented to the troops in Iraq? Symbol: meet reality.) By contrast, President Barack Obama, spent some 125 days out of the office over a comparable length of time.
While work habits can tell us something about a president's general cognitive approach to problem solving and crisis resolution, they are other data points worth considering. They include: staff choices, the ability to delegate, the degree to which they write their own speeches, and intellectual curiosity. (Hint: One of the nicknames Bush earned for himself was "Incurious George.")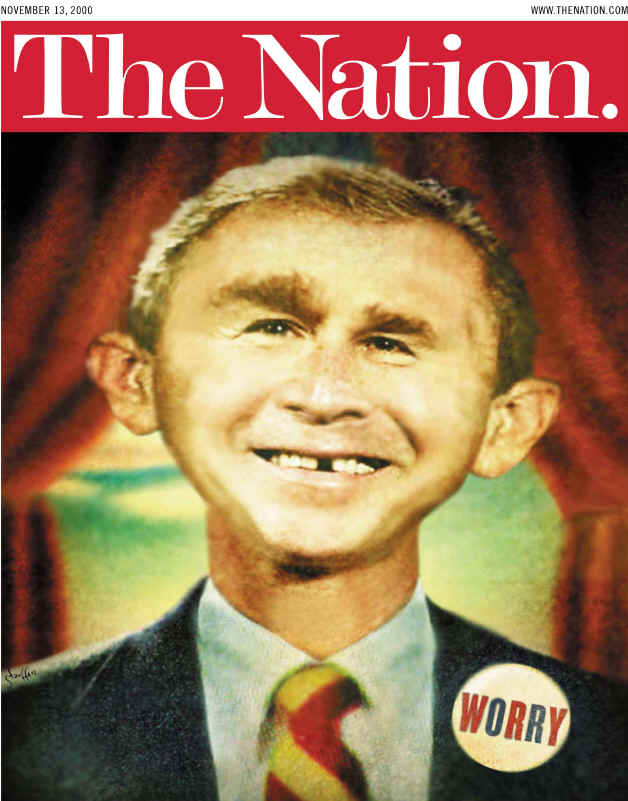 What Me Worry?
Perhaps the most telling comparison are the two men's respective psychological profiles. In 2004, Dr. Justin Frank wrote his classic book Bush on the Couch. I was quite intrigued by the original and look forward to reading the revised edition published in 2007, which among other things describes Bush's "telling habits and coping strategies—from his persistent mangling of English to his tendency to 'go blank' in the midst of crisis." Remember his deer-in-the-headlights look when an aide interrupted him to tell him that the World Trade center was burning while he was reading My Pet Goat to Florida school children?
I also look forward to reading Dr. Frank's analysis of President Obama, Obama on the Couch, published in 2012, and comparing the two in a future post (or five). For now, a blurb relevant to our current discussion will have to suffice.
 "Dr. Frank argues that the President's decisions are motivated by inner forces – in particular, he focuses on Obama's overwhelming need to establish consensus, which can occasionally undermine his personal—and his party's—objectives."
In Dr. Frank's own introduction, he notes that Obama's passion to find common ground actually makes Tea Party types even crazier, which goes a long way towards explaining their vehement resistance to everything he proposes. What makes their fanatical opposition all the more remarkable is that it reaches its greatest intensity when it concerns an issue that they themselves supported in the past, some ten in total to this accounting at Electablog. These include: the individual mandate at the heart of both Obama Care and Mitt Romney's Massachusetts health  care plan; donor disclosure in campaign financing reform; clean energy measures; changes in Medicare to save $700 billion; creation of a deficit reduction commission; and background checks for gun purchasers. (For the latter, see also: Republicans-suddenly-turn-against-enforcing-existing-law-on-guns-because-Obama). In other word, they are incapable of taking Yes for an answer.
Obama and Dunning-Kruger: A Psychological Corollary
Being investigations into human behavior, cognitive studies are designed to be nonpartisan (maybe not always successfully so, but at least they try). A related corollary of the Dunning-Kruger findings that I believe President Obama is representative of can be found in the following observation:
The miscalibration of the incompetent stems from an error about the self, whereas the miscalibration of the highly competent stems from an error about others.
I once commented that if the young "Barry" Obama, growing up in Hawaii, had gone to a public school instead of the sheltered confines of a private school, he would have graduated a lot tougher, street smart kid. As such, he would have learned to better divine the malicious intent of others. I lived on Maui during the seventies when "Kill Haole Day" was an annual event celebrated in the public schools; when it was open-season on "heepies" like me.  Hippies were perceived as weak, shiftless, nudist drug addicts who had taken over some favorite local beaches, and were thus fair game. (Imo, we were proxies for many otherwise justifiable local discontents, like the invasion of a hotel industry that paid shit wages and, of course, high-end housing developers.  I learned pretty quickly to recognize "the evil eye" and other signs of imminent danger, a cognitive skill that me daddy ironically called "native intelligence." I can  think of a few times when a single "miscalibration" would have resulted in serious harm to my person.)  But I digress.         
During his early years in the White House, Obama was seemingly the last person to grok the fact that the Right Wing hated his guts, and would do everything in their power to destroy him and his presidency, notwithstanding the obvious signs that were out there. Beginning with his inauguration, Senate Minority Leader Mitch McConnell set out to derail Obama's legislative agenda. This despite the  fact that the country was reeling from the economic catastrophe of the Great Recession,  a moldering shit sandwich that Bush left Obama in an Oval Office desk drawer. It took an extraordinary level of denial for Obama to have thought that the Rethugs would willingly compromise on policy differences and work for the better interests of the country; that his charm and intellectual acuity would win the day; that he could get the leopards to change their spots. It was only after the 2014 elections that he began disabusing himself of this near fatal cognitive "miscalibration."
Really, all he had to do was pick up the phone and call "the first black president," Bill Clinton, for an inkling of what was to come. (If the Clintons had procured even a small royalty from the sales of books, videos, t-shirts, bumper stickers, etc., from the cottage industry that institutionalized "the politics of personal destruction," Hillary could never have claimed that they left the White House "dead broke." As if….)
Recently, it was reported that―horror of horrors!―Obama doesn't watch enough cable news, and therefore doesn't understand the nation's concerns about terrorism.  Instead of spending critical time listening to self-promoting, bloviating talk show hosts dedicated to the failure of his presidency (consequences to the country be damned), Obama prefers to listen to the nation's 17 intelligence agencies for information about threats to the Commonwealth.  These include dangers from ISIS/Daesh/ISIL, Russian military machinations, China's growing power and influence, the national security implications of global climate change, mass killings, the growing anti-government militia movement, etc., etc.
Some, like me, would consider eschewing the manufactured reality of the cable news media-industrial-complex a feature and not a bug, but what do we know.
Another corollary:
…highly skilled individuals may underestimate their relative competence, they may erroneously assume that tasks which are easy for them are also easy for others.
One of the most frequent criticisms of Obama is that he is arrogant, aloof, detached, and, clench your cheeks, professorial.  He analyzes a problem, comes to a logical conclusion, and expects every one else to do likewise, once they've been presented the facts.  But for those with a different point of view and a different agenda, No Drama Obama is out of touch, especially with the nation's feelings about terrorism.  And according to two-time presidential candidate and loser, Mitt Romney, out of touch with reality itself.
Gun Control: Obama's Dunning-Kruger Breakaway Moment
Terrorism aside, the issue that has finally forced Obama to transcend his "miscalibrations" about the competency of others to realize their own stupidity is, tada―gun control.  His new, tougher attitude towards the gun lobby was on full display Thursday night at a "Guns in America" town hall meeting at George Mason University in Fairfax, Virginia, hosted by CNN. Author of Idiot America Charlie Pierce has the coverage:
"Yeah, I meant what I said," Obama said when asked about the op-ed by moderator Anderson Cooper. "And the reason I said that is this: The majority of people in this country are a lot more sensible than what you see in Washington." Obama singled out the National Rifle Association as one of the "loudest, shrillest voices" against gun control and told the audience "[that] the way we break the deadlock on this issue is when the NRA doesn't have a stranglehold on Congress in this debate." To that end, the president said, "I want to throw my shoulders behind those who want to solve problems, and not those who want to get high scores from an interest group."
The president is telling members of his own party to man up and support mild gun safety measures of which nearly the entire country approves, and he's telling the media to stop enabling crazy people simply because their madness is so sincere.
It should be noted that the NRA chickened out when CNN invited them to attend the discussion. And that a new CNN poll shows that 67% of Americans support the gun control measures Obama announced this week. Pierce broadens his field of fire by taking the media to task for their enabling role in keeping the crazy going crazy:
Moreover, he was taking no guff from Cooper on the subject of why people believe nonsense about what his real plans are. Glory hallelujah, said I.  Somebody finally is taking the Third Great Premise of Idiot America—Fact is that which enough people believe.  Truth is determined by how fervently they believe it — seriously enough to refute it.

This is just beautiful.  The president is telling members of his own party to man up and support mild gun safety measures of which nearly the entire country approves, and he's telling the media to stop enabling crazy people simply because their madness is so sincere.
Certainty is the mother of sincerity. As Mark Twain observed: "It ain't what you don't know that gets you into trouble.  It's what you know for sure that just ain't so."  And a corollary from A Compendium of Wise Sayings From George Costanza, also applies: "It isn't a lie, if you believe it."  Cue music from Fleetwood Mac:  "Tell  me lies, tell me sweet little lies…"
In close, we must ask:  When will individual members of the NRA realize they are being used as dupes by the gun industry to jack sales? They should be less concerned about Obama taking their guns away and more concerned about the NRA and Fux News taking away what's left of their common sense.
Case in point:
    According to a Fux News host,  Obama used a raw onion to fake tears while talking about school kids dying
Next, in Part IV of the Dunning-Kruger Effect, we look at the new film The Big Short, for an example of how incompetency at the highest levels of government and industry is not only excused, but rewarded.