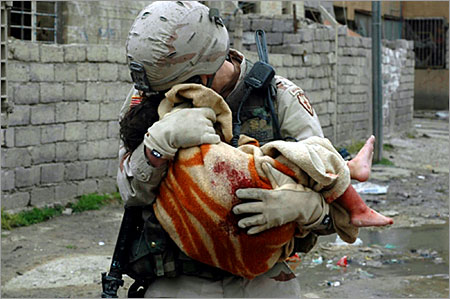 U.S. Soldier cradling a dead Iraqi child
I did not—repeat DID NOT—ghost write the Der Spiegel article referred to below, notwithstanding that it comports 100% with what I've written about the failed Iraq War strategery in various fora since 2002. (Strategery is a word coined by the writers at Saturday Night Live, enunciated by the actor Will Ferrell to satirize the cognitive foibles of our former Commander in Chief, George. W. What Me Worry Bush. Apologies to Mad Magazine's Alfred E, Neuman).
The highlights of the  article are presented by Huffington Post' s Matt Ferner in Monday's article titled: Former Military Chief: Iraq War Was A 'Failure' That Helped Create ISIS, which begins:
Retired Lt. General Michael Flynn, former U.S. special forces commander in Iraq and Afghanistan who was the country's highest ranking military intelligence official, says that the George W. Bush administration's Iraq war was a tremendous blunder that helped to create the self-proclaimed Islamic State, or ISIS.

"It was a huge error," Flynn said about the Iraq war in a detailed interview with German newspaper Der Spiegel published Sunday.

"As brutal as Saddam Hussein was, it was a mistake to just eliminate him," Flynn went on to say. "The same is true for Moammar Gadhafi and for Libya, which is now a failed state. The historic lesson is that it was a strategic failure to go into Iraq. History will not be and should not be kind with that decision."

When told by Der Spiegel reporters Matthias Gebauer and Holger Stark that the Islamic State would not "be where it is now without the fall of Baghdad," Flynn, without reservations, said: "Yes, absolutely."
Full disclosure: I am not a brilliant military analyst pulling down a hefty six figure salary to write position papers for a leftie think thank squirrelled away somewhere near Foggy Bottom with a view of the Pentagon. I never served in the military, nor do I have close confidants employed in the intelligence industrial complex. Though I have had a lifelong interest in the military and military strategy, beginning with my reading of Robin Moore's The Green Berets and A General's Story (about General Omar Bradley, General of the Army from D-Day to the end of WW 2) when I was in my early teens, all my studies and insights and been derived from the public record.
So, having someone with background of Michael Flynn confirm my critique of the USA's military and foreign policy is heartening, to say the least. It actually gives me hope that, eventually, US policy makers will finally get a clue about the futility of trying to maintain worn out strategery tropes like:  Might makes right, Manifest Destiny, and American Exceptionalism.
Meanwhile, media networks and politicians continue to hire for their "expert" opinions many of the same thoroughly discredited hacks who helped lie our country into catastrophic wars in Afghanistan and Iraq, wars directly responsible for today's expanded conflicts. It's like re-employing the surgeon who mistakenly amputated your healthy limb to amputate the actual diseased one. Sooner or later, he's bound to get it right.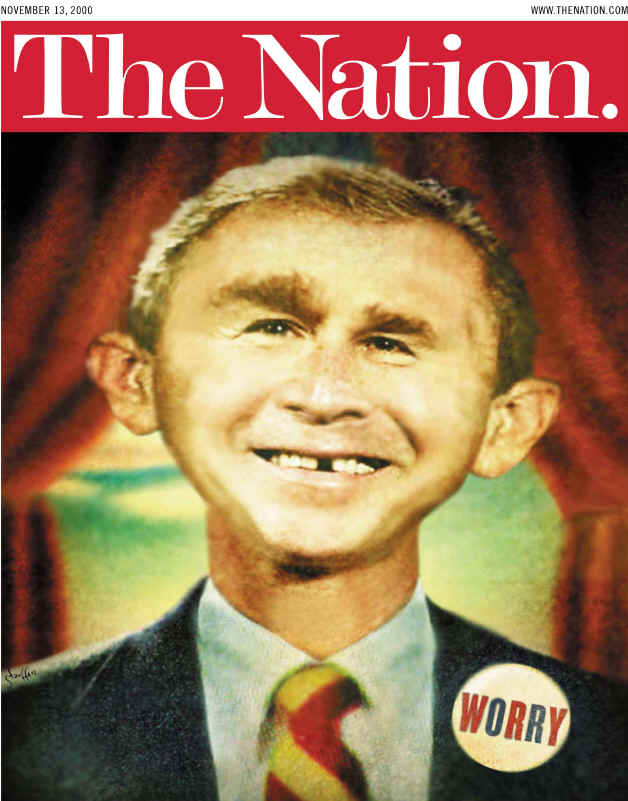 What, me worry?