The barn door has closed on yet another episode of CPAC's Wingnut Woodstock, the annual conclave of conservaschism's most extreme proponents. (See our archives for previous entries.)
Among the 70+ speakers were the party's last two failed GOP Veep candidates, Rep. Paul Ryan (R- Gault's Gulch), who couldn't be bothered to even mention his former running mate, Mitt Romney, who was also there;  and Sarah Palin (R-Alaskan Quitter), who couldn't resist sucking up some sugar water poison from a Big Gulp and throwing some red meat to the Birthers while attacking Karl Rove:
"If these experts who keep losin' elections and keep gettin' rehired and gettin' millions — if they feel that strong about who gets to run in this party, then they should buck-up or stay in the truck."
Rand Paul, who won the presidential straw poll beating Marco Rubio, 25%-23%, also implicitly took a shot at Rove and the establishment wing of the party, calling it "stale and moss covered," in need of a complete do-over.  Rubio took the opposite tack, saying that the party just needed better packaging, everything else is just fine… except maybe their attitude toward immigration, a word that curiously never passed his lips.  Ted Cruz responded politely to GOP's "grey eminence" John McCain, after McCain called him a "whackobird" for supporting Paul's 13 hour filibuster against extra-judicial targeted killings, ala drone strikes.
All told, over 70 speeches were given.  And while Donald Trump said nothing of substance, he will be remembered for making a further investment in self-parody, talking to a room full of empty chairs after tweeting enthusiastically about how the sponsors were expecting a standing room only crowd for the pleasure of his company.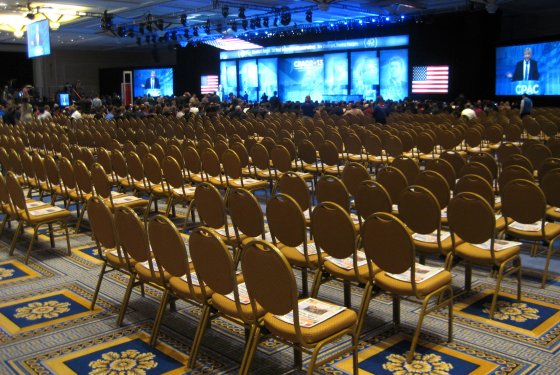 Squint real hard and you might see Trump holding court for a handful of starstruck suckups
Noticeable for their absence were Past GOP luminaries New Jersey Governor Chris Christie and Virgina Governor Bob McDonnell weren't invited this year because they had committed the unforgivable sin of, you know, actual governance, an activity antithetical to the overriding mission of modern conservatism— the wholesale dismantling of the US government (except as it benefits the 1%).
Which brings us to the substance of Paul Ryan's speech, his proposed 2014 budget confabulation. The zombie eyed granny starver once again tried to disguise his Ayn Randian flavored social Darwinism as deficit reduction, framing his argument as the only rational approach to a country teetering on the edge of the apocalypse:
Unless we change course, we will have a debt crisis.  Pressed for cash, the government will take the easy way out:  It will crank up the printing presses.  The final stage of this intergenerational theft will be the debasement of our currency.  Government will cheat us of our just rewards.  Our finances will collapse.  The economy will stall.  The safety net will unravel. And the most vulnerable will suffer.

But it's not too late.  This budget provides an exit ramp from the current mess— and an entry ramp to a better future.  Unlike the President's last budget, which never balanced, this budget achieves balance within ten years.
Washington Post and MSNBC economic policy wonk Ezra Klein comments:
These are tremendously important paragraphs. They're emphasized a few pages later, in the first real section of the budget, which is entitled "The Debt Crisis Ahead."  These paragraphs matter because they serve as Ryan's justification for his budget.  They are why we need to throw 35 million people off health insurance.  They are why we need to cut deep into education and infrastructure and food stamps and housing assistance.  They are why this budget is an act of mercy rather than cruelty — because if this future is the only alternative, then this budget is painful but necessary medicine.

But it's not.  Ryan's nightmare scenario isn't likely even in the absence of new policy.  A reasonable assumption of future debt is about 112 percent of GDP come 2037 — and that's assuming the repeal of the sequester.  That's too high for comfort, and there's some evidence that debt at that level could harm the economy.  But there's no evidence that it would create the kind of Mad Max-style scenario Ryan paints.
Ryan's GOP budget takes a meat ax to the social safety net for the old, poor, and infirm, all the while sparing the military/medical/prison/financial industrial complex or any other corporate interest group from any sacrifice whatsoever. Ryan ignores deficit expanding tax expenditures that overwhelmingly favor the wealthy, which in 2009 cost the federal government a cool trillion; says nothing about eliminating tens of billions of dollars in direct taxpayer subsidies to hugely profitable industries like the oil companies and Big Ag, many of whom don't even pay any income tax thanks to lobbyist provided loopholes; and lowers tax rates across the board, which again, overwhelmingly favors the rich.MORE. . ."Mad To The Max: Paul Ryan, Beyond Blunderdome"