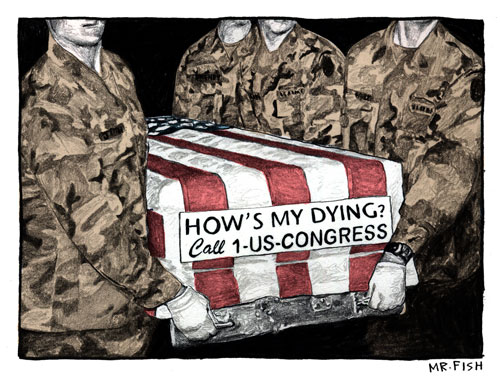 In a March 13th videoconference call, President Bush surprised U.S. military and civilian personnel as well as recently returning veterans of the Afghanistan War with his wistful responses.
"I must say, I'm a little envious," Bush said. "If I were slightly younger and not employed here, I think it would be a fantastic experience to be on the front lines of helpin' this young democracy succeed."
"It must be exciting for you … in some ways romantic, in some ways, ya know, confronting danger. Yur really makin' history, and thanks," Bush said.
Bush sat at the head of a White House conference table that included a powered-down Dick Cheney, and lap dogs Robert Gates and John Negroponte. A Reuters reporter was actually allowed to observe the proceeding.
Bush, articulate as always, told U. S. Ambassador William Wood, "You're looking beautiful but you're not sounding too good." Bush was allowed to have the remote control for this conference, and he masterfully increased and lowered the volume at will.
Sigh.