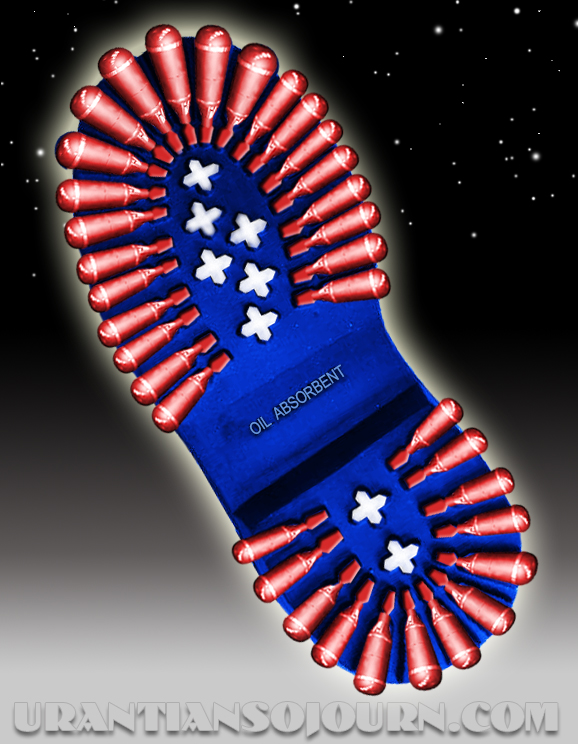 The self-righteous WMD Nuclear Soul of  America
All the attention on al-Zaidi's soles whizzing past Bush's topknot has produced a lot of speculation about the condition of Bush's soul as well;  or more often the assertion he hasn't one.  Those speculations aside (uh, not one of you can really know so shut. up. already), it is what Bush is responsible for doing to the American soul that should concern us all.
The recent televised flailing of Frank Gaffney, neocon hawk and signatory of Project for the New American Century, on Hardball by Chris Matthews, brings our WMD hypocrisy front and center again.  Dodo birds like Gaffney can blather all they want about how "delighted" they are about the necessity of offering upwards of 600,00 deaths on the altar of American hegemony. But the ingrown hypocrisy of incubating a staggering 5,500 nuclear weapons we reserve the right to use preemptively on any buddy we choose, is morally and ethically bankrupt before all the nations of the world.
America's soul has become infected with the inbred primal fears of the neocons and traditionalists.  Their utter lack of a moral and ethical vision for the world, one that recognizes the equality of all mankind while simultaneously providing for a strong national defense, has produced a potentially fatal soul sickness;  one that holds the seeds of our own destruction.
The putrid stench of immoral death will never leave our national nostrils until we resolve, as a nation and a people of laws and values, to find peaceful solutions to our global relationships with the other nations of mankind on our planet.
There is a way forward that is fair, just, and true, and it is so past the time we should have found it and fashioned it to serve not just the political aims of our nation— but the highest moral aims of all human beings.
There is a divinity that shapes our ends,
Rough-hew them how we will.
— SHAKESPEARE, Hamlet
Ac V. Sc. 2
•