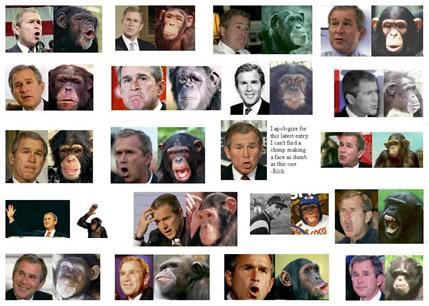 Would Cheetah have made a better president?
CNN has a new poll further documenting the disdain the American public feels towards George W. Bush.
12/26/08

A new national poll suggests that three out of four Americans feel President Bush's departure from office is coming not a moment too soon.

Twenty-eight percent of those polled say President Bush is the worst president in U.S. history.

Seventy-five percent of those questioned in a CNN/Opinion Research Corp. survey released Friday said they're glad Bush is going; 23 percent indicated they'll miss him.

"Earlier this year, Bush scored some of the lowest presidential approval ratings we've seen in half a century, so it's understandable that the public is eager for a new president to step in," said Keating Holland, CNN polling director.

CNN senior political analyst Bill Schneider added, "As President Bush prepares to leave office, the American public has a parting thought: Good riddance. At least that's the way three-quarters feel."

The portion who say they won't miss Bush is 24 percentage points higher than the 51 percent who said they wouldn't miss President Bill Clinton when he left office in January 2001. Forty-five percent of those questioned at that time said they would miss Clinton.
[…]
Hasta la vista, baby.