• • • ZAPPADAN • • •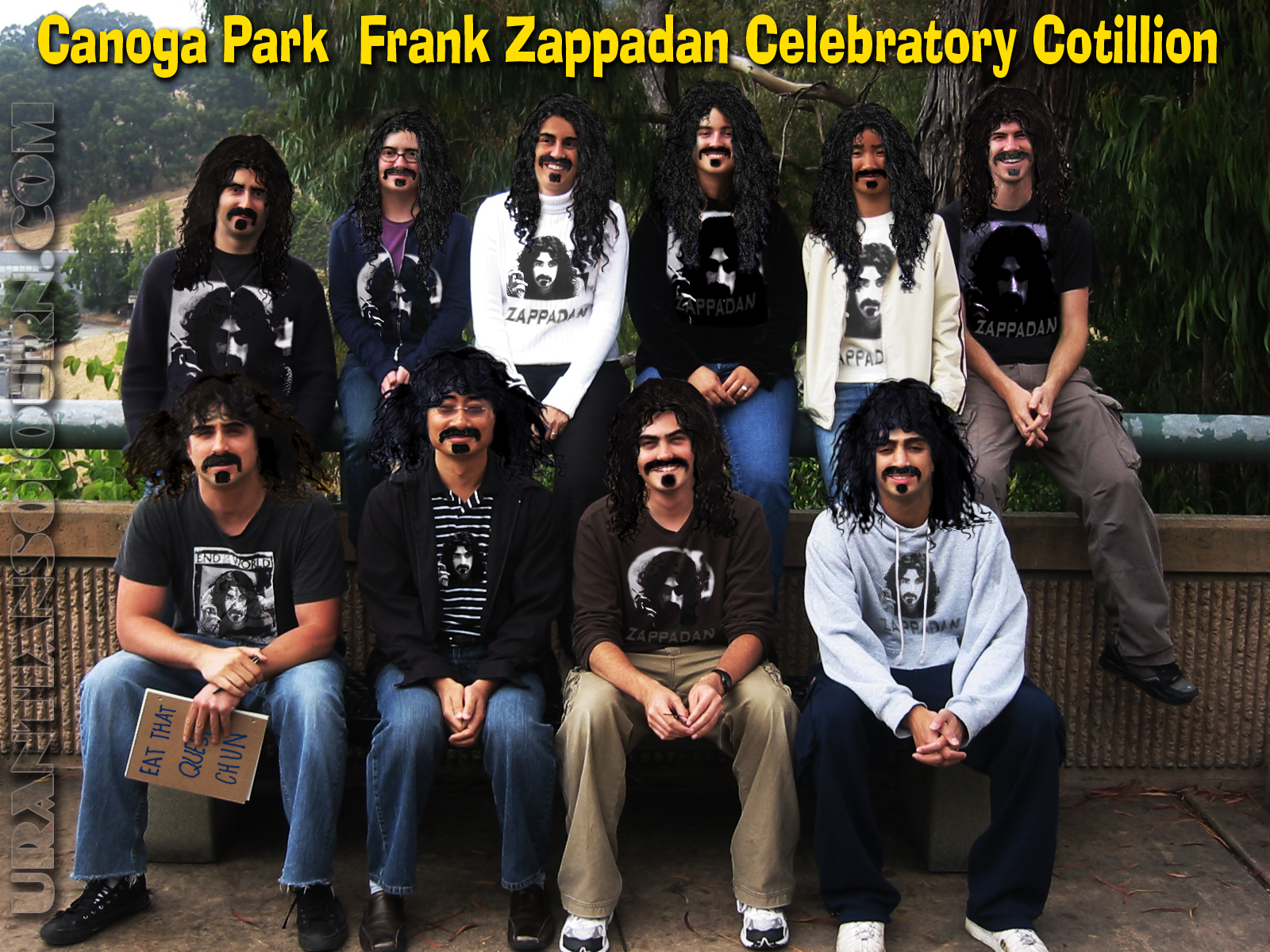 The Canoga Park Frank Zappadan Celebratory Cotillion got down in their Zappa-gear by celebrating Mammalian Protrusions Wednesday. The Cotillion front row left 2 right: Cletus Awreetus-Awrightus, Wee Eeooh, Ruben Heypunk, Sy Borg;  back row: L. Ron Hoover,  Phyllis Altenhaus, Kitala Tombay, Pinky Muffin Poot, Jemima Kong, and Herb Creamcheese. (Click it.)
CANOGA PARK—  The Canoga Park Jack-In-The-Box has been scraped and replaced with a Chuckie Cheese, but it did not deter the ultra-dew-wops of the Canoga Park Cotillion gathered there from celebrating Zappadan's Mammalian Protrusions Wednesday.
Festivities began with a continental burnt weenie sandwich breakfast, and moved right into the Mammalian Protrusions Toss. Rigid ninnies are arranged in dangerous arrays in preparation for the nurf mammaries, which are soaked in beer before tossing a pair at the ninnies of your choice.
Anyone reeking of beer is automatically entered in the cotillion's big dance number, this year's offering a gut-churning rendition of "The Lad Searches The Night For His Newts." The dance is performed in the Chuckie Cheese parking lot, and all active members in good standing engage in a severe pelting of the dancers with the fully-charged nurf mammaries.
Members Kitala Tombay, Pinky Muffin Poot, and Jemima Kong performed a humorous mock portrayal of bondage and humiliation on hot kitchen appliances donated by the First Church of Appliantology in Canoga Park. Mystical Advisor L. Ron Hoover provided the costumes and various rubber accouterments, along with excessive enthusiasm.
Senior member Wee Eeooh gave innocent bystanders demo plooks with the XQJ-37 Nuclear Powered Pan-Sexual Roto-Plooker. Yes, the police were called, but slow response time by Canoga Park's finest allowed this year's  Mammalian Protrusions Wednesday to once again end on an up note; but next year's celebration will definitely not be held at the vanished Jack-In-The-Box.  Many thanks to the CENTRAL SCROTUMIZER for emceeing the event, and getting the security deposit back before the cops were called.
HAPPY ZAPPADAN!