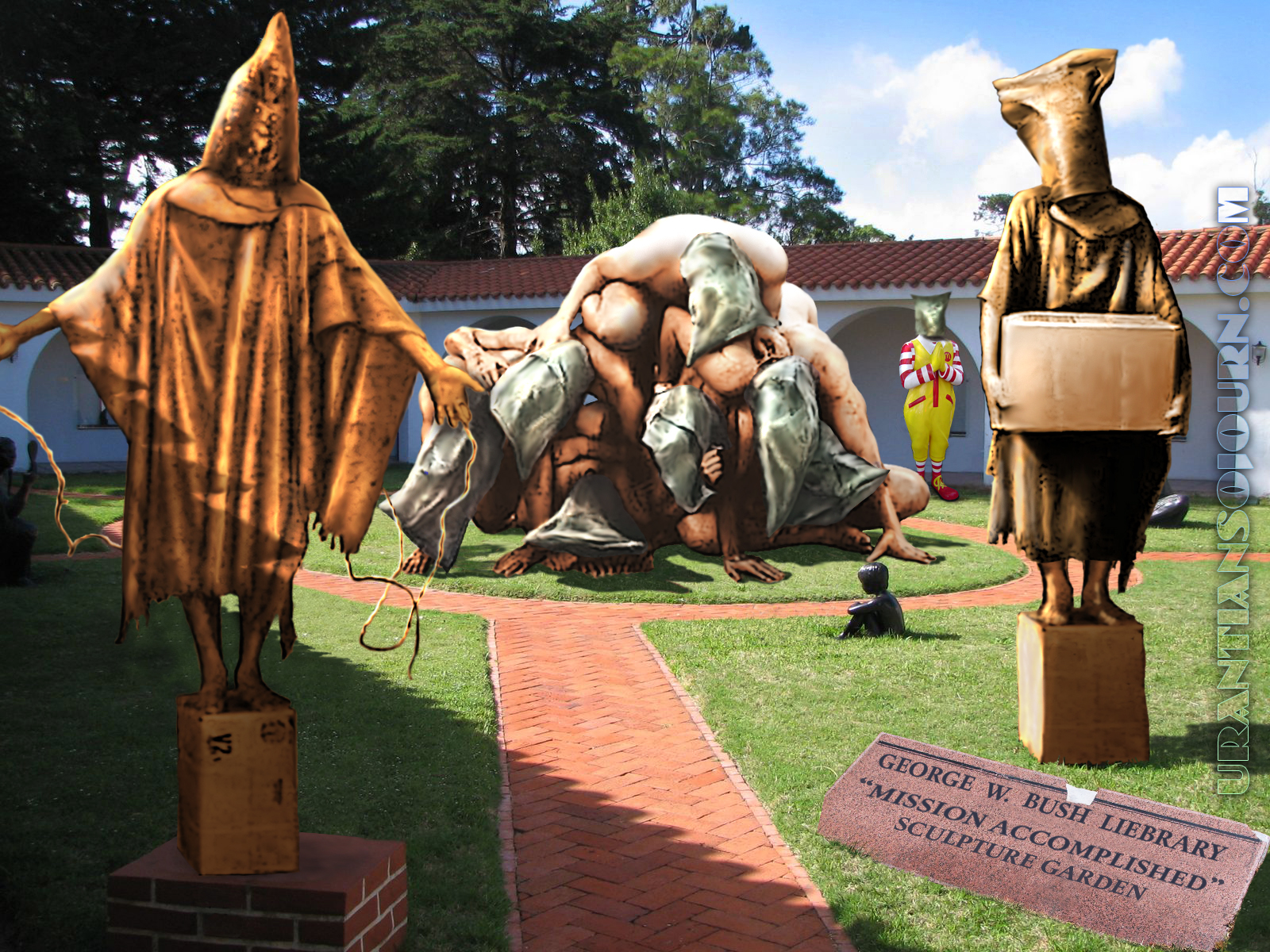 Controversial sculpture highlights the Bush Liebrary courtyard.
(Click)
DALLAS — The "Mission Accomplished" Sculpture Garden Annex to the George W. Bush Liebrary® was dedicated this week on the campus of Southern Methodist University, in a very brief ceremony honoring the achievement[s] of the outgoing chief executive.  The Annex is a publicly funded project which apposed the building of an oxymoronic "library" honoring a president for whom reading was synonymous with cleaning the bottom of a toaster;  i.e., it was not done.
The houseienda-style sculpture courtyard, which adjoins the actual subterranean main liebrary®, contains several controversial pieces in what some are calling "the most psychologically upsetting display of bronze casting ever seen."  But then, it's obvious they haven't seen what's in the liebrary® itself.
At nothing even approaching great personal cost, Urantian Sojourn has obtained a packet of several of the more bizarre inclusions in the liebrary® papers of George Bush. Frankly, we were well-nigh speechless after examining the packet.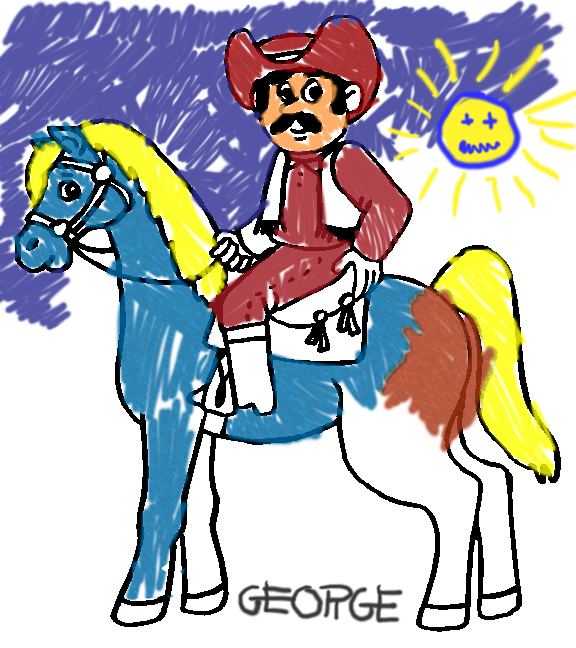 "Cowboy Pony Rider Guy"  •  February 2002

Perhaps the biggest surprise of the liebrary's® contents is the extensive and deeply disturbing collection of coloring book pages, which the president has colored with crayolas over the last eight years, ostensibly as a means of stress release and relaxation. The collection, numbering an astonishing 8,937 separate pages, were all rendered in the Oval Office or the president's study at the Crawford ranch.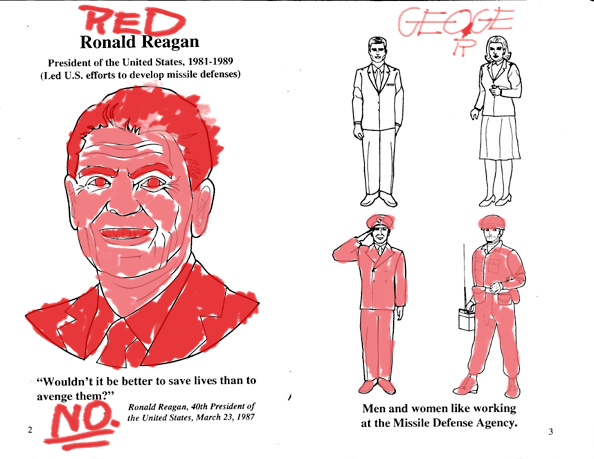 "Red Reagan"  •  July 2001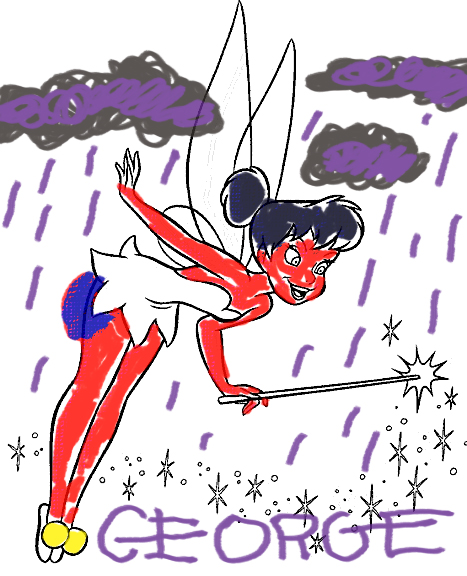 Purple Rain Tinkerbell  • January 2004

While the coloring technique is what the president's analyst called "energetic and methodical," psychologists with actual degrees have called it "hasty and careless, exhibiting a near-pathological disdain for staying within the lines."  Beyond technique, however, experts are confounded over the erratic and often deranged use of color.  A number of ponies are yellow and blue with brown rumps.  A Ronald Reagan portrait is entirely pink and red.  Childish angels are monochromatic brown;  Tinkerbell has an artificially large purple butt.  A library that at first blush seemed a shoe-in as a mausoleum for the president, now appears to be providing staggering new insights into Bush's brain.
Remarkably, almost none of the thousands of renderings have been "finished."  The one exception seems to be several hundred copies of a George Bush image that the president was evidently very fond of coloring.  Critics are roundly criticizing the president as a "childish narcissist with a shockingly inept grasp on reality," and have lambasted the fact that he has spent an enormous amount of time in the past eight years just "fucking off."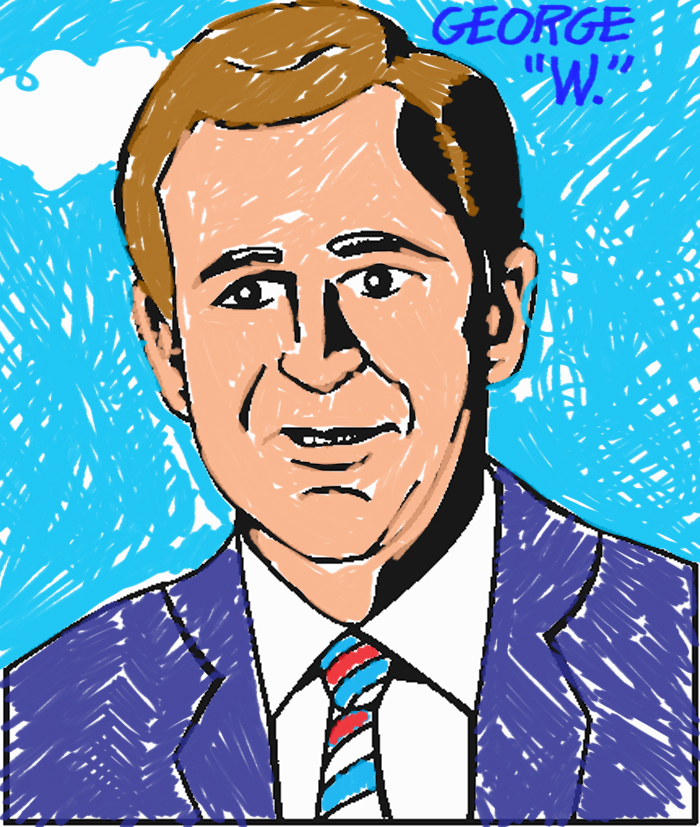 "W."  Number 665  •  December 2008
When asked if he planned to continue his therapeutic coloring once he retired from the White House, Bush said, "Maybe.  Maybe not.  It depends on how stressful things get down there in our gated community.  I don't anticipate problems, but this job has taught me that problems do happen."
Hyeah.