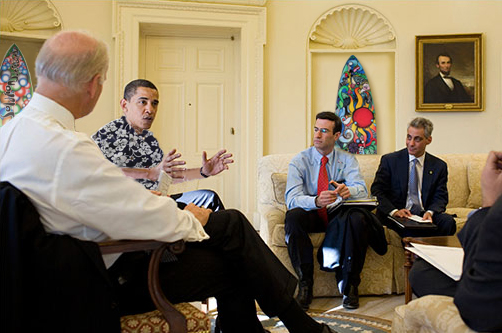 Colorful surfboards grace the niches of the Obama Oval office; VP Biden, President Obama in Aloha shirt, some dude in a tie, Rahm in a jacket tie thing, and another guy in bizz drag.
WASHINGTON — When eyebrows went up over Barack Obama's redecoration of the oval office with hand-painted surfboards, his senior adviser, David Axelrod, said: "He's from Hawaii, okay?"
Yeah. Definitely "okay."
Dubya had Laura throw some silly-assed plates in the oval-office niches, and for eight miserable years that's what passed for Chimpy's presidential decor.  And while the neo-whacktards are holding their fuggin breath for a collection of vintage Korans, or maybe some nasty fatwa scrolls, this time they'll finally asphyxiate themselves.
A fresh ocean breeze of Oahu wafts through the white house halls now. And yes— there's a stereo player for Barack's iPod on the desk.  And how has this affected the new chief executive?
"Even as he is sober about these challenges, I have never seen him happier," David Axelrod said. "The chance to be under the same roof with his kids, essentially to live over the store, to be able to see them whenever he wants, to wake up with them, have breakfast and dinner with them — that has made him a very happy man."