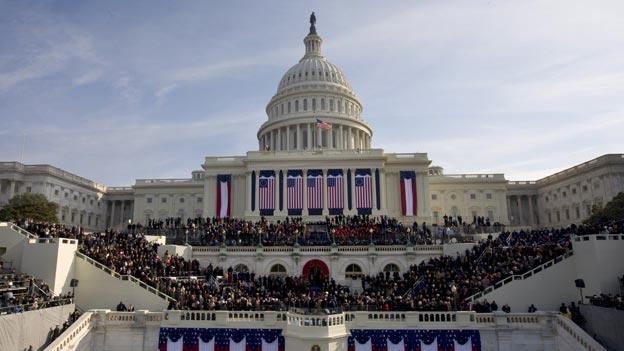 One could almost hear Bush grinding his teeth as he sat in the front row, forced by tradition to listen to Obama's inaugural speech:
On this day, we gather because we have chosen hope over fear, unity of purpose over conflict and discord. On this day, we come to proclaim an end to the petty grievances and false promises, the recriminations and worn-out dogmas that for far too long have strangled our politics.
And this:
The question we ask today is not whether our government is too big or too small, but whether it works — whether it helps families find jobs at a decent wage, care they can afford, a retirement that is dignified. Where the answer is yes, we intend to move forward. Where the answer is no, programs will end.   And those of us who manage the public's dollars will be held to account, to spend wisely, reform bad habits, and do our business in the light of day, because only then can we restore the vital trust between a people and their government.
And especially this:
As for our common defense, we reject as false the choice between our safety and our ideals. Our Founding Fathers — (applause) — our Founding Fathers, faced with perils that we can scarcely imagine, drafted a charter to assure the rule of law and the rights of man — a charter expanded by the blood of generations. Those ideals still light the world, and we will not give them up for expedience sake. (Applause.)