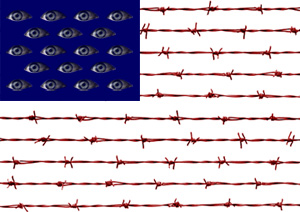 Glenzilla reminds me today why I am not a member of the Democratic Party in his lookback at 2008 and Congress' execrable record on civil liberties (including then Senator Obama's flip flop vote to support telecom immunity after pledging to oppose it).
In his post titled "Another brutal year for liberty", Glenn documents the assaults on the Constitution that the supine Dems have helped the Bush Administration perpetrate. Who'd a thunk that the heavily conservative federal courts would do a better job upholding Constitutional liberties than the likes of Senator Carl Levin?
Glenn ends on a hopeful note that at least the issues are now clearly in view, and that Obama has the opportunity to set things right. Let's hope that he has the will.
[Graphic love to Salon.com]
If men would maintain their freedom, they must, after having chosen their charter of liberty, provide for its wise, intelligent, and fearless interpretation to the end that there may be prevented: 1. Usurpation of unwarranted power by either the executive or legislative branches…
-The Urantia Book