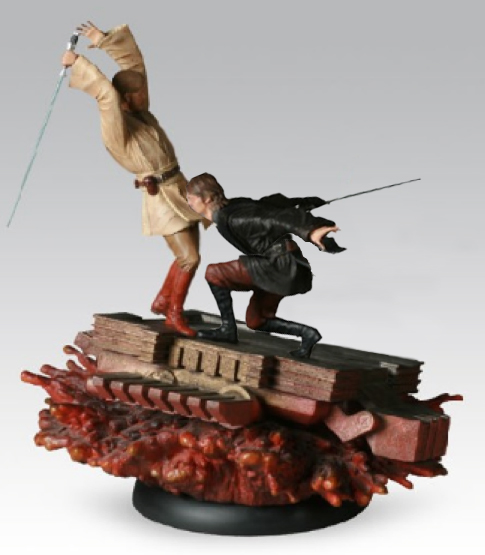 Oops. . . Uh, well.  We'll just write new copy.
•

Sideshow Bob Collectibles and Lupasfilm are proud to present this dramatic depiction of Obig-Wand and Anakin's climactic light saber duel encounter over the fiery flowy lava stuff of Mustafar-Ted. The piece captures a pivotal private moment, just as Anakin SkyWanker leaps aboard the quivering platform, forcing it to plunge into the hot juicy lava below.
With his dying breath, Master Judi Qui-Gon-Gay Jinn entrusted the training of a small eunuch slave named Anakin Skywanker to his handsome well-endowed young Padawand, Obig-Wand Kenobbi. Fulfilling Qui-Gon-Gay's last request, Obig-Wand took possession of young Skywanker and trained him in the whorrific ways of the Judi, piecepeepers and guardians of the gaudy sogay galacticnessness.
Each diorama is a total hand job:  hand-cast in high quality polystoned, hand-finished, and hand-painted to exacting proportions.  The Kenobbi Versus Skywanker diorama is expertly sculpted in approximately 1:9 scale, standing erect at over 13 inches tall, and a whopping 14 inches front to back and side-to-side. This stunning piece will make a drop-dead engorged addition to any Star Whores collection!
"Why do I get the feeling you'll be the dearth of me?"
—Anakin Skywanker to Obig-Wand Kenobbi
Now, in the surging, volcanic bowels of Mustafar-Ted comes the tragic end to an epic story, the most bitter of betrayals, as Anakin Skywanker, filled with fear, lust, rage, and well, more lust, fights on the side of evil against his once close close close friend and meat puppet, Obig-Wand Kenobbi. It is a contest of wills, of speed and endurance, of power with the Farce. It is a brutal and heart-breaking battle of endless alliterations, the dissolution of a really ill-advised friendship, the end of the boning between master and slave.  It is also a beginning… the dawn of many dorky days.
Not sold in stores with a reputation to uphold!
Rush Delivery Available!
Introductory Limited Edition pricing!
$1395.00
1-800-BIG-WAND
Mindless Operators are anxiously awaiting your call!