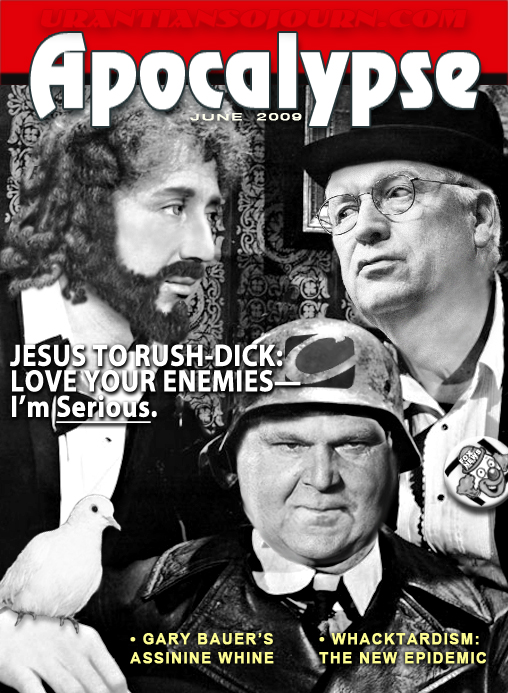 The Apocalypse just keeps on coming;  this month, Dick says to Jesus,
"I can take that there dove off your hands with one shot."

Got my June Issue of Apocalypse Magazine today, even though my subscription expired a year ago, there have been massive layoffs and firings of writers and staff, and the company is in receivership.  Now ain't that America for you and me.
Product of popular culture that I am, when I first subscribed I didn't realize there were other meanings for the word apocalypse.  Religious shills have used the term exclusively to refer to the end of the world.  But way back when, some Greek geek decided the word was a shortening of the phrase "apokalupsis eschaton," which means "revelation at the end of the æon, or age." Apokálypsis can mean "lifting of the veil," or "revelation."  And then there's the Bible, where the term apocalypse refers to a revelation of God's will.  Anyway.  The June lifting of the veil is upon us.
At first glance, it looks like E. J. Carnell's cover story takes an apocalyptic turn on torture raconteur Dick Cheney, who gets a good going over by Jesus hisself, when the Son of God suddenly pops in on a poop session between Dick, Rush, and a few other chickenhawks who would never— ever— ever—put their pudgy white asses into military fatigues and fight for our country.  The brilliant repartee is completely one-sided, Jesus making it easy for Dick and Dummer (Rush Limbaugh) to sound like pernicious evil politicos.  Oh; wait.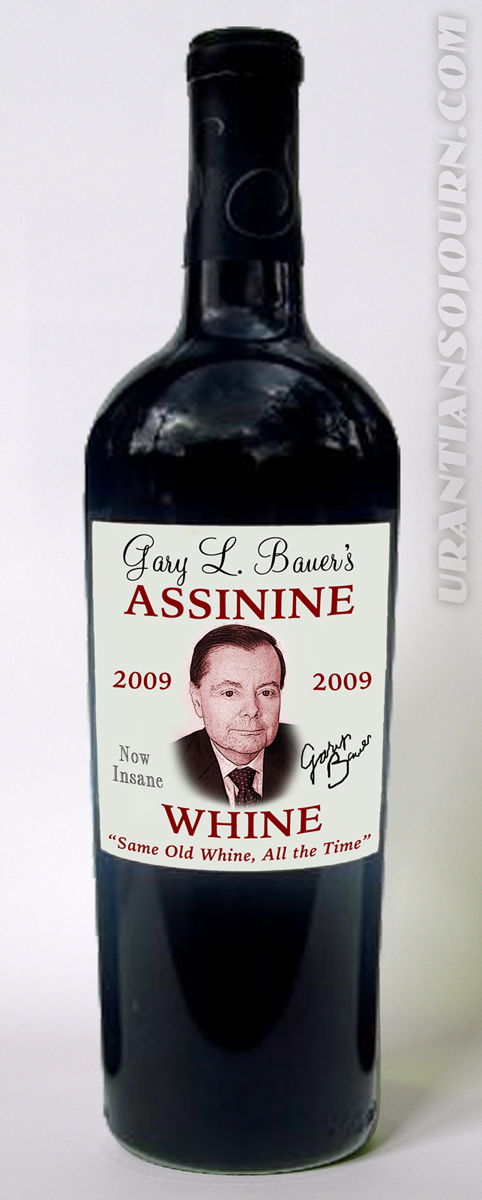 Snapping turtle look-alike, Gary Bauer, has produced some more bitter fruit juice for consumption by the dull of wit and the faint of heart.
Ralph Reed's illegitimate father, Republican sometime presidential wanna-be, Gary Bauer, recently regaled normal folks with the philosophical antics of a Pharisee on crack, saying that it would be morally suspect not to consider torturing the flesh off one of Jesus' other children, if we had reason to believe he might know something we don't about murder and mayhem.  Fat chance.
In "Assinine Whine" (sic) by F. Beckwith Dykes,  Bauer says there are a lot of things Jesus wouldn't do because he's the son of God, and therefore he can't imagine Jesus being a Marine, or a policeman, or a bank president, or some kind of lying hypocrite, but muses aloud, "What is a follower of Jesus permitted to do?"
Like a man wearing a drool cup in a padded room, he answers his own question with, "It depends.  I think if we believe the person we have can give us information to stop thousands of Americans from being killed, it would be morally suspect to not use harsh tactics to get that information."
"…Morally suspect."  Seriously.  This, from a scrotumless wanker who does not consider waterboarding to be torture.  From a Christian who hasn't a clue about loving your enemies, or the stupidity of embracing a philosophy where the ends justify the means.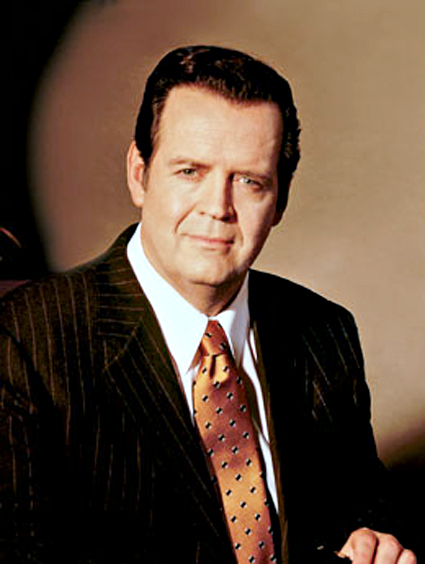 Richard Land, in the brown spotlight above, is president of the Ethics and Religious Liberty Commission of the Southern Baptist Convention, gives us a look that can only be described as "sincere beyond belief."

Dr. Richard Land, however, emphasized that Christian tenets that guide the debate — including the Golden Rule, which you recall goes like this: "Do unto others as you would have them do unto you" — can be applied differently.  He said that while terrorists should not be "mistreated,"  they do not "…deserve [the] protections afforded prisoners of war by the Geneva Convention." He went on to say that some forms of torture harsh interrogation techniques— such as slapping with an open hand— are morally permissible.
Since I suspect Richard ( "Dick" to his friends ) Land has no more imagination when it comes to Jesus than does Gary Bauer, let me assist them.  Try to picture this.
A weary Jesus is standing before the Sanhedrin in perfect composure and unbroken silence while they taunt him with death, until, that is, Caiaphas gets in his face and demands that he tell them whether he is the Son of God;  and when Jesus answers,  "I am.  Soon I go to the Father, and presently shall the Son of Man be clothed with power and once more reign over the hosts of heaven." . . . Caiaphas, stepping before the bound prisoner, considered by these men to be a fanatical revolutionist and traducer of the people, and with moral permissibility, to be sure— slaps him across the face with an open hand.
And as the other members of the court pass out of the room, they spit in Jesus' face, and many of them mockingly slapped him with the palms of their hands.  Jesus is unmoved by their threats and undaunted by their assaults.  Then Jesus is left with the temple guards and their "harsh interrogation techniques."  He is spit upon some more, cruelly buffeted and mocked, and struck repeatedly in the face with a rod and "interrogated":  "Prophesy to us, you the Deliverer, who it was that struck you."
So, Dick, still think slapping with an open hand is "morally permissible"?
Yeah;  I thought so.  Good luck with that on judgment day, hoser.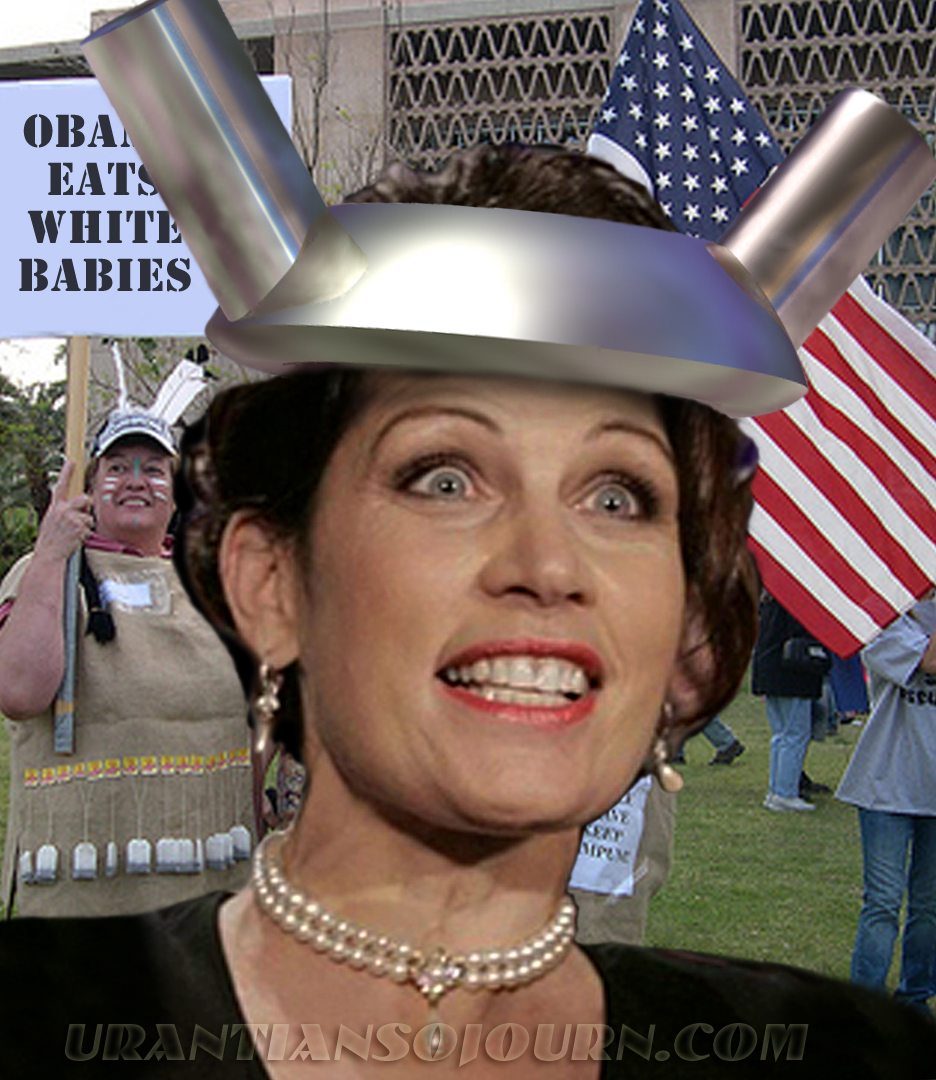 Congresswoman Michele Bachmann exhibiting advanced whacktardism.

Finally, there's a spooky little article by Wenda Winbloz on America's latest growing epidemic,  Whacktardism.  Whackus retardia is a mind disorder characterized by anti-social interaction and communication, and backward, fear-ridden angst resulting in neurotic, sheep-like behavior leading to neo-facistic synaptic fibrosis.  Neo-fascism almost always includes symptoms of rampant nationalism, anti-immigration policies, anti-liberal democracy, nonsensical and rabid anti-communism, a vague opposition to any parliamentary system, along with a penchant for dressing up like a refugee from an asylum for the amusingly insane.
Well, that's a wrap;  but I gotta say— when the middle of the month rolls around these days, I'm always glad to see that Apocalypse is still heading my way.