Poor Whoopi Goldberg must have thought she was having an acid flashback while listening to her co-host on The View, Elisabeth Hasslebeck rail on about Barack Obama's failure to even mention the word "democracy" during his 55 minute speech at Cairo University last week. Not only did Obama mention the word numerous times, he even made it one of the six cardinal points of his speech, as in: "The fourth issue that I will address is democracy."
One of Whoopi's more memorable roles was Guinan, the mysterious bartender on Star Trek: The Next Generation. Guinan was an alien with a unique ability to monitor the time lines in alternate universes. Which is where Whoopi must have found herself as the set of The View morphed into the set of the Enterprise's Ten Forward right before her eyes under the impact of Hasslebeck's powerful cognitive distortions.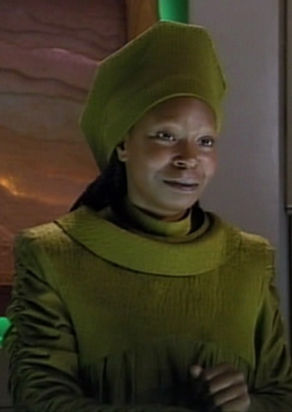 Guinan, the Starship Enterprise's alternate reality surfing bartender
Hasslebeck and her wingmen were apparently pushed over the edge by both the tone and substance of Obama's speech. Billed as a major address to the Muslim World, Obama sought to open up a new dialogue with the world's 1.5 billion  Muslims based on mutual respect, a frank repudiation of the previous 8 years of Bush-Cheney cowboy, might makes right, American exceptionalism.
As if further evidence was even needed that Obama is a Secret Muslim Manchurian Candidate, he even quoted from The Quran!:
Be conscious of God and speak always the truth.

Whoever kills an innocent, it is as if he has killed all mankind; and whoever saves a person, it is as if he has saved all mankind.
How in the world are wingers supposed to make sense of that? Laying down and maintaining the neural pathways for integrating authoritarianism, cognitive dissonance and even sadism into a consistently whacko world view, is, as George W. Bush would say, hard work.
The View commands a daily audience of millions. It's probably too much to expect that one of its hosts be required to perform a complex task like a word search before denouncing a speech for being devoid of content that it clearly contains.  But I guess there's room for everything in a multi-verse of near-infinite possibilities.
It's becoming increasingly obvious that the most interesting question is not what the wingers believe, or even why they believe it, but how in hell they can believe it at all.