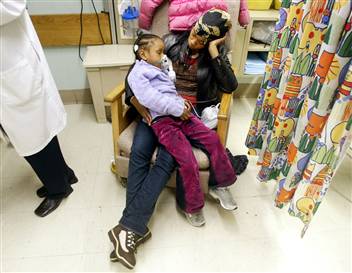 And the waiting begins…
Three years ago I had a mild stroke and was admitted to an LA County hospital emergency room. The only place to park my bod was in the waiting room. Initially there wasn't a single chair available. Finally, someone got up and I grabbed it, exhausted. I turned and looked down the hallway towards the actual ER. It was lined with gurneys on either side occupied by patients in various states of disrepair, reminding me of a movie about a train crash with dozens of injured passengers stacked up waiting to be triaged.
A couple of hours later someone walked me to a holding area full of more patients, each lying on a gurney occupying just enough curtained space that someone could walk between them. But there was still no available gurneys and I was given a folding chair next to a big sink. Feeling the need to put my feet up, I looked around and found an empty cleaning bucket, turned it over and used it as a foot stool. While sitting there trying to calculate what percentage of my visual field was now missing, a nurse came in with a full bed pan and dumped in the sink right behind me, apologizing profusely. I shrugged it off, told her not to worry about it.
I was reminded of this charming little encounter with what passes for medical care in this country as I was reading an op-ed my an emergency room physician in today's LA Times titled:
Where's the big healthcare emergency? In the ER

The deteriorating condition of the system and its patients cries out for reform.
By Dr. Brian Johnston

The paramedics bring in a 47-year-old laborer, a father of four, with untreated high blood pressure, dying of a cerebral hemorrhage. A woman in her 40s enters the ER complaining of feeling "lousy," unaware that her blood pressure is extremely high and that her kidneys are destroyed. She goes on dialysis and disability. An elderly widow is brought in severely dehydrated and comatose, with a blood sugar level over 800.  Medi-Cal had switched her to a "share of cost" program, which forced her to choose between paying her rent, or taking her medicine.  She'd chosen to pay the rent.

These are all patients I have seen in my ER in recent weeks. I have practiced emergency medicine in Los Angeles for 36 years and have witnessed a steady decline in system capacity as hospitals, county clinics and ERs have closed, even as our population has grown. People needing treatment arrive in far worse condition than before. Larger numbers of uninsured people and those whose managed-care facilities limit their access now come to the ER, which is the only option left to them. We see people suffering from preventable complications of treatable diseases. ERs are so crowded that patients aren't seen as quickly as they should be, and some even leave before they're seen by a physician…
Remember that next time you see some loon at a town hall meeting yelling about how "Obamacare" would result in the rationing of medical services and cost more than maintaining the status quo.