News item:
New study finds 45,000 deaths annually linked to lack of health coverage
Nearly 45,000 annual deaths are associated with lack of health insurance, according to a new study published online today by the American Journal of Public Health. That figure is about two and a half times higher than an estimate from the Institute of Medicine (IOM) in 2002.The study, conducted at Harvard Medical School and Cambridge Health Alliance found that uninsured, working-age Americans have a 40 percent higher risk of death than their privately insured counterparts, up from a 25 percent excess death rate found in 1993.
News item: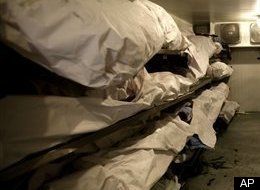 In morgues across the country the corpses of dead poor are stacking up as the the government runs out of money to bury them. State and county budgets for interring indigent and unclaimed bodies have been drying up faster than usual in the current economy, as more families are unable to come up with the money to lay their loved ones to rest.

CNN's Assignment Detroit project released a report Thursday detailing how 67 people lie in wait at the Wayne County morgue. Unemployment, at a staggering 28% in Detroit, prevents many from affording to provide their family members a final resting place, and Detroit's $21,000 annual budget to bury unclaimed bodies ran out three months ago. More bodies are being left to the control of the state, who are having a harder time picking up the slack.
Just saying….