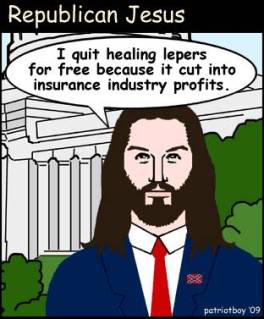 From Science and Religion Today
Obama's Moral Argumnet For Health-Care Reform

August 21, 2009*

In a conference call with faith leaders earlier this week, President Barack Obama used religious allusions to respond to some of the "ludicrous ideas" and attacks on his plan for health-care reform:

These are all fabrications that have been put out there in order to discourage people from meeting what I consider to be a core ethical and moral obligation: that is that we look out for one another, that I am my brother's keeper, I am my sister's keeper. In the wealthiest nation on earth right now, we are neglecting to live up to that call.
Behind "all the fabrications"– lies– undermining health care reform are bloodless corporations playing a zero sum game in which every medical claim paid is profit denied.
"What would Jesus do?" is a recurring question for those who claim to follow his teachings.  So I thought I'd share the following account of his life as presented in The Urantia Book, illustrative of his attitude towards the sick and his challenge to those who would oppose their righteous care.
By way of narrative context, the Pharisees, some of whom accepted the Master's teaching about love and service but who for the most part considered him a threat to their ruling class status, made a habit of following him around hoping to trick him into saying something that would allow him to be dragged before Herod on a charge of blasphemy or other violation of Hebrew law. On this occasion, however, they were smart enough to keep their mouths shut when asked by The Master whether they would refuse care to a man when they wouldn't refuse it to a beast.
1. BREAKFAST WITH THE PHARISEES

There lived in Philadelphia a very wealthy and influential Pharisee who had accepted the teachings of Abner, and who invited Jesus to his house Sabbath morning for breakfast. It was known that Jesus was expected in Philadelphia at this time; so a large number of visitors, among them many Pharisees, had come over from Jerusalem and from elsewhere. Accordingly, about forty of these leading men and a few lawyers were bidden to this breakfast, which had been arranged in honor of the Master.

As Jesus lingered by the door, speaking with Abner, and after the host had seated himself, there came into the room one of the leading Pharisees of Jerusalem, a member of the Sanhedrin, and as was his habit, he made straight for the seat of honor at the left of the host. But since this place had been reserved for the Master and that on the right for Abner, the host beckoned the Jerusalem Pharisee to sit four seats to the left, and this dignitary was much offended because he did not receive the seat of honor.

Soon they were all seated and enjoying the visiting among themselves since the majority of those present were disciples of Jesus or else were friendly to the gospel. Only his enemies took notice of the fact that he did not observe the ceremonial washing of his hands before he sat down to eat. Abner washed his hands at the beginning of the meal but not during the serving.

Near the end of the meal there came in from the street a man long afflicted with a chronic disease and now in a dropsical condition. This man was a believer, having recently been baptized by Abner's associates. He made no request of Jesus for healing, but the Master knew full well that this afflicted man came to this breakfast hoping thereby to escape the crowds which thronged him and thus be more likely to engage his attention. This man knew that few miracles were then being performed; however, he had reasoned in his heart that his sorry plight might possibly appeal to the Master's compassion. And he was not mistaken, for, when he entered the room, both Jesus and the self-righteous Pharisee from Jerusalem took notice of him.

The Pharisee was not slow to voice his resentment that such a one should be permitted to enter the room. But Jesus looked upon the sick man and smiled so benignly that he drew near and sat down upon the floor. As the meal was ending, the Master looked over his fellow guests and then, after glancing significantly at the man with dropsy, said: "My friends, teachers in Israel and learned lawyers, I would like to ask you a question: Is it lawful to heal the sick and afflicted on the Sabbath day, or not?" But those who were there present knew Jesus too well; they held their peace; they answered not his question.

Then went Jesus over to where the sick man sat and, taking him by the hand, said: "Arise and go your way. You have not asked to be healed, but I know the desire of your heart and the faith of your soul." Before the man left the room, Jesus returned to his seat and, addressing those at the table, said: "Such works my Father does, not to tempt you into the kingdom, but to reveal himself to those who are already in the kingdom. You can perceive that it would be like the Father to do just such things because which one of you, having a favorite animal that fell in the well on the Sabbath day, would not go right out and draw him up?" And since no one would answer him, and inasmuch as his host evidently approved of what was going on, Jesus stood up and spoke to all present: "My brethren, when you are bidden to a marriage feast, sit not down in the chief seat, lest, perchance, a more honored man than you has been invited, and the host will have to come to you and request that you give your place to this other and honored guest. In this event, with shame you will be required to take a lower place at the table. When you are bidden to a feast, it would be the part of wisdom, on arriving at the festive table, to seek for the lowest place and take your seat therein, so that, when the host looks over the guests, he may say to you: 'My friend, why sit in the seat of the least? come up higher'; and thus will such a one have glory in the presence of his fellow guests. Forget not, every one who exalts himself shall be humbled, while he who truly humbles himself shall be exalted. Therefore, when you entertain at dinner or give a supper, invite not always your friends, your brethren, your kinsmen, or your rich neighbors that they in return may bid you to their feasts, and thus will you be recompensed. When you give a banquet, sometimes bid the poor, the maimed, and the blind. In this way you shall be blessed in your heart, for you well know that the lame and the halt cannot repay you for your loving ministry."
Rethugs, lobbbycysts, pundits, and Congress Critters take note.
———–
*[August 21 is the date The Urantia Book gives as Jesus' actual birthday. ]