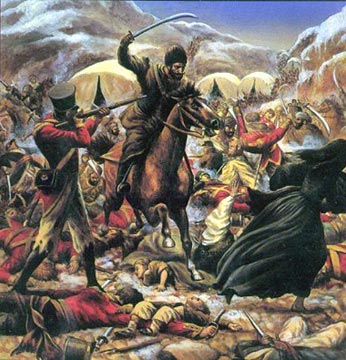 Back to the future in Afghanistan
Irony often has the most exquisite timing. Today President Obama announces a massive escalation of the war in Afghanistan, doubling the number of troops that Bush left behind. And next week he travels to Oslo to pick up his Nobel War Peace Prize.
So, what did those three months of careful deliberation net us? Apparently Obama has decided to give General Stanley McChrystal nearly everything he put on his Christmas wish list, with NATO expected to make up the difference. No hard dates for withdrawal, such as are operative now in Iraq. Not even benchmarks to measure progress. But hold on to your hats—we get a "timeframe." And maybe a rhetorical bone or two to keep his progressive base in line, like "triggers."
Or is that "off-ramps"? It can all be just so confusing when you're trying to placate your "change you can believe in" political base while allowing the military-industrial-medical-financial complex to continue pursuing business as usual.
Given Obama's considerable oratorical skills, we'll likely be served a really impressive helping of pretzel logic tonight to explain a number of contradictions in the whole Af-Pak narrative. Like how driving the Taliban out of Afghanistan and into Pakistan improves the situation there, when everyone agrees that Pakistan with its nukes is by far the more strategic concern. Or how a counterinsurgency policy that depends on a viable, non-corrupt Afghan government can succeed when that government has no incentive to behave as long as the Americans are there to keep the Taliban at bay; who as everybody knows, would eagerly welcome Al Qaeda back despite the fact that last time they hosted them they succeeded in burning the house down.
Then of course there are the cultural contradictions of trying to transform a misogynist tribal society into something resembling a modern 21st century democracy; or getting them to accept the presence of an occupying army when they've kicked out every such force, including the Russians and the British,  since the time of  Alexander the Great.
As for how he expects to pay the additional $30-40 billion annual cost of the extra troops, let alone billions more in civil reconstruction funds, Obama isn't worried—that's Congress' job. After all, if they can figure how to pay the continuing costs of the Iraq occupation, which on the surface seems to be winding down with regular troop reductions, only to be replaced, and then some, with even more expensive private contractors, then paying $100 billion per year for the Afghanistan escalation should be a piece of cake.
Yep, war is about the only thing the US has left to export these days. Two-time Congressional medal of honor recipient General Smedley Butler wrote about his role as corporate America's chief enforcer in the early 20th century. Appropriately enough, he titled his memoirs:  War is a Racket.
Now back to our regularly scheduled program.