Speaking truth to power
Rep. Debbie Wasserman Schultz (D-FL) was on Dylan Ratigan's MSNBC show this morning and got her head handed to her (tough little lady that she is).
After beginning her prepared talking points speech, DR insisted, time and time again, that she answer his question about how if the latest version of the HCR bill was so great for consumers, mandated to buy crappy insurance from profit driven providers with no cost controls, why the stocks of the health care companies were up some 10% alone this week.
She tried to blow it off by saying she wasn't a stock analyst, and DR pounced, saying he was. After that they spent the rest of the interview talking over each other, DR finally told her his show was one that focused on specific answers to specific questions and not one where guests just regurgitate their talking points and cut her off.
He then went to Wendell Potter (the former health care industry insider) who pointed out that since the whole HCR process began earlier in the year, the stocks of the health care industry have doubled and even tripled.
Like Deep Throat said, follow the money.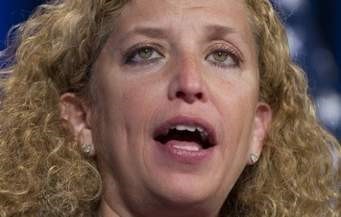 Debbie Wasserman Schultz