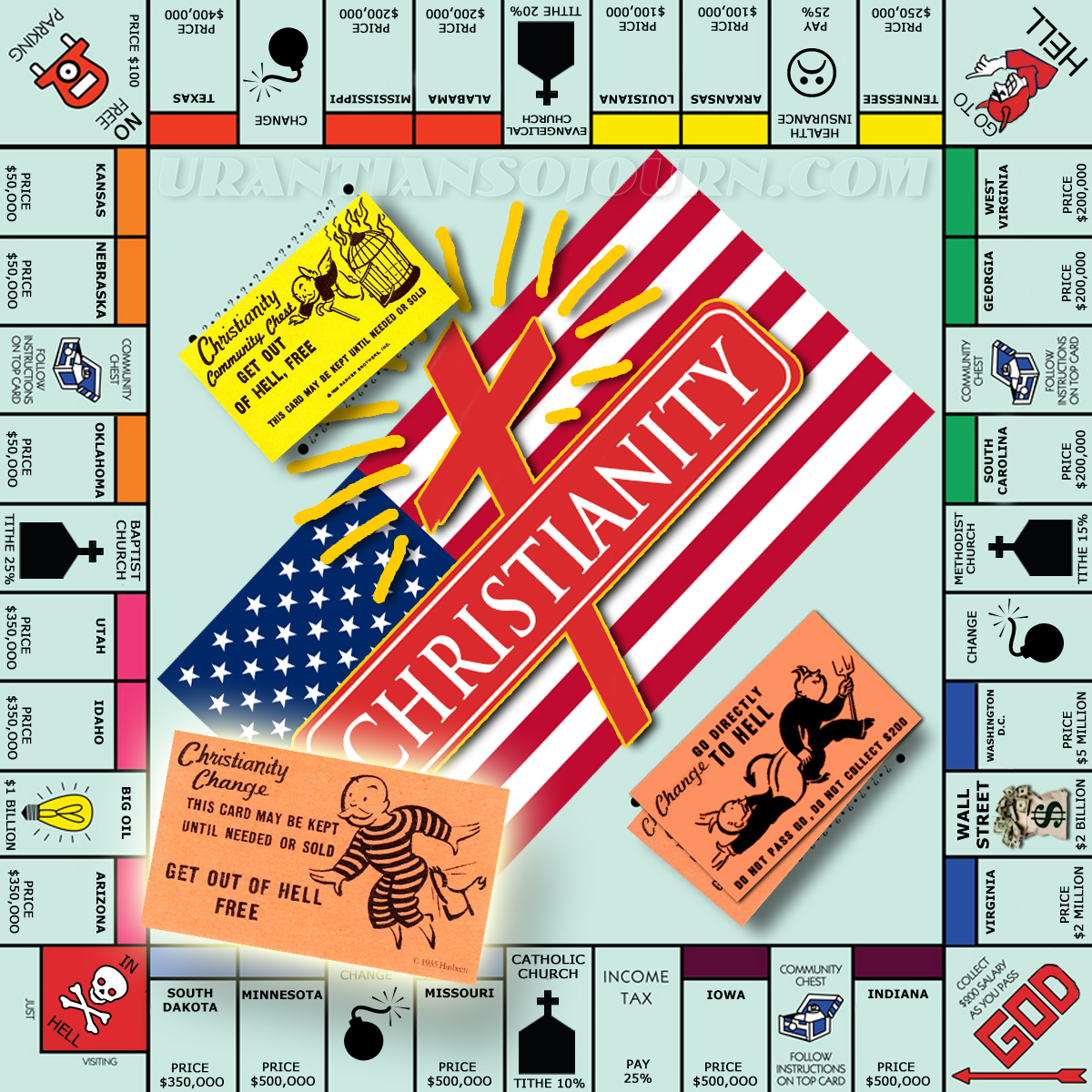 If you want to play their game, you must click it.
•

He's said to be a Buddhist; I don't think that faith offers the kind of forgiveness and redemption that is offered by the Christian faith.
I mentioned the Buddhism only because his mother is a Buddhist
and he has apparently said that he is a Buddhist.
I'm not sure how seriously he practices that.
—Brit Hume
Organized Christianity has probably done more to retard the Ideals that were its founder's than any other agency in the world.
—Richard Le Gallienne
Being a Christian is more than just an instantaneous conversion—
it is a daily process whereby you grow to be more and more like Christ.
—Billy Graham
The recent religiosity smuggery-fest over Episcopal Christian Brit Hume's on-air outbreak of Aphtae epizooticae,* presents US with a pernicious opportunity to play a few rounds of golf with Tiger Woods Christian Monopoly. Christian Monopoly is a corporate bored game created by numerous Christian American adherents in the early and mid-decades of the twentieth century, wherein the United States is proclaimed to be a Christian Nation, forged out of the temple-taxing, witch-burning "Judeo-Christian principles" of its ancestral pedigree.
Christianity is currently played more or less daily by some 76% of the U.S. population. There are many hundred versions of the game available in the United States, but Roman Catholics and Evangelicals account for over 84% of active players, so we'll be using the Roman Catholic version, which, truth be told, isn't all that different from the Anglican variation practiced by Mr Hume. Yeah, I'm not sure how seriously he practices that;  just sayin'.
The main impetus behind the idea of Christian Monopoly is born in a particular bit of Christian dogma that makes its sausage in public, with one part chosen-people doctrine, one part infallible human interpretation of scripture, and one part "my way or the highway"— to Hell.  The foundational quote comes from Jesus himself: "I am the way, the truth, and the life. No man goes to the Father except through me."
Jesus said it, and we believe it:
our understanding of it never changes, and that settles it.
Uhhhhh, no.
There is as you want to suspect, a little more to it than that. "No man goes to the Father except through me" is where the wheels come off.  It's easy to imagine that even back in the day, such a teaching was just too deep for many of the apostles, even as it remains so for most contemporary Christians.  If that's true, reason Christians, then before they die, every member of the human race who wants eternal salvation must become a genuine Christian in order to be saved from the fiery pits of Hell.
Surprise! It turns out the vast uncharted reaches of the universe just aren't set up the way Christianity insists on thinking. But. Let's take Jesus at his word— as Christians think they have it, anyway.  Jesus is pretty clearly saying if you would find the Father, you have to find him first.  Alright. But the question immediately arises, just how much time does an all-merciful, all-loving Divine Creator/Father actually provide each one of us to find Jesus in the universe?
Most Christians reason you have only this lifetime to get it done, whether your days are few or many, based on? What? Their personal exhaustive studies of the depths of infinite mercy as God chooses to bestow it??  So if you haven't come to Jesus before say, a cancer sucks you down at age two, you die of old age with a smile on your face, you get run over by a drunken illegal immigrant on your fourth birthday, or you get a toe-tag via a Christian serial killer with a get out of Hell Free card at thirty-two— you are headed for an eternity of suffering and fourth degree burns in a Lake of Fire created, fired and furnished by God almighty;  CEO and first grilling chef Lucifer, will not be taking your requests.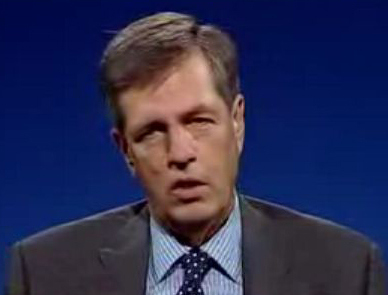 Human Basset Hound and fake news derp, Alexander Britton Hume, looks almost conscious.  Of course he never "intended" to insult Buddhism; it's just an unavoidable consequence of being Christian that results in all other religions being inferior.
Well,  certainly they're wrong. Oh, not about the through Jesus part necessarily, but about the way they understand it.  And the by-when-you-have-to-do-it, part.  And not surprisingly, about Christianity's insistence you-gotta-be-a-particular-kind-of-Christian part. And uh, about the no-other-religion-can-save-you part.  And about the eternal-suffering-in-Hell part.  Oh.  And the presumption about the Infinite Creator's supposed inflexible requirement naming the Christian religion as the only-one-that-will-get-you-to-Paradise part.
But these grievous errors of presumption do not matter to the institutionalized Christians who ply the bylaws of their faith on Fox News.
The Bible-length corporate contract they signed with their respective earthly representatives of the Christian Monopoly on salvation clearly states that they've got a guaranteed first-class seat in the one true pipeline to Paradise.
And they can clearly (almost, sorta, kinda) see the Good Lord, God of Loving kindness that he is, perusing the daily death sheets, furiously crossing off the Buddhists, Baha'is, Confucians, Deists, Gnostics, Gypsies, Hindus, Jains, Jews, Muslims, Sikhs, Shintos and Santerians, Taoists, Voduns, and Zoroastrians, with a giant Red Sharpie that he wields with super-dope speed; sending those hapless billions of souls to their hideous eternal fate, shaking his head ever so slightly as he half-mumbles, "I told you so, you sorry sonzabitches, you just didn't listen…"
And if your sorry ass was born on any other planet in the universe besides this one?  Well, the Christian Monopoly says technically, you're shit out of luck; see you in Hell, bro.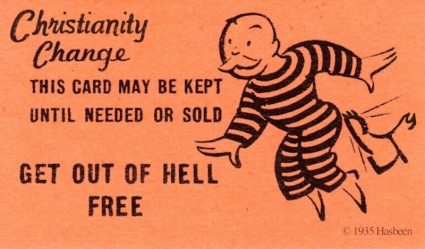 It's precisely this antiquated poop sack full of the hateful horseshit of Hell and Eternal Damnation that is responsible for preventing the vast majority of earth dwelling souls from taking the threats— never mind the promises— of Christianity seriously.  For any father or mother that raises their children in love and practices a religion of love, almost always understands that God never punishes in anger, and never could love his many children any less than an earthly father or mother, who understands the childish, nay, insane immorality of the heartless and childish scheme of eternal punishment by torture.

No, there's no need for a Get Out of Hell Free card from the Christian game of Monopoly.  The infinite mercy and divine forgiveness of the real Father of all things and beings can only be conditioned by his own conditions, not those of some provincial, evolutionary religion like Christianity.  God's forgiveness is conditioned by just one thing:  your willingness to forgive your fellow human beings.  So all you busy little Christians out there self-righteously—or humbly— condemning and consigning non-Christians to an eternal future of charcoal and incineration, Ima jis haffa let you burn;  for your part, you better hope God isn't half as nasty as you think he is.
When any one hears God's spirit speak within their human heart, inherent in that very experience is the fact that God simultaneously hears that person's prayer.  And his forgiveness of sin operates in this same unerring fashion.
When it's all said and done, it's your faith that saves you, not a slavish adherence to anyone's dogma— including those of Christianity.  Even a tiny bit of faith— exercised in sincerity— is likely to earn you the opportunity to explore eternity, with more than an adequate chance to discover your own personal route to eternal life.
But even the infinite love of God cannot, will not, force the salvation of eternal survival upon any mortal creature who does not choose to survive.  Mercy has great latitude of bestowal, but, after all, there are some pesky mandates of justice which even love combined with mercy cannot effectively abrogate.
Jesus quoted from the Hebrew scriptures when he said:
"I have called and you refused to hear; I stretched out my hand, but no man regarded.  You have set at naught all my counsel, and you have rejected my reproof,  and because of this rebellious attitude it becomes inevitable that you shall call upon me and fail to receive an answer. Having rejected the way of life, you may seek me diligently in your times of suffering, but you will not find me."
Jesus may be the final arbiter on your choice of destiny, but that choice is yours, and yours alone.  Your passage through his "many mansions" and creations on your way to Paradise does, of necessity, fall under his purview by "accident" of your birth in his universe. But truly:  we are each the architect of our own destiny.  Good luck with that.
•
In the next world you will be asked to give an account of the endowments and stewardships of this world.  Whether inherent talents are few or many, a just and merciful reckoning must be faced.  If endowments are used only in selfish pursuits and no thought is bestowed upon the higher duty of obtaining increased yield of the fruits of the spirit, as they are manifested in the ever-expanding service of men and the worship of God, such selfish stewards must accept the consequences of their deliberate choosing.
—The Urantia Papers
The Gods who ordained that mortal man should climb to higher levels of spiritual intelligence through long ages of evolutionary trials and tribulations, take note of his status and needs at every stage of the ascent; and always are they divinely fair and just, even charmingly merciful, in the final judgments of these struggling mortals of the early days of the evolving races.
—The Urantia Papers

* IOW, Hoof-In-Mouth Disease