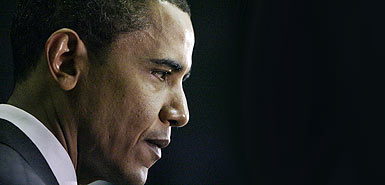 BALTIMORE  —  Generally we don't try to do daily news blog here. But what just happened on the teevee was nothing short of extraordinary, and if you missed it don't worry, you'll be seeing it on the news tonight, big time— except for Fox, of course, which will just use it as another opportunity to call him an "arrogant punk."  Why do they hate America.
President Obama had a live televised Q & A with Republicans, and it was nothing short of truth meeting bullshit talking points and truth willing— no, bursting out— the contrast couldn't have been more striking.
Obama was having none of their whiney bullshit, and it's more than past time.  But it wasn't in-kind bluster and bullshit back atcha, but a withering command of issues, facts and figures that pulled the floor right out from under them.  And after listening to several grown Republican men whine about Nancy Pelosi, it's abundantly clear who the real "pussies" are on Capital Hill.  Poor things.
There's little doubt that the Republicans thought this would be Obama's Waterloo;  that they would shine their conservative ideological flashlight on the dirty underbelly of the Obama-Marxist-Muslim conspiracy to destroy America.  But one bright recipient of the Obama schooling blurted to Luke Russert that "it was a mistake to allow cameras into Obama's Q & A with GOP members."  Can you imagine why he thinks so?
But the big question remains:  will this kind of frank face-off allow the one or two sincere Americans who call themselves Republicans, to break lockstep and publicly admit Obama is our president, and not a Bolshevik— and that they'll start working in good faith to solve our manifold problems and stop all the destructive politics of hate?  Someone with cahones?  Ryan?  Ryan?  Anyone?