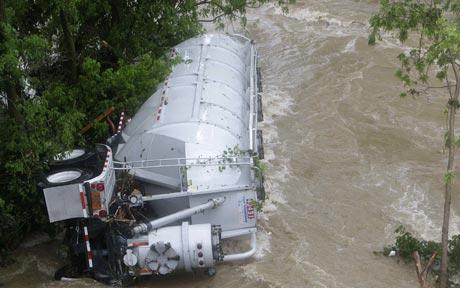 With news of the tragic death of  at least 18 people in Tennessee's record flooding this week, and another 10 in adjoining states,climate change deniers might want to rethink their position.
Now I know that the carbon fuel industry spends tens of millions of dollars muddying the waters on the science behind global warming.  But there's nothing like some real muddy, stinking water to focus the mind.
Burger King, I'm talking especially to you.  From a story in the Guardian newspaper last year:
Burger chain's climate change whopper
Would you like a side order of climate denial with your flame-broiled Triple Whopper? If so, then you need to get yourself over to Tennessee where a number of Burger King franchises in the US state that gave us Al Gore have been displaying "Global Warming is Baloney" signs outside their fast-food restaurants.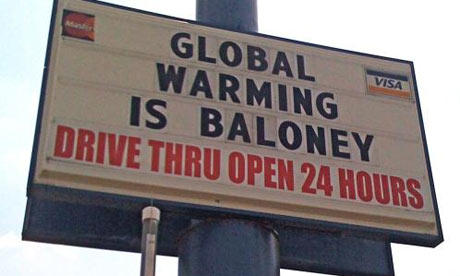 NOAA's climate summary for March reports that:
The combined global land and ocean average surface temperature for March 2010 was the warmest on record at 56.3°F (13.5°C), which is 1.39°F (0.77°C) above the 20th century average of 54.9°F (12.7°C).

The worldwide ocean surface temperature was the highest for any March on record –1.01°F (0.56°C) above the 20th century average of 60.7°F (15.9°C).

Separately, the global land surface temperature was 2.45°F (1.36°C) above the 20th century average of 40.8 °F (5.0°C) — the fourth warmest on record. Warmer-than-normal conditions dominated the globe, especially in northern Africa, South Asia and Canada. Cooler-than-normal regions included Mongolia and eastern Russia, northern and western Europe, Mexico, northern Australia, western Alaska and the southeastern United States.

According to the Beijing Climate Center, Tibet experienced its second warmest March since historical records began in 1951. Delhi, India also had its second warmest March since records began in 1901, according to the India Meteorological Department.

Arctic sea ice covered an average of 5.8 million square miles (15.1 million square kilometers) during March. This is 4.1 percent below the 1979-2000 average expanse, and the fifth-smallest March coverage since records began in 1979. Ice coverage traditionally reaches its maximum in March, and this was the 17th consecutive March with below-average Arctic sea ice coverage. This year the Arctic sea ice reached its maximum size on March 31st, the latest date for the maximum Arctic sea ice extent since satellite records began in 1979.

Antarctic sea ice expanse in March was 6.9 percent below the 1979-2000 average, resulting in the eighth smallest March ice coverage on record.

In China, the Xinjiang province had its wettest March since records began in 1951, while Jilin and Shanghai had their second wettest March on record. Meanwhile, Guangxi and Hainan provinces in southern China experienced their driest March on record, according to the Beijing Climate Center.
One of the consequences of a warming planet over the last thirty years has been a 5% increase in the amount of moisture in the atmosphere. That might not sound like much but it's enough to account for the deluges like those experienced in places as disparate as China and Tennessee in the last thirty days alone.
Maybe Burger King should start passing out  free baloney (or at least some real food) to its customers whose kitchens are under water today.