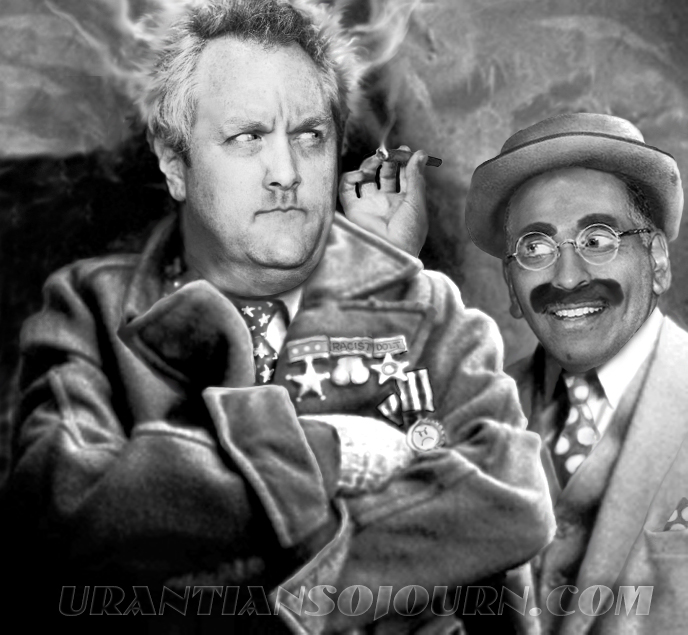 There is no more evil thing in this world than race prejudice . . .
It justifies and holds together more baseness, cruelty,
and abomination than any other sort of error in the world.
— H. G. Wells
. . . Let No Man Put Asunder
According to Talking Points Memo reports, Republican National Committee Chairman Michael Steele is expected to keep notorious asshole-conservative blogger Andrew Breitbart supplied with Mint Juleps at an upcoming RNC fundraising event at the Beverly Wilshire in Beverly Hills, California.
Insiders are saying off the record the event will actually be raising funds for Breitbart's defense against a looming lawsuit from the target of his latest hack video attack, Shirley Sharrod.
Breitbart, or more likely one of his flunkies, edited a video clip to imply that Sharrod was a flagrant outspoken racist, but as events unfolded it has impugned Breitbart as the real racist.  The controversy was initially flogged non-stop by Fux Noize pundicks Sean Hammity, Glenn Bleck and Boor O'Reilly until the true dimensions of Breitbart's craven stupidity became apparent after the full video was released.
Satirists across the nation are hailing the match-up of Breitbart and Steele as just the latest act of stoopid in a record-breaking string of self-sabotage by the GOP, and are gleefully preparing for an unprecedented display of duplicitous ass-kissing— the likes of which have not been seen since last week— when Republicans blocked paying unemployment benefits for the needy for forty-nine days, while simultaneously asking Congress to make the Bush tax breaks for the wealthy, permanent.
It's amazing how big greed can make your balls appear.