Buchanan invokes Godwin's Law on the Newtster
In a textbook case of the pot calling the kettle black, having professional bigot Pat Buchanan call Gangrene Gingrich "absurd" and "a political opportunist"  for comparing the proposed Park 51 Muslim community center to the Nazis and the Holocaust is like being called ugly by the alien in Predator.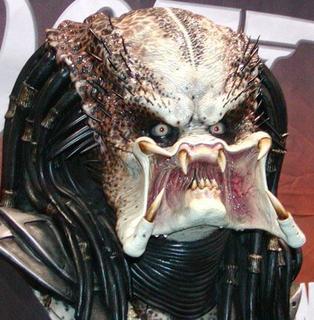 Nonetheless, Buchanan makes a couple of important points about how the political pornography propagated by the Professional Right works.
How do you get more attention than Sarah Palin, who's very good at this, is to go two steps further. I mean, I think bringing the Nazis into the argument is always absurd in American politics because there is no valid comparison there. And secondly, you know, you bring that in and that's all we start talking about.
Firstly, like sexual pornography which requires a constant escalation in provocative imagery to keep the brain from getting bored, political pornographers like Sarah Palin and Newt Gingrich have to keep upping the ante to keep their base engaged. IOW, they have to constantly out-crazy each other.
Secondly, even a manufactured controversy like the proposed Muslim community center, once the M$M starts treating it like it's the most vital  issue confronting the country today, it becomes a self-propagating feedback loop that gets discussed endlessly by every cable news anchor and the punditocracy their networks employ.
So fasten your seat belts– we have nearly another three months of this insanity before the November elections.
There is more stupidity than hydrogen in the universe, and it has a longer shelf life.
—Frank Zappa