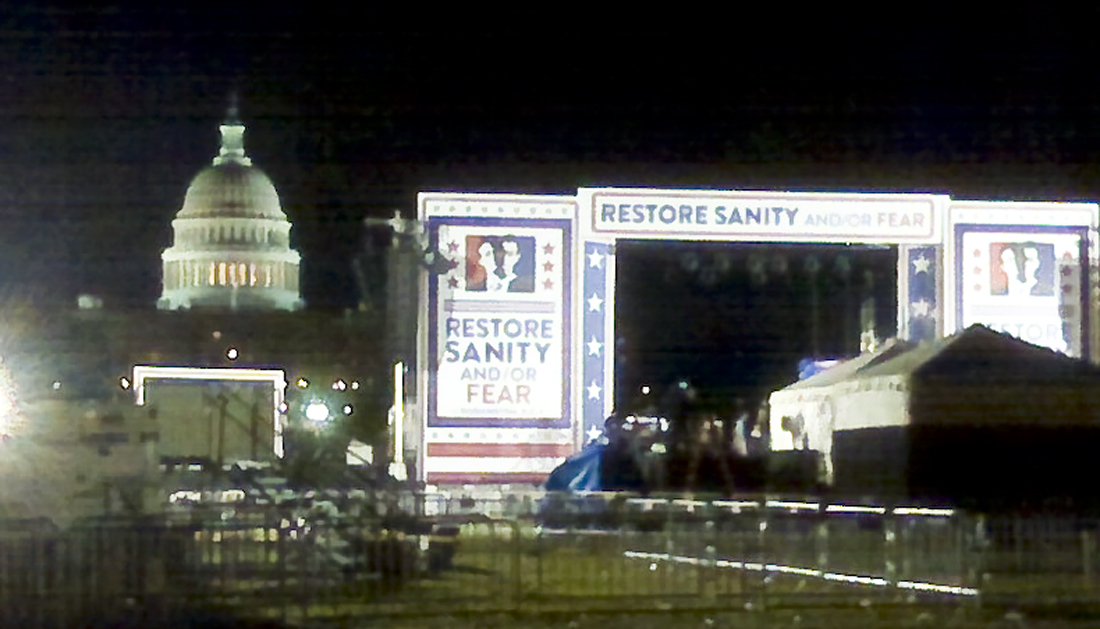 The Fear is palpable on the National Mall tonight;  the crew rocked the sound check with Steely Dan's Bodhisattva. Well, at least when we were walking by.
WASHINGTON D.C. —  We landed at Dulles in a 35 m.p.h. crosswind.  I know this because the pilot came on and praised his first officer for doing a "heckofa job" landing that bitch. Inartful, Cap'n;  inartful.
We're just a couple blocks from the National Mall, so after a brisk five minute walk we were suddenly confronted with what can only be described as a "wall of fear." Being unafraid, cuz that's just how we roll, we continued on to our destination, the Capital Q Barbecue joint over on H Street.
Even the delicious brisket, coleslaw, and excellent potato salad, washed down with a paralyzing Cuervo Margarita, wasn't enough to dispel the looming frightmare that will unfold in a few hours. Damn you, Colbert.
But we're determined to fight through the throngs tomorrow, take a lot of pictues, shoot some video, and restore the sanity.  Your mileage may vary, but we're going all the way tomorrow. Thank you, Jon Stewart.
See you in a few.