ZAPPADAN TWENTY TEN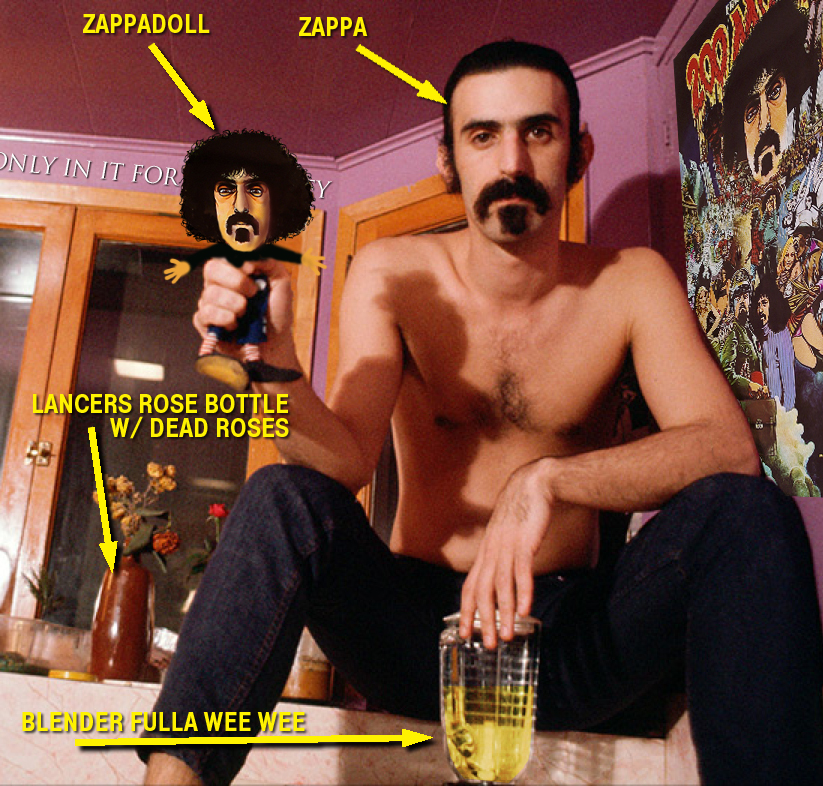 Yeah it's already the second day of ZAPPADAN, and we're off to a slow start, but then the main reason we do ZAPPADAN in the first place is to slow down enough to realize we're having a good time.
First thing you should do on ZAPPADAN is reminisce about last year's awesome ZAPPADAN,  and you can do that best by re-visiting all the little poots we made last year, by typing ZAPPADAN into the little slot to the right of the 200 Motels poster in the picture of Frank with the blender fulla wee wee. . . and that will bring up all the good stuff from the past you've already been missing.  And then come back for this year's greasy stuff, right up to our Zappa birthday Varmitzvuh-looza on the 21st.
Or you can grab some of your favorite vile foamy elixir right now and drink a toast to ZAPPADAN TWENTY TEN, after reciting last year's slightly adulterated toast. . .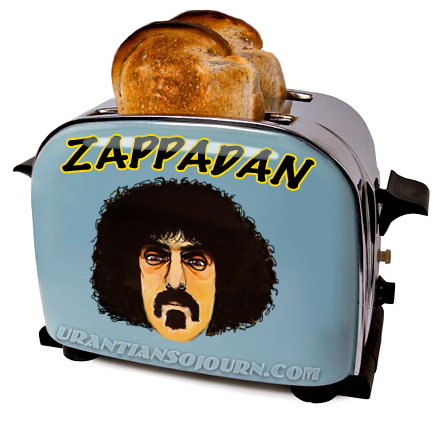 To Frank and the Mothers
You popped up in the mid-sixties
Just when you were supposed to
All grungified and snarky
Freaked out and hungry true
There weren't no angels singing
There weren't no pompous cheese
Just a lot of melted plastic
And some dying BRAIN POLICE
Motherly Love will drive you mad
Your groupies scream and cry
Baum didi, baum didi, baum didi baum
You know it's all a lie
You made us all excited
I was working on my car
I showed you my new gearshift knob
Before you drove us all too far
Been checkin' out the news
'Til my eyeballs fail to see
And these troubles have been seeping
Out of every hole in me
So we're watchin' and we're waitin'
And still hopin' for the best
But when things will really change
Is still anybody's guess
Now you're free from all our troubles
And the lameness of this place
Yet our question is the same one—
Do ya have the same old face?
But forget all that, we toast you
With a plastic cup, no less
Yeh we drink a toast to Zappa
We still think you were the best