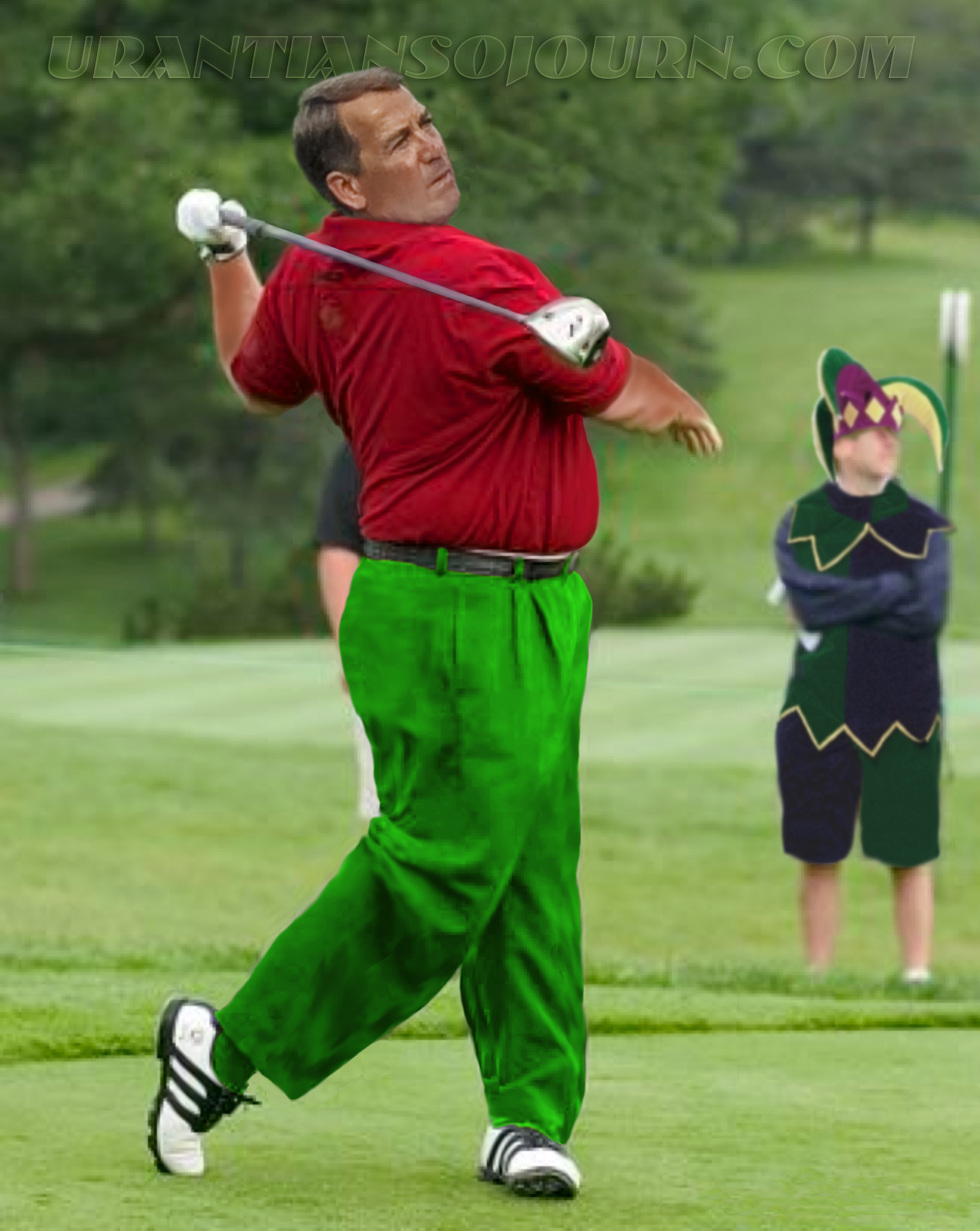 John Boehner, resplendent in spring-green velour trousers, demonstrates his new-found green job-building heft as he tees off with a prototype "Green Jester" attending.
WASHINGTON D.C. — GOP Speaker of the House, John Boehner, wept with pride or something Thursday as he announced the first, long awaited Republican jobs bill on the floor of the House of Representatives.
According to a press release from Speaker Boehner's office, the legislation is the Speaker's personal brainchild.  "The 'Green Jobs Fairway To Prosperity' Bill creates a new job on every single hole of every golf course in the United States," said the Speaker. Gesturing meaninglessly, Mr. Boehner said "That's ultimately more than 300,000 new jobs at nearly 17,000 golf courses across America;  soon there will be a 'Green Jester,' uh, at every hole."
He went on to emphasize that "These are brand new jobs, jobs with real responsibility, jobs with uh, generous, uh, benefits," adding, "These jobs will quickly put thousands of Americans back to work, and, they'll be non-polluting and therefore, good for the environment."  And that's the least offensive part of an ugly double entendre.
Indeed, the legislation creates a new position at participating golf courses, designated as a "Green Jester"— a sort of personal attendant stationed at each hole, at the beck and call of "course clients."  The Jester's duties are said to include, but are not limited to, clearing any wind-blown debris from the fairways and greens, locating the balls of course clients, ferrying refreshments, snacks, and whatever else from the course clubhouse, and no, I'm not kidding: making positive, constructive, or humorous comments on the clients' lie— and overall game performance.
Mr. Boehner, who maintains a 7.9 handicap and frequents some of the nation's most exclusive links, wistfully remarked that golf courses can often be "lonely places," and that  "…an occasional friendly comment, pithy quip, or just a tasty beverage or delicious snack provided by an inconsequential someone, like say, a hole attendant, can make uh, even a difficult hole, very enjoyable."
When asked if Mr. Boehner was actually from the planet earth, a spokesman for Mr. Boehner volunteered that it was important to remember that the green jester "quip service" does not come standard with the round, but is a "premium, optional, client-selected service available at extra cost."  He also pointed out quip jesters will usually make up to an additional .75 cents per hour.  The position itself will be "waged per hour," the actual amount to be  "…set at the discretion of the management at any particular golf course, subject to local free market conditions, of course."  Of course.
The Speaker also pointed out that among the job's chief benefits will be unlimited access to a free round of golf once a week during off-peak hours. "This benefit alone will introduce the wonderful game of golf to thousands, and stimulate flagging numbers of the total rounds of golf, which has been in decline," he said. (According to the National Golf Foundation, the number of people who played golf in the U.S. decreased from 30 to 26 million in the past five years.)  "Outdoor work" was the only other benefit listed.
On the other side of the isle, however, the bill immediately drew derisive guffaws from House Democrats, dubbing it the "Green Gopher Bill," often couched in rude references paraphrased from the film Caddy Shack. One representative, who asked not to be identified, pretended to be Boehner's number one hole Jester.  Breaking wind, he exclaimed, "Whoa!  Did somebody step on a duck?!?"  The Speaker took all such comments with his typical fairway aplomb. "Obviously, some in the Democrat [sic] Party do not enjoy the game of golf."