Palin parked her bus long enough to hitch ride on a Harley to pimp her brand
On their yearly pilgrimage to Washington D.C. to honor their fallen comrades on Memorial Day, members of the Rolling Thunder motorcycle club found themselves with an unwelcome guest— camera moth and all around media whore, Sarah Palin.
Think Progress reports:
During the holiday weekend, former Alaska governor Sarah Palin (R) reclaimed her favorite position — the center of media attention — when she launched a national bus tour. Palin's first stop was a motorcycle rally in D.C. where she rode in on a Harley and proudly announced to a group of veterans and TV cameras:

"I love that smell of the emissions!"

Ironically, the same day Palin professed her love of carbon emissions, the International Energy Agency issued a dramatic announcement on the same subject: greenhouse-gas emissions increased by a record amount last year to the highest carbon output in history.
Don't you too just love that smell of emissions in the morning? Smells like victory cancer money!
Palin claims that her campaign style bus tour has nothing to do with running for president next year, despite an itinerary that includes trips to New Hampshire and Iowa.  A paid contributor for Fux News, Palin doesn't need what she calls "the lame-stream" media to get her message out.
CNN explains:
Palin to news media: Catch me if you can
May 31, 2011 12:16 p.m. EDT

Gettysburg, Pennsylvania (CNN) — Sarah Palin is going rogue again. Want to cover the potential Republican presidential candidate? Better bring your running shoes.

Unlike most carefully choreographed presidential campaigns that routinely release detailed candidate schedules, Palin's staff is keeping most of the national news media in the dark about her political action committee's bus tour this week.

The result is a chaotic game of cat and mouse, with the media frantically chasing the 2008 vice presidential candidate from one stop to the next.

When Palin made her final stop Monday in Gettysburg, Pennsylvania, she told a pack of scrambling reporters to expect the unexpected if she runs for the White House.

"Oh, it would definitely be unconventional and untraditional. Yes. Knowing us, yeah, it would have to be," Palin said.

It's another maverick move for the former Alaska governor who has often had a tense relationship with what she often calls the "lame-stream media."

Palin, a paid contributor for Fox News, told the network Monday that she is challenging reporters to keep up the pace.

"I don't think I owe anything to the mainstream media. I want them to have to do a little bit of work on a tour like this," she said.

[…]
Why the M$M would even bother is a question it desperately needs to ask itself.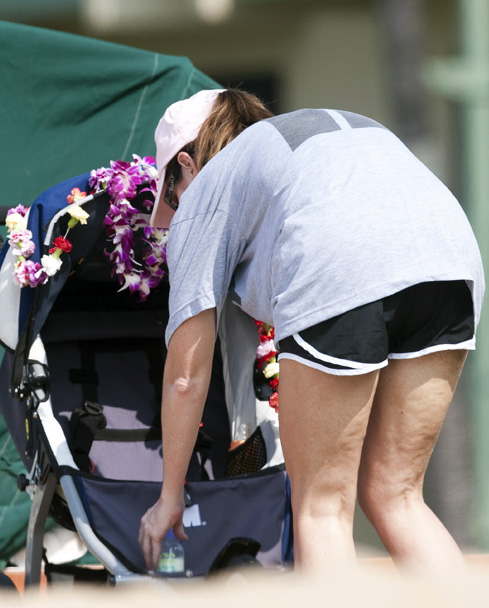 Sarah Palin to the Lamestream Media– Kiss my cheesy ass!